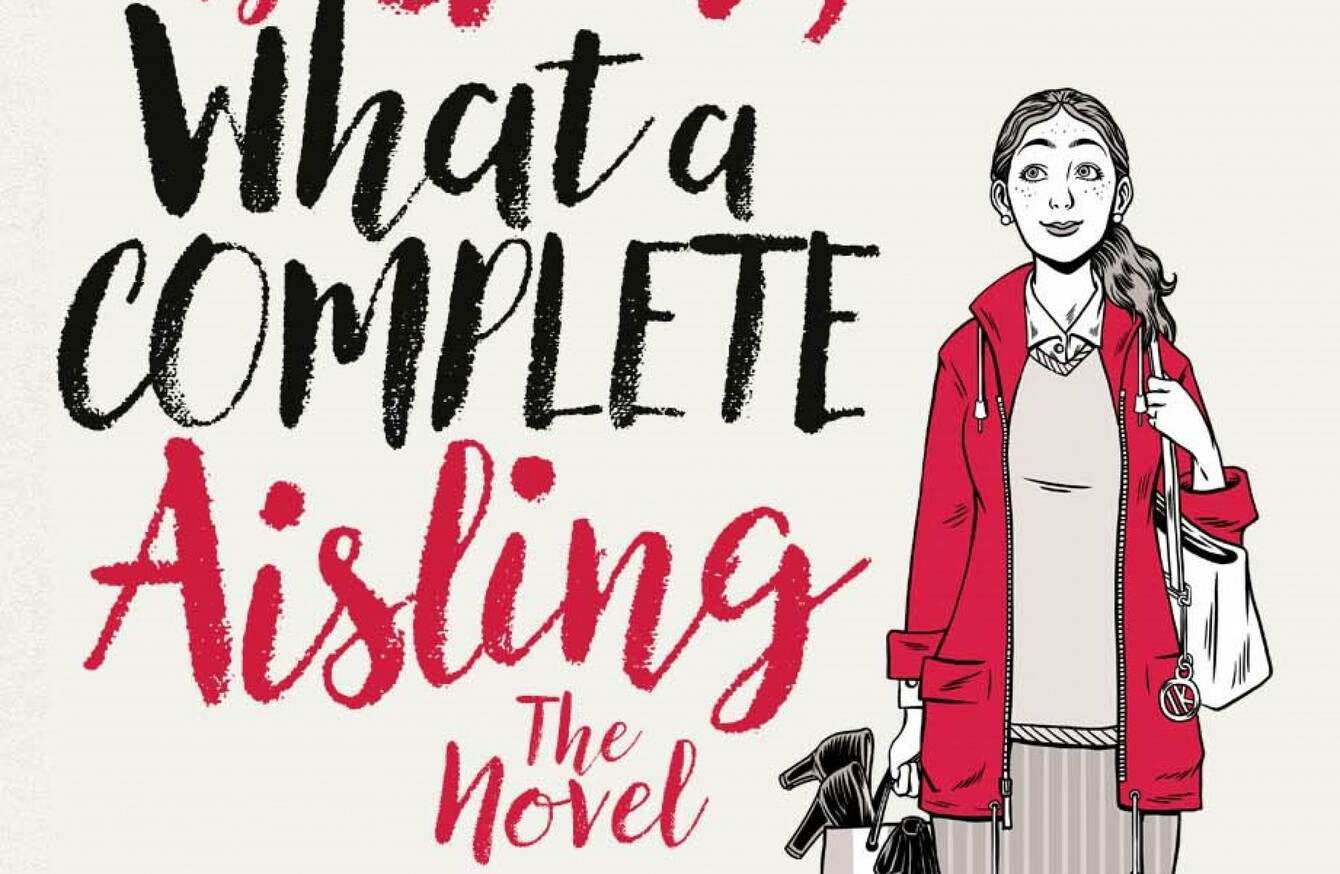 A FACEBOOK PAGE set up by two college friends about a character called 'Aisling' has turned into a publishing phenomenon.
Emer McLysaght (from Kildare) and Sarah Breen (from Carlow) first met in Dublin while studying media at Ballyfermot College of Further Education. After becoming fast friends, the pair decided to live together in second year.
And it was in their flat, while sitting on the couch hungover and eating beige snacks, that they came up with the character they called 'Aisling'. Now she's the lead character in the pair's debut novel Oh My God, What A  Complete Aisling, which has proved to be so popular that it's already being reprinted.
"We were talking about characters," recalls McLysaght (former editor of TheJournal.ie's sister site DailyEdge.ie) of how they first imagined up Aisling. "You know those girls you see walking around really fast carrying their Brown Thomas bag; the kind of girl who would never go anywhere without a bag for life. If she lives in Dublin, she goes home every weekend without fail."
What started as an in-joke between two flatmates grew to become a topic of discussion among a larger group of friends – and realising that the texts about Aisling and her life kept flying, McLysaght decided to set up a Facebook page back in 2007.
"I set up the group, invited a few friends and it grew from there," recalls McLysaght. "It has been 10 years so it's not like this explosion overnight. But it struck a chord."
Warm and welcoming
The popularity of the page (known as OMGWACA to fans) has grown to the extent that it now has 40,000 members.
"It has been a lot of work over the years, but not constantly," says McLysaght. "But we have had times where we have had to deal with issues – luckily it's a warm and kind place.
We have had to step in if people are not behaving themselves, or having it out with each other. We're not into people rowing back and forth, so we will be the ones to step in and say cut it out."
Over a year ago, a member posted a personal story which was then used as the basis of an article by a national newspaper. That marked a major shift for the Facebook page, because Breen and McLysaght made it private for the first time.
"We had previously posted guidelines but we posted some more solid guidelines," says McLysaght of that time. "Generally it's quite a nice page. If people are complaining, we say: you are free to leave."
But those sorts of serious incidents don't happen often – the world of OMGWACA is a warm and welcoming one. "It does harbour a lot of interesting and serious discussions and people will post questions or ask for people's thoughts there," says McLysaght.
Source: TheJournal.ie/YouTube
Not an Irish stereotype
Why does she think people have embraced Aisling and OMGWACA so warmly? "I think it's just because people can identify with it so much," says McLysaght.
There are lots of Irish stereotypes, but they have all been done to death – but I think maybe it's a little bit less hokey than a lot of the Irish stereotypes. The OMGWACA group is at its best at Christmas when everyone goes home and everyone has variations on different stories.
Plus, she says that OMGWACA "encompasses 90% of the country – it's so nuanced. There are Aislings from different parts of the country".
McLysaght and Breen had long wanted to work together, but some early opportunities to turn OMGWACA into a TV show didn't work out. When it came to a book, they knew they didn't want to go down the compendium route.
"We said if we're going to do it, we want it to be a full-on novel," says McLysaght. "Even though there are two of us and it's unusual to have two people writing a book." They gave Gill Books a one-page treatment with a basic storyline, and the Irish publisher was on board.
'We didn't want people to be laughing at her'
They decided to tell the story through Aisling's eyes.
"We really didn't want it as well to be people laughing at her, and the way to do that was for the book to be in her voice, so she was able to control how she was feeling," says McLysaght. "You were seeing it through her eyes so there wasn't any way it could be cruel or people putting a real stereotype on her."
When it came to the plot they went for the 'write what you know' approach.
"The first thing we can do is draw on both of our experiences," says McLysaght. And the book reflects that – it has laugh-out-loud moments, but also sad and poignant moments too.
Life has its ups and downs. Also, it's 2017 in Ireland, so we thought what can we reflect in the book, what is happening to a woman of Aisling's age? We just took issues and ideas that were in Ireland at the moment.
#Open journalism No news is bad news Support The Journal

Your contributions will help us continue to deliver the stories that are important to you

Support us now
They don't shy away from difficult topics in the book. "We were a little bit worried but it was just like we all know somebody who has been through all the scenarios in the book," says McLysaght. "We weren't doing it for shock tactics, it's just reality."
They also made sure that Aisling's mother wasn't a caricature, by giving her a nuanced backstory. "We wanted to expand this idea of the Irish mammy, which I think is a bit one-dimensional sometimes,"says McLysaght.
"There's more to her than just being a mammy – she had a life before Aisling and her brother Australia Paul came along," adds Breen, who had given birth to her second child just before they started work on the book.
With two authors, what did the writing process involve? "We live really close to each other. I had just had a baby so Emer came up to my house once a week to decide what was going to happen in the next two chapters," says Breen.
"And we had knocked out the start of the chapter and the end of the chapter so that we could each pick it up. But we didn't know what was going to happen in the middle of the chapter, we had free rein. So she would show me her chapter and I'd show her mine and it was always a bit of a surprise, and Emer is so funny – I was chortling away."
The reaction to the book has been overwhelmingly positive – with Marian Keyes, one of the pair's heroes, counting herself among the OMGWACA fans.
"We can't believe it," says McLysaght. "So many people seem to be enjoying it. Sarah and I when we were younger were swapping Marian Keyes books between us."
Sales have been so good that the book is already being reprinted. It puts at ease any worries that a book based on a Facebook page might be a strange read. "I think some people were sceptical," says McLysaght. "I think a lot of people thought it was going to be a Christmassy collection – which are fine – but we're glad people are picking it up and saying 'we were wrong'."
They'd like to keep writing about Aisling, and there are various talks underway about possible projects. But for now, nothing's set in stone. What is clear, however, is that the book is part of a larger trend of strong female characters being written by Irish women like Sharon Horgan, Louise O'Neill, Stefanie Preissner and Alison Spittle.
To mark the launch of the book, a table quiz will be held in Coppers later this month – and McLysaght and Breen are looking at potential events nationwide. Sure it'd be what Aisling would want.
Oh My God, What A Complete Aisling is published by Gill Books and out now.