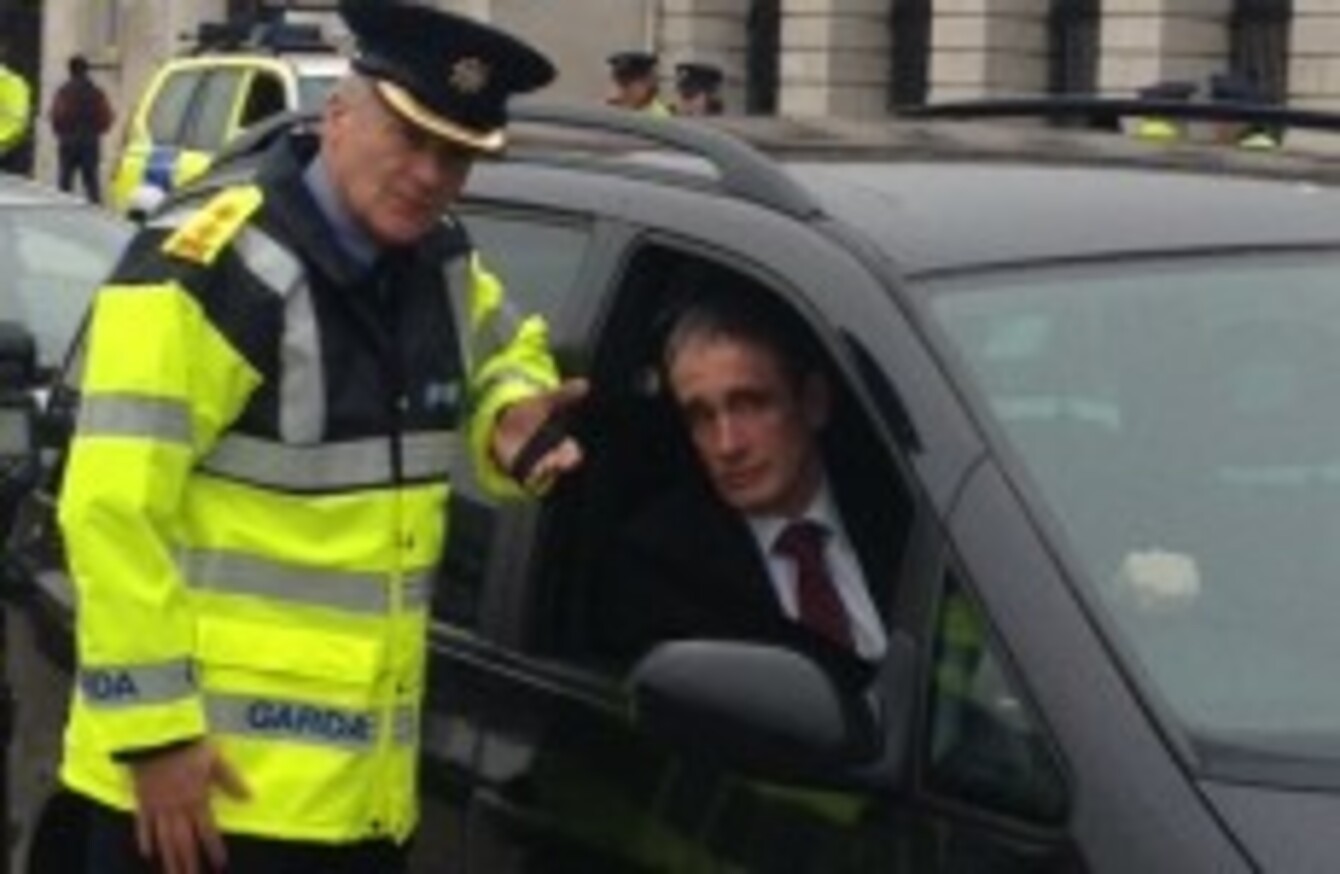 Chief Superintendent Michael O'Sullivan and Michael Rowland, Director of the RSA, at today's launch.
Image: Christina Finn
Chief Superintendent Michael O'Sullivan and Michael Rowland, Director of the RSA, at today's launch.
Image: Christina Finn
ALMOST ONE IN every five people killed on our roads last year were not wearing seatbelts at the time of their death, according to the Road Safety Authority.
The statistic was one of a number released today by the RSA, ahead of their joint nationwide campaign with An Garda Síochána to target non-use of seatbelts over the St. Patrick's weekend.
Since the introduction of penalty points for seatbelt offences in 2002, 46, 190 points have been issued. Some 8,421 of these were given to drivers who failed to ensure their child was restrained or wearing a seatbelt.
Provisional figures show drivers and passengers in Dublin city were the worst offenders, followed by those in Cork, Wexford and Galway.
Speaking at the launch of the their bank holiday weekend campaign, Director of the RSA Michael Rowland said:
"We just want to remind people that they are placing themselves and others at risk by not wearing their seat belts. In the first half of this year, 1,500 people were given penalty points. From our research the majority are young males. We are aware that there may be an attitude that it is 'uncool' but we are urging people to change their mindset over wearing their seat belts."
Rowland said that progress had been made in terms of increasing the number of people who wear seatbelts: "In the past compliance was as low as 70 per cent but it has risen to nearly 94 per cent … For whatever reason, some people are choosing not to wear them."
Chief Superintendent Michael O'Sullivan said that not wearing a seat belt was "highly irresponsible" and "borderline reckless".
"Many lives could have been saved if people had worn their seatbelts. I think people are getting complacent, thinking that it is never going to happen to them. You wonder what more we can do to get people to look after themselves," O'Sullivan added.
Road Safety Strategy
Transport Minister Leo Varadkar said that the government's Road Safety Strategy has set a target for "full compliance on seatbelt wearing by 2020, but there is every reason to meet that target sooner."
An observational survey of 20,000 car users carried out by the RSA  in 2013 found that 94 per cent of drivers, 93 per cent of front passengers and 89 per cent of rear passengers wore their seatbelts.
Some 97 per cent of women wore their seatbelts, compared to 92 per cent of men. Those in front seats were more likely than passengers in back seats to wear seatbelts.
From 2007 to 2013, 30 people were killed and 61 were seriously injured on our roads over the St Patrick's long weekend.
Provisional figures from January and February of this year, show that there were 1,520 incidents of driving without seatbelts recorded, 1,257 incidents of driving while intoxicated and 383 incidents of dangerous driving.
Additional reporting by Christina Finn.