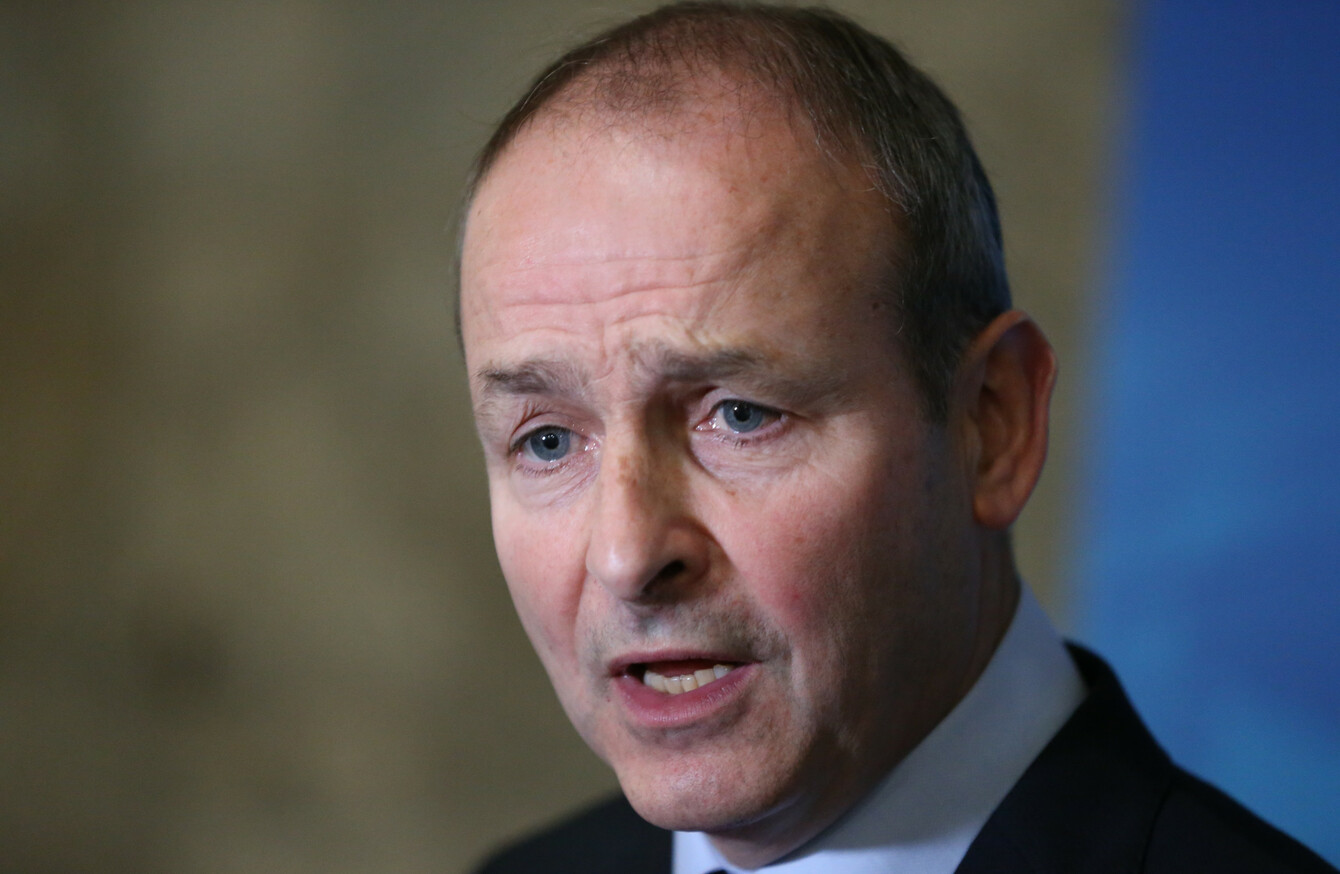 Micheál Martin
Image: RollingNews.ie
Micheál Martin
Image: RollingNews.ie
FIANNA FÁIL LEADER Micheál Martin has used his opening speech at his party's Ard Fheis to take a major pop at Taoiseach Leo Varadkar.
Addressing some 4,000 party members in the RDS in Dublin this evening, Martin said  the new Taoiseach "has put us all on notice that we are now facing into a new era of hype and spin".
Martin said since taking office, the Taoiseach has been silent on many of the crises facing Irish society today.
"In three months he's had nothing whatsoever to say about improving health services, developing education or addressing his government's chronic lack of delivery – but he's had lots to say about what he claims is an urgent need to communicate more.
"There are more political communications in government than at any time in our history and they now have a bigger budget than at any time in history," he said.
The Fianna Fáil leader said the Varadkar was "caught out" on Wednesday when asked how the head of the new unit was appointed.
Strategic Communications Unit 
Tuesday's Budget revealed the new unit will cost €5 million next year, though the government still maintain it will be cost neutral due to the savings it aims to make.
He has given up on trying to address chronic problems which have arisen on his party's watch and he wants a relentless, politicised spin campaign to try and sell their image…
What they don't understand is that the more public money they spend on new slogans, new images, social media ads and everything else the more they confirm just how out of touch they are.
Martin didn't hold back when discussing Fine Gael, telling TheJournal.ie ahead of his speech that one of the first things he would do if successful in the next general election is dismantle the government's new strategic communications unit (SCU).
"It tells the wrong story. It tells a story that the government is more concerned with communications than delivering more results  in terms of housing, health, broadband, even Brexit," he said, highlighting that one example of this was the withholding of a Brexit document by the Revenue Commissioners.
"It is somewhat paradoxical that the government makes a big deal about communications yet hides from the public, a fairly important, extensive piece of work."
Martin said the people can see past the spin.
"Well people know about the waiting lists. They know about the 3,000 children in emergency accommodation.  They know about the rents and houses they can't afford. He needs to understand no one is being fooled by his new era of propaganda," he said, adding that Fianna Fáil "have no intention of changing our core beliefs to fit some publicity campaign".
Right-wing agenda
Moving on to the issue of the Budget, Martin said his party's fingerprints were all over it.
"Higher pensions, smaller classes, action on waiting lists and a reduction in USC that benefits everyone are being delivered solely because of our Party's insistence," he said.
"Last year we achieved a lot in stopping the new Taoiseach's attempt to take Budget policy significantly to the right," said Martin.
He said this year's package "bears almost no relationship to the briefings he gave two months ago" where Martin said Varadkar was almost "obsessive" in his attempt to get large groups of Irish people to resent each other, "splitting them between the deserving and the dependent," he added.
The Fianna Fáil leader paid tribute to the 1937 drafting and enactment of the Constitution of 1937, stating that he was disappointed this government has chosen not to mark its anniversary.
"It is a sad reality that the highly tribal approach of Fine Gael at the moment has meant that both the 75th and now the 80th anniversaries of the constitution have been ignored by government.
"It is now one of the oldest written constitutions in the world and it was the first constitution in the world adopted in a free vote of the people – that's something which deserves to be acknowledged and celebrated," he said.
Referendum
Martin acknowledged that the Constitution was never intended to be frozen, stating that there will be a referendum on the Eighth Amendment next year.
"After a third of a century after it was enacted there is a legitimate call for the public to be consulted
Fianna Fáil's position is that the fundamental issue of rights and laws concerning life have to be left to each individual's conscience.  In fact the public believe that this is not and should not be a party political issue. That freedom of conscience principle will apply to our party members while the Oireachtas considers this issue," he said.
There are two opposing motions on the issue due to be debated tomorrow at the party's Ard Fheis.
He said the committee's demand is that a fair question be put to the people, "so that they can decide what changes if any they want to be introduced. It will be up to each person to decide where they stand".
The process underway in the Oireachtas is designed to be a fair one.  I'm sure that by the end of it every opportunity will have been given to the full range of views to have their voices heard.  The bottom line is that the people will eventually decide.
But there is one very important point which has to be made about having a referendum on the Eighth amendment – nothing will be solved and no conclusion will be reached unless we have a debate which shows respect for divergent opinions.
It is a challenge for our democracy and we should be willing to have a debate in which tolerance of opposing viewpoints will be the key touchstone.
Martin added: "We should avoid at all costs a campaign which degenerates into caricatures and name-calling."