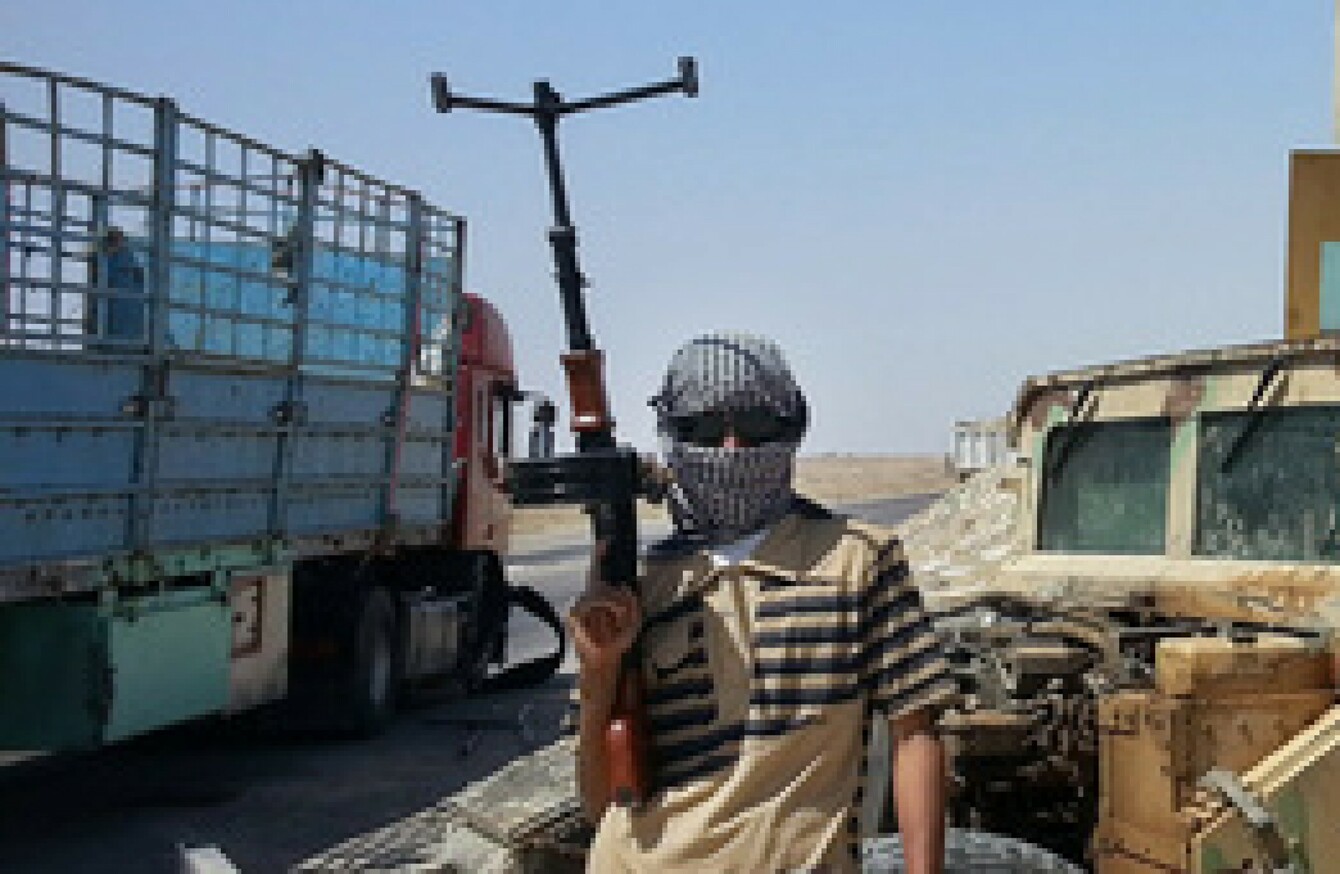 Islamic State group militants in Iraq. (File Photo)
Image: Associated Press
Islamic State group militants in Iraq. (File Photo)
Image: Associated Press
TÁNAISTE FRANCES FITZGERALD has warned that people are becoming radicalised online and that not enough is known about the issue and how to stop it.
Fitzgerald gave a speech yesterday at a VOXPOL conference in DCU about people becoming radicalised on the internet.
VOXPOL is an international European research group dedicated to examining how violent extremist politics play out online.
"It is not acceptable that the preaching of hatred and incitement to violence should go unaddressed in this forum," the minister said.
There is a strong realisation of the need for governments and the major tech companies and internet service providers to work together on this issue.
Fitzgerald also addressed the issue of  'foreign terrorist fighters' and people returning home from conflict zones radicalised and ready to carry out attacks on their home countries.
"It was perhaps sadly inevitable that some of these individuals would return home, radicalised, trained and motivated to commit violent attacks," said Fitzgerald.
Extremism is no longer an abstract problem that happens somewhere else. It's here.
Extremism
The Tánaiste's comments were echoed by Fine Gael MEP Brian Hayes, who warned that the government must come up with a plan to stop the radicalisation of people in new communities in Ireland.
Speaking to TheJournal.ie, Hayes said Ireland needed to carry out an audit of what other European countries had done right or wrong with regards to protecting against the radicalisation of people in growing Islamic communities.
Hayes said that the monitoring of people who are suspected of being involved in terrorist activity is very important, and that Ireland needed to do more to integrate people who may arrive new to the country.
"I think we can do an awful lot more and we shouldn't be complacent in any shape or form towards the prevalence of this problem," he said.
It's not said by me independently – it's being said by communities from where some of these people are coming. They've asked us to be on our guard.
Hayes said that it was important that a strong relationship was formed by intelligence services with communities where extremists may be operating.
"If people are known within a community to have very radical views, or anti-Irish views, or views which are pro IS, it's important that the intelligence services are aware of this and that the community themselves are bringing them to attention," he said.
The Fine Gael MEP's comments echo those of prominent Irish Muslim cleric Shaykh Dr Muhammad Umar Al-Qadri, who said last year that Muslim children are being taught "hatred of other communities" at unregulated weekend classes in Ireland.
Is there a legitimate threat in Ireland? 
Recent terrorist attacks in Paris and Brussels have brought into sharp focus the social divide in certain European countries between different religious and social communities.
Hayes said that is important that these divides don't manifest themselves in Ireland.
"Other countries have been appalling in terms of their responses," said Hayes.
They have allowed areas to become ghettoised, we haven't interacted properly with them.
Hayes said that an audit of what other countries had done in terms of handling new and growing communities was important for their integration.
"I would like if some audit could be established of what works and what doesn't work," he said.
In terms of foreign fighters travelling from Ireland, a recent EU briefing report on jihadist fighters returning to EU countries from conflict zone to carry out terrorist attacks in their home countries.
"Whereas the phenomenon is not new, its scale certainly is, explaining the wide perception that these individuals are a serious threat to the security of both individual Member States and the EU as a whole." the document states.
A map contained in the document lists the number of suspected foreign fighters per million citizens in EU countries.
The map shows that Ireland has seven foreign jihadist fighters per one million of its population, putting the total number at 30.
In terms of numbers per population, this puts it ahead of the likes of Spain (three per million), Italy (one per million) and Romania (one per million).
France has the most foreign fighters with 1,700 (or 26 per million), followed by the UK with 760 (or 12 per million).
Ireland is still quite low down on the rate per population of foreign fighters.
In a statement to TheJournal.ie, the Department of Justice said that wasn't "immune" from a terrorist threat but that an attack was not "considered likely".
"The Garda authorities keep the level of threat from this source under constant review," the department said.
There are a small number of people in Ireland whose activities are a cause for concern in terms of supporting terrorism and extremism. The Gardaí continue to monitor these individuals and, where evidence is available of criminality, they will face the full rigours of the law.
The department also said that gardaí were aware of people who travelled to conflict areas in the Middle East and who had died while fighting:
The Garda Authorities are aware that a small number of people have travelled from Ireland to conflict in the Middle East and a number of these individuals have lost their lives.