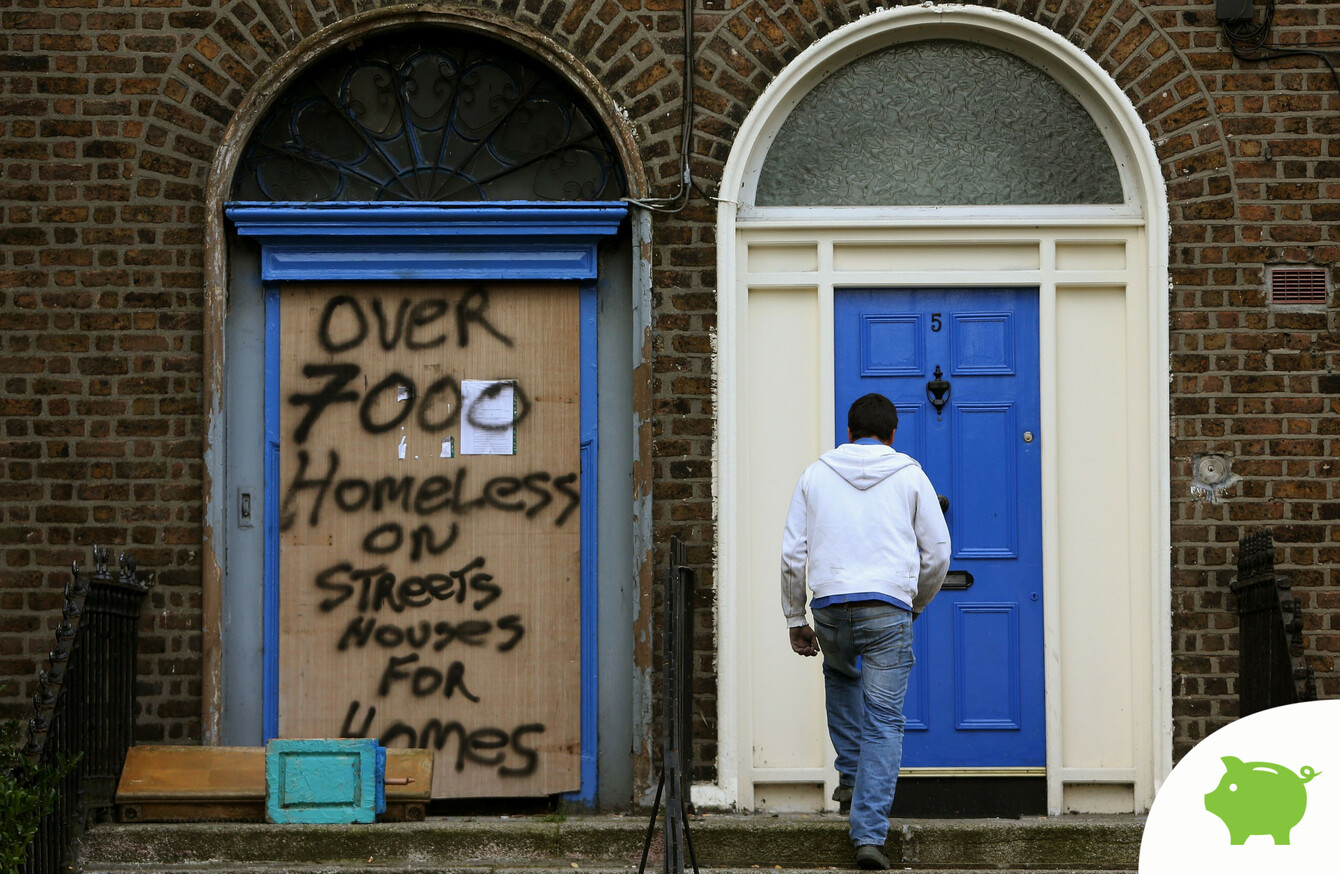 Graffiti on a boarded up building on Seville Place in Dublin.
Image: Brian Lawless/PA Images
Graffiti on a boarded up building on Seville Place in Dublin.
Image: Brian Lawless/PA Images
OVER 94% OF homes surveyed by a recent study are beyond the reach of people dependent on state housing benefits.
According to the most recent Simon Community snapshot study, only 6% of properties are available within Rent Supplement (RS) and Housing Assistance Payment (HAP) levels.
That's a 2% decrease from the charity's last snapshot study in August. 
According to the charity, there were 561 properties with no income limits available to rent across the eleven locations it surveyed.
However, just 34 properties were available within Rent Supplement/HAP limits.
The study was undertaken over three consecutive days between 14 and 16 August. 
HAP is a form of rental benefit payment to assist lower-income households.
Under the scheme, introduced in 2014, a tenant's main rent is paid directly to a landlord, with the tenant paying a differential rent to their local council. The tenants must cover their own deposit. No rent is paid by the council in advance of them entering the home.
Speaking today, Niamh Randall, National Spokesperson for the Simon Communities, said that the government's reliance on social housing provision through the private rental sector is "problematic because the supply simply is not there".
Many people in emergency accommodation are there because they have already lost their rented home and it is nearly impossible for them to move on from emergency accommodation and homeless services because there is nowhere for them to go. 
'Increasingly inaccessible' 
Ahead of next week's budget, the Simon Communities have called for the government to increase RS/HAP limits and for the limit to be increased in rent pressure zones as "the majority of rents in these areas will increase by at least 4% per annum.
In the absence of access to social housing as required or being able to afford to buy a home, the private rental market is the only option for many people and it is increasingly inaccessible to them.
In its pre-budget submission, the charity has called on the government to rethink its current approach to tackling the housing and homelessness crisis.
Randall says that there "are at least 9,500 people who remain trapped in emergency accommodation because there are no homes for them to go to.
It is essential to limit the time spent in emergency accommodation as people are being traumatised by their experiences and the longer they are trapped in homelessness, the greater the impact on their overall health and well-being.
The charity's most recent study, released today, found that there were no properties available within RS/HAP in six out of the eleven study areas.
No properties were available across all four categories in Portlaoise.
There was one property available across all categories in five study areas; Athlone, Galway City Centre, North Kildare, Limerick City Centre and Waterford City Centre.