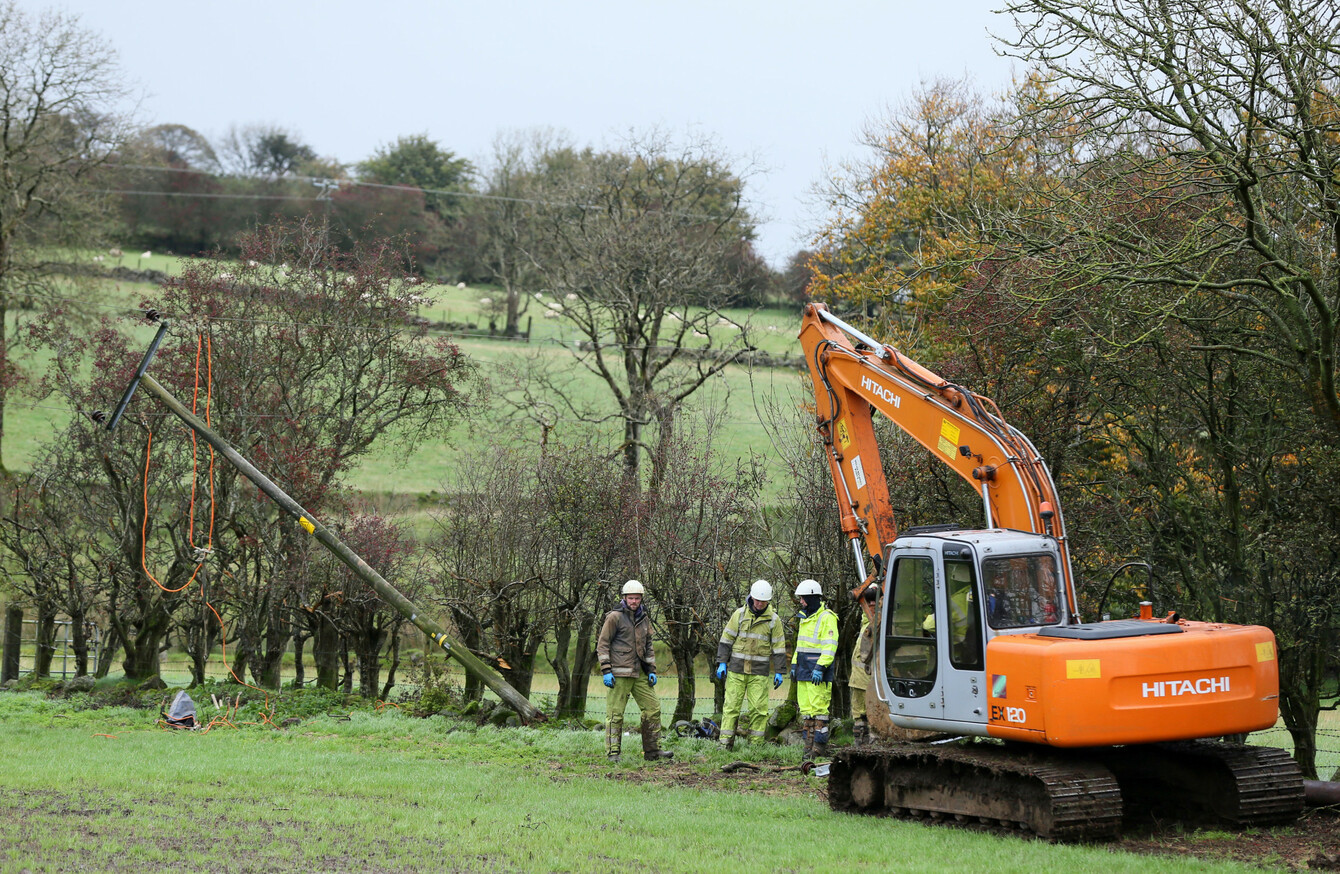 An emergency crew from NI Networks work on a fallen electricity pole in Ballyclare, Co Antrim.
Image: Brian Lawless via PA Images
An emergency crew from NI Networks work on a fallen electricity pole in Ballyclare, Co Antrim.
Image: Brian Lawless via PA Images
Updated at 9pm
AROUND 248,000 HOMES and businesses have had their power restored, while 169,000 still remain without power in the aftermath of the deadly Storm Ophelia.
So far, 65% of premises that lost power during the extreme weather have had it restored.
ESB Networks has said that the majority of customers will have their power restored in three to four days, but that "serious damage" remained in the south and southwest.
It added that it was "hopeful" that northwest and Dublin households and businesses would have power restored in full by this evening.
We are also making significant progress in counties Kerry, Laois, Galway, Clare and Westmeath. Cork and Kerry have had power restored to over 100,000 customers.
The power outages are spread all over the country, with the south and south-west particularly badly hit. At the height of the storm 385,000 customers were without power, making it a more damaging storm than 2014′s Storm Darwin.
In a statement, ESB Networks said that its repair crews will be assisted by contractors and crews from other electricity utilities who will travel from Scotland, England, Wales and Northern Ireland this evening to help.
"All available resources from ESB Networks are being deployed to carry out repairs to the network and restore power," the statement said.
Fallen trees on overhead lines were responsible for most of the damage to the network.
In many cases, crews are having difficulty gaining access to power lines as they are hampered by fallen trees and debris.
ESB Networks said that the crews are prioritising repairs to higher voltage lines. "Restoring power to essential services such as water pumping and sewage facilities, medical facilities and customers with medical needs are a priority," the statement said.
"We are advising all customers impacted by outages that they should prepare to be without electricity for a number of days. ESB Networks are particularly concerned about customers who use electrically powered medical devices and who are without power. It is important that these customers contact their healthcare professional so that they can receive advice on their care during this period."
The company is telling members of the public to not touch fallen power lines and to report those to 1850 372 999.
Customers can check PowerCheck for updates.
Phone
Separately, Eir says that it estimates around 30,000 customers are without broadband, telephone and mobile services as result of Storm Ophelia.
While damage has been sustained throughout the country, the southwest and midlands are the worst affected areas and in particular Cork County.
Some large-scale faults in Kinsale, Co Cork and Tralee, Co Kerry have already been restored.
Both Sky Ireland and Virgin Media are advising customers of disruption. A statement by Virgin says:
"Safety is our top priority so it may be possible that some of you in may be still be without service.
"We will endeavour to restore your service as quickly as possible but only when it's safe to do so."
Additional reporting by Christine Bohan and Gráinne Ní Aodha