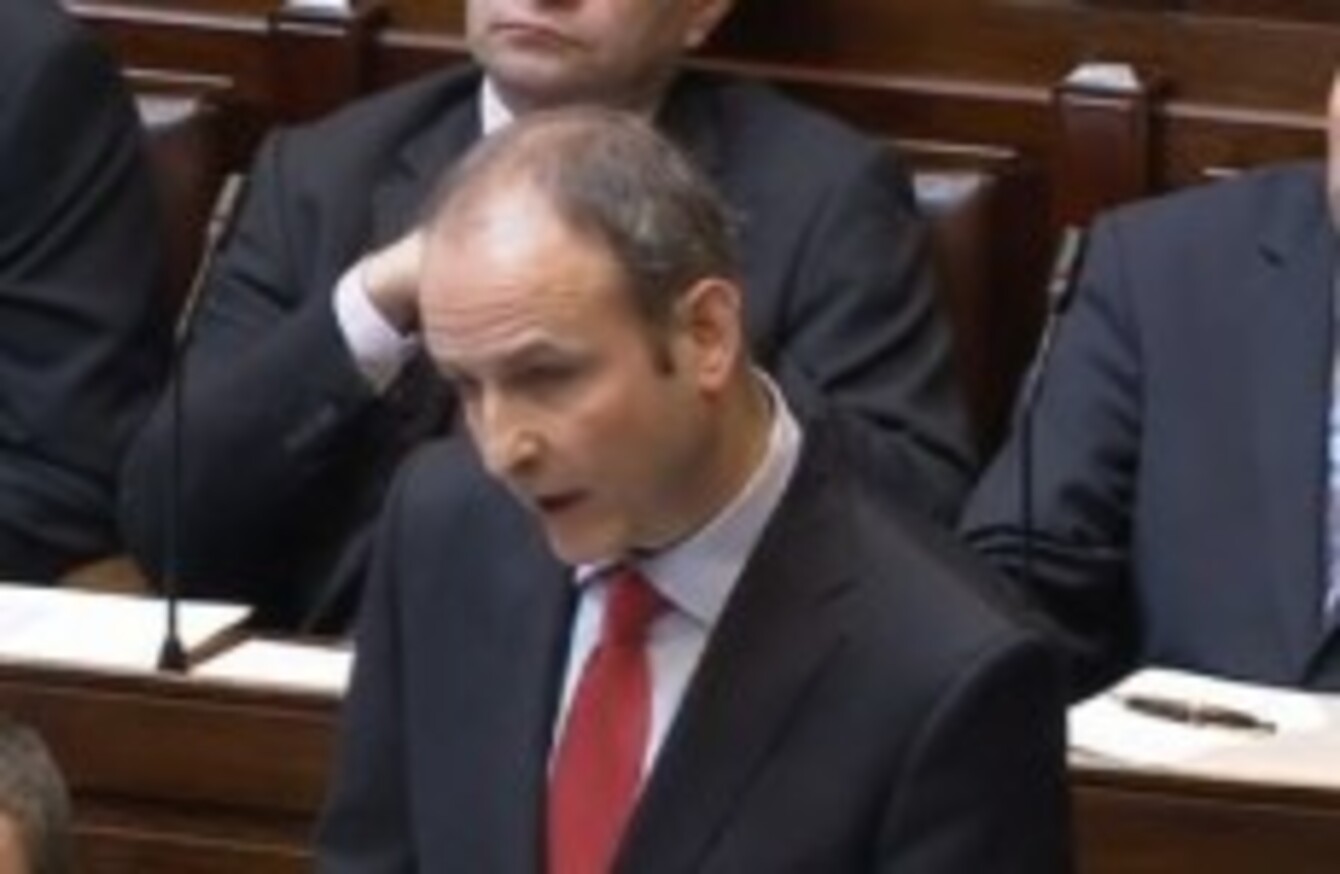 THE JUSTICE MINISTER Alan Shatter was today accused of 'failing', 'spinning' and "playing games'.
Opposition leaders were given the chance to make statements on Shatter's handling of Garda whistleblowers, with Fianna Fáil's Micheal Martin leading the charge against the under-fire minister and Garda Commissioner Martin Callinan.
He claimed Shatter had an 'obsessive need to justify himself', adding that in debates, he 'recognises no criticism'.
"You are snide, frequently partisan and dismissive," Martin told Shatter.
Martin said that if the transcript of a conversation between Garda whistleblower Maurice McCabe and confidential recipient Oliver Connolly was enough to justify Shatter's firing of Connolly, it must also raise questions about Shatter.
Martin said that Shatter's handling of McCabe throughout the penalty points controversy was flawed and that Shatter refused to acknowledge he had made a mistake.
"You just don't have it, do you? The humility to say sorry. To admit that you got it wrong. You were the only one who accused [McCabe] of not cooperating [with the O'Mahony report].
Your behaviour in this matter is appalling. Why did you state something that is fundamentally untrue?
"Could you not just say I was wrong? I made a mistake?"
'You have failed miserably'
Sinn Féin leader Gerry Adams put on record his admiration for Shatter's achievements as Justice Minister, but punctuated that praise by saying that Shatter had 'failed miserably' in recent weeks.
"This situation has demonstrated an unhealthy closeness between yourself and the Garda commissioner.
Your reaction has been to circle the wagons around the commissioner and yourself.
"You put yourself into this controversy, nobody forced you into it."
Adams took aim at the use of the media by Shatter in order to signpost today's contributions.
"I was able to read about the tenor of what was going to happen here today in the papers and on the news last night.
"That's not real politics, it's the politics of spin and making shapes."
Adams said that the affair was "symptomatic of a political culture" that many had believed was behind the country and said "corruption isn't always brown envelopes."
'This place is a sham'
On the Technical Group benches, Mick Wallace spoke passionately about the controversy.
He said that he found the appointment of Sean Guerin to investigate the affair "a bit hard to take".
He added that "you wouldn't have to be a rocket scientist" to conclude justice is not being applied fairly in Ireland.
He then strongly called on Shatter to resign.
"If you are going to stay in power and commissioner is going to stay in place then this place is a sham.
This place is a joke. We play games in here. But those games lead to people being killed.
"It's time for you to go Minister and take the commissioner with you."
'I am disgusted by your antics'
Wallace was followed by Clare Daly, who said that Shatter had spent the addresses "twittering away".
She said that Shatter and Callinan staying at the helm was "unsustainable".
She said that she was not basing this on knee-jerk reactions, but rather on knowing the facts.
She accused Shatter of shooting the messenger in relation to claims that McCabe had made about Garda malpractice.
"Luckily for the Irish public, this messenger was made of sterner stuff," she said.
She added that she was glad that others had spoken out because it showed they were waking up.
"But you're not, Minister," she added.
Daly went on to say she was "disgusted" by what she called Shatter's "antics".
You may think you've gotten away with it Minister, but you haven't.