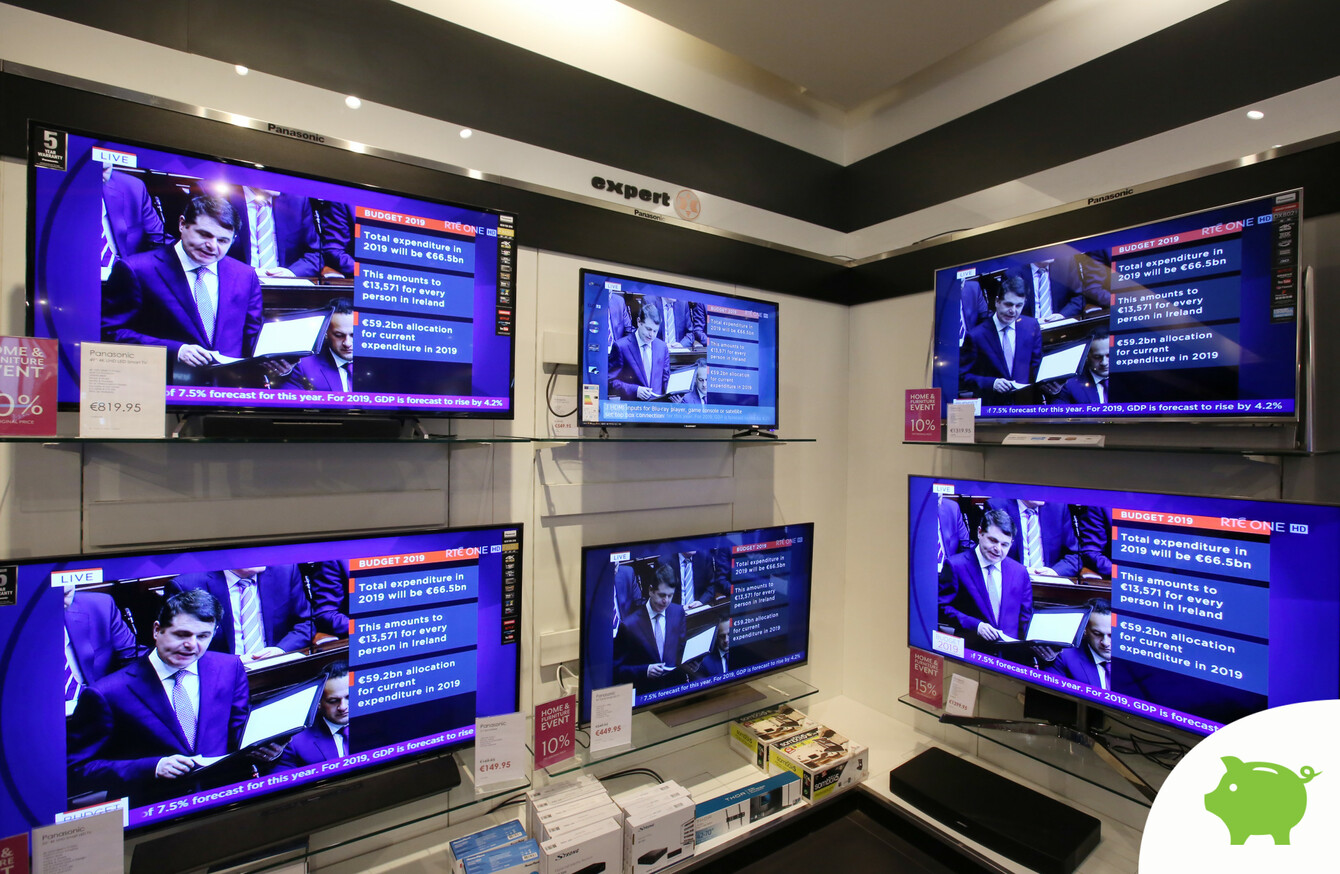 Fine Gael Minister for Finance, Public Expenditure and Reform Paschal Donohoe TD on television screens in Arnotts department store.
Image: Sam Boal
Fine Gael Minister for Finance, Public Expenditure and Reform Paschal Donohoe TD on television screens in Arnotts department store.
Image: Sam Boal
THE OPPOSITION ROUNDED on today's Budget speech and said that not enough is being done to address crises in our housing and health services. 
Finance Minister Paschal Donohoe unveiled a raft of changes that will affect the day-to-day lives of Irish people. 
Cigarette prices went up again, social welfare payments increased across the board and those earning middle to low wages will see slight relief in the amount of tax they pay. 
However, the opposition parties weren't too impressed with Donohoe's plans for housing and health, despite the minister announcing plans for a new affordable housing scheme as well as promising additional investment in the Housing Assistance Payment (HAP) programme.
Fianna Fáíl Barry Cowen gave what can only be described as a colourful speech. His party is propping up Fine Gael and has helped them pass a number of budgets since 2016 under the so-called confidence and supply agreement. 
But Cowen said that there are those in Dáil Éireann who prefer to take days off on their holidays instead of addressing the various problems facing the country. 
He said: "Like a tide going out revealing who was swimming naked the aftermath of the February 2016 election revealed the true character of many parties in this house. Many who will criticise today's budget took a ten week holiday while others tried to form a government and provide leadership."
He went on to defend his party's position on the confidence and supply agreement, deciding to instead summon the words of an Irish playwright to hammer home his point. 
We have kept faith with the agreement often in difficult circumstances and messy compromises to maintain the centre ground in Irish politics. We have worked for the ordinary citizens who want their government to work for them. Other parties have been content to sit on their hands. In Brendan Behan's words they're "like eunuchs in a brothel; they know how it's done, they've seen it done every day, but they're unable to do it themselves".
But Cowen saved his real vitriol for the Government and its failures to address the housing crisis.
"Fine Gael's dire record on capital expenditure from 2011 has left Ireland lagging far behind its international competitors and struggling to cope with a growing population.  The crises in health and housing are testament to that neglect and will now take years to resolve.  
"Earlier this year the Government announced, amid much fanfare, a new and glossy National Development Plan and under that plan we would see new schools, new hospitals, new transport links, new roads and new Garda stations.  
"Critically and all too characteristically the report was notoriously scant on detail.  Given the appalling nature of housing and health in this country one is entitled to ask when will these new capital projects be delivered."
Sinn Féín
Despite the jokes, Sinn Féin wasn't laughing. 
Reacting to Cowen's speech, party leader Mary Lou McDonald said: "He is only hilarious – all the lads on the FF/FG govt benches think so. People who can't get housed won't be laughing. This is not the 'housing budget' government promised. This budget fails to address the housing emergency. Once again FG/ FF offer only rhetoric but no meaningful action."
The party's finance spokesman Pearse Doherty said that the housing and homelessness crises are a black mark on the State and that those "failed" by the Government since Fine Gael took charge are still being ignored.
He said: "Minister, let's remind ourselves of the backdrop to this Budget.
"Some 10,000 citizens are homeless, 4000 of them are children. That's 4000 lives, 4000 childhoods forever altered because Fine Gael and Fianna Fáil are simply unable to present a Budget that takes their side.
"These are children whose only offence was to be born to parents who fell on hard times.
"How many times must stories like Amanda, a teenage girl living in a hotel room and whose life is passing her by, grip the nation before you finally present a budget capable of addressing this crisis? When a teenage girl, made homeless by the policies of this government, has to pour her heart out on national radio to get noticed, what can be said of your government?
"When you announced your first Fine Gael and Fianna Fáil confidence and supply Budget, Amanda was in emergency accommodation. During the second confidence and supply budget, Amanda was in emergency accommodation.  And now, as you announce your third Budget together today, Amanda is still homeless.
"Minister, there are 10,000 Amandas – and for them Budget Day is Groundhog Day.
"The government is attempting to buy the votes of the people with the scraps off the table while the real prizes have been given to landlords and those profiteering from the housing crisis."