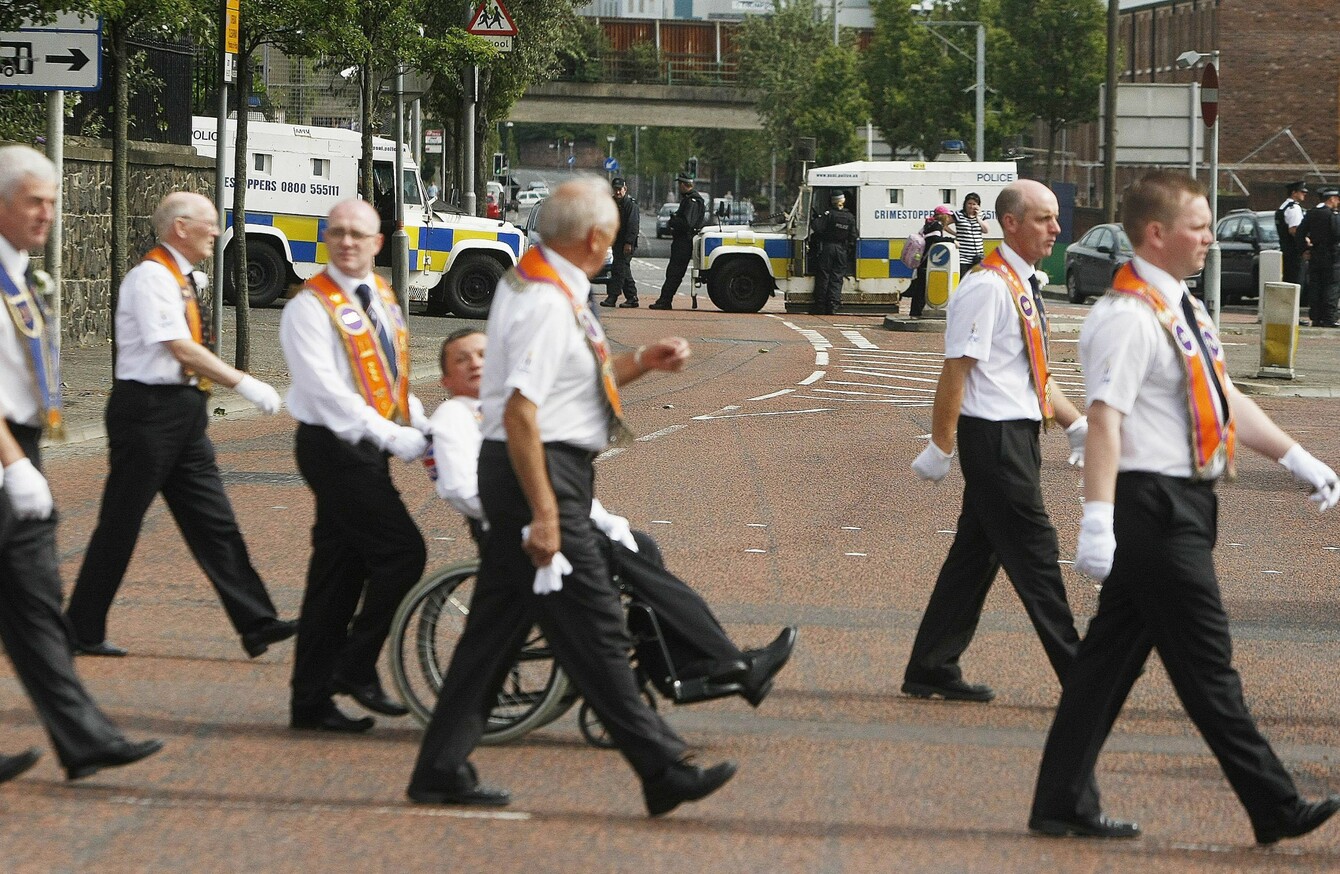 File photo of Orange Men marching in Belfast for 12 July last year
Image: Niall Carson/PA Wire
File photo of Orange Men marching in Belfast for 12 July last year
Image: Niall Carson/PA Wire
POLICE IN NORTHERN Ireland have used tear gas to defend themselves during a confrontation with some members of the Orange Order.
The incident happened yesterday while the PSNI were in attendance at a parade on the Ormeau Road area of South Belfast.
Shortly after 5.10pm, police spoke with the organisers of the event about some band members who were walking in between cars and traffic.
When an officer asked the band members to step back, the request was ignored.
At this point one officer attempted to move these Orange Men away from brushing against parked cars when he was attacked by members of the band.
Another officer got off of his motorcycle to help his colleague and was also attacked, with his motorcycle being damaged.
With a crowd descending upon them, police defended themselves with batons and CS spray – more commonly known as tear gas – was also used, but only on those attacking officers.
Two officers received minor injuries and shortly after the incident a 26-year-old man was arrested.
In a statement this afternoon, PSNI Chief Superintendent Chris Noble has said: "After a busy day of successful and peaceful events across Belfast, unfortunately an incident towards the end of the day, which could have been avoided had some bandsmen followed police directions, has become news headlines."
On the use of CS spray, he added:
The use of CS incapacitant spray is tightly scrutinised within the PSNI and officers use their judgement when it comes to a graduated response to any threat that they may come under… any subsequent contact any children or young people had with CS spray particles is deeply regretted.
The Police Ombudsman has been informed about the incident and the PSNI has been in contact with community representatives and has expressed its willingness to meet with any band members.