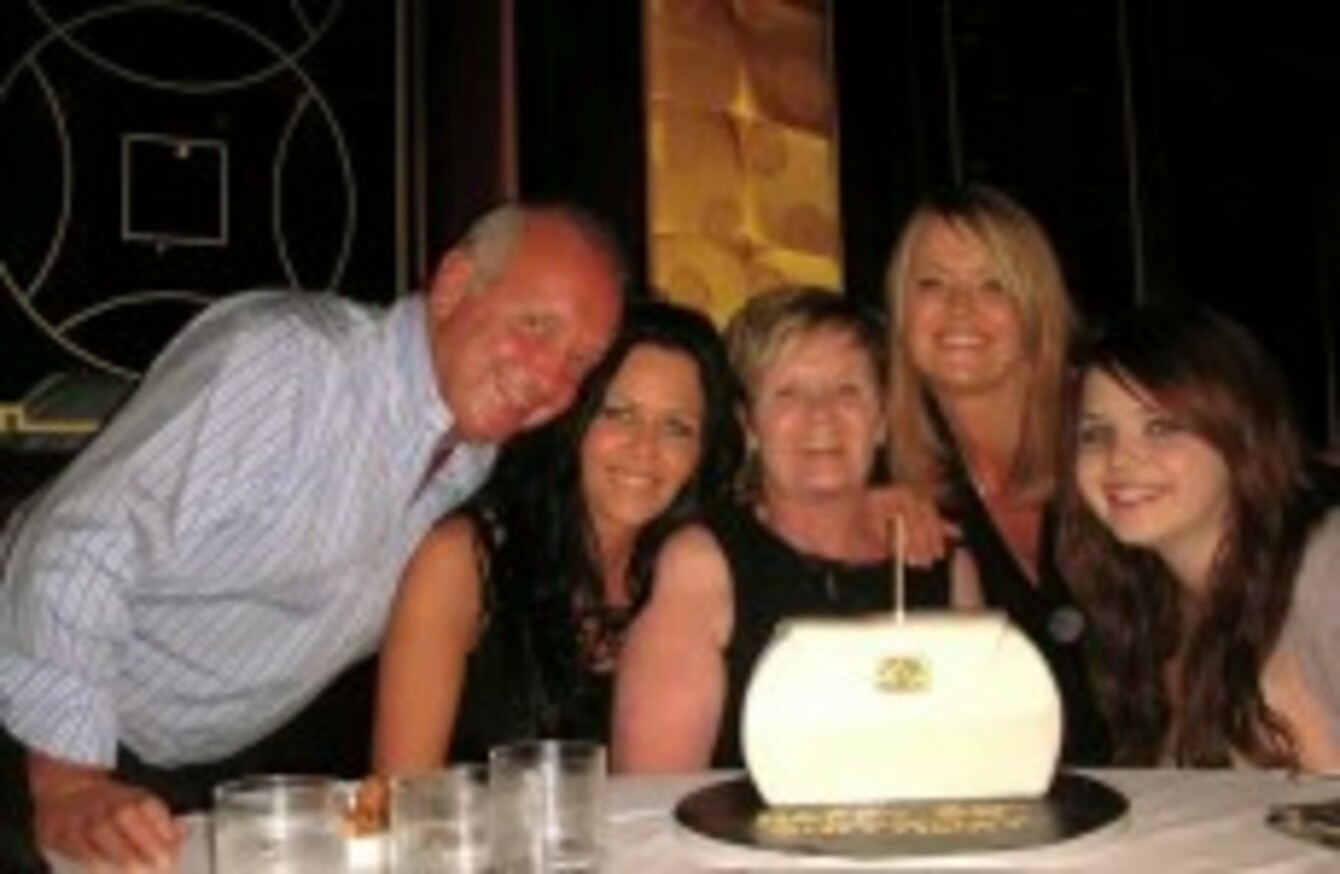 Martin Kelly, Fiona Kelly Christine Kelly, Sinead Kelly and Christine's niece Lauren Kelly
Martin Kelly, Fiona Kelly Christine Kelly, Sinead Kelly and Christine's niece Lauren Kelly
TODAY IS THE final day of Organ Donation Awareness week and TheJournal.ie is taking a look at some Irish families whose lives have been changed forever because of organ donation.
A record number of organ transplants were carried out in Ireland last year, with a total of 294 organs transplanted through living and deceased donors.
Christine Kelly
One Dublin woman is still celebrating after receiving a kidney transplant from her sister, Mary, 40 years ago.
Christine Kelly (63) from Griffith Avenue was one of the first people to undergo a living donor kidney transplant in Ireland.
The operation took place at Jervis Street Hospital on 1 March 1974, which was her third wedding anniversary to her husband Martin.
(Above is a newspaper article covering the story with a picture of the sisters/IKA)
Sadly, Christine's sister Mary, a mother of five children, passed away following breast cancer 10 years ago.
Christine's daughter Sinead Kelly paid tribute aunt:
It is thanks to Mary that my sister and I still have our mother with us today.
Last year, 38 living donor kidney transplants were carried out at Beaumont Hospital.
Taidhg Burke Neff
One Saturday night last October, Taidhg was in a car accident.
He died two days later in Bantry hospital surrounded by his family and close friends.
He had made the decision to be an organ donor and his best friend Pat Curran said this was a huge consolation to his friends and family.
He said:
It was a very emotional scene when a number of us, including his Mam Sandra, were watching the helicopter containing his organs fly over us on its journey to Dublin where they would be transplanted into a number of people hours later. We were devastated but we were proud.
"The morning he died I wrote the song 'Unintentional Hero' and I played it for his parents who instantly asked me to play it at his funeral which I did."
Pat is now recording that song and hopes to release it in June. The funds raised will be divided equally between the Irish Kidney Association and the Strangeboat Foundation.
Gerard Hopkins
A wildlife enthusiast from Cavan received his long awaited heart transplant just last week.
For the past 10 months, Gerard Hopkins has been living at the Mater Hospital and late last week he got called for his heart transplant.
He was full of trepidation in the aftermath of the call – he had been called on five previous occasions for possible heart transplants but, for various reasons, the operations did not progress.
For the past few years, Gerard has been leading a Dawn Chorus walk at 4am in May to help others share in his passion for wildlife.
He has also been known to train a robin and is photographed with one taking food from his hand.
His wife, Margaret, explained that he is still in ICU and it will take some time for him to make a full recovery from his eight-hour operation.
She said Gerard's goal is to be able to return to his beloved Lough Ramor for the fly fishing season next month.
Margaret continued:
We are extremely grateful to the family of the deceased donor who we will never know but will be forever grateful to.
 Organ Donor Cards can be obtained by phoning the Irish Kidney Association on 1890 543639 or Freetext the word DONOR to 50050.
It is now also possible to store an organ donor card on Smart phones. 
Read: "Bestowed a bright shining light": Appleby jewellers' son saved by donor>
Read: This Irishman saved five lives in two countries by donating his organs>
Read: Record number of organ transplants in Ireland last year>