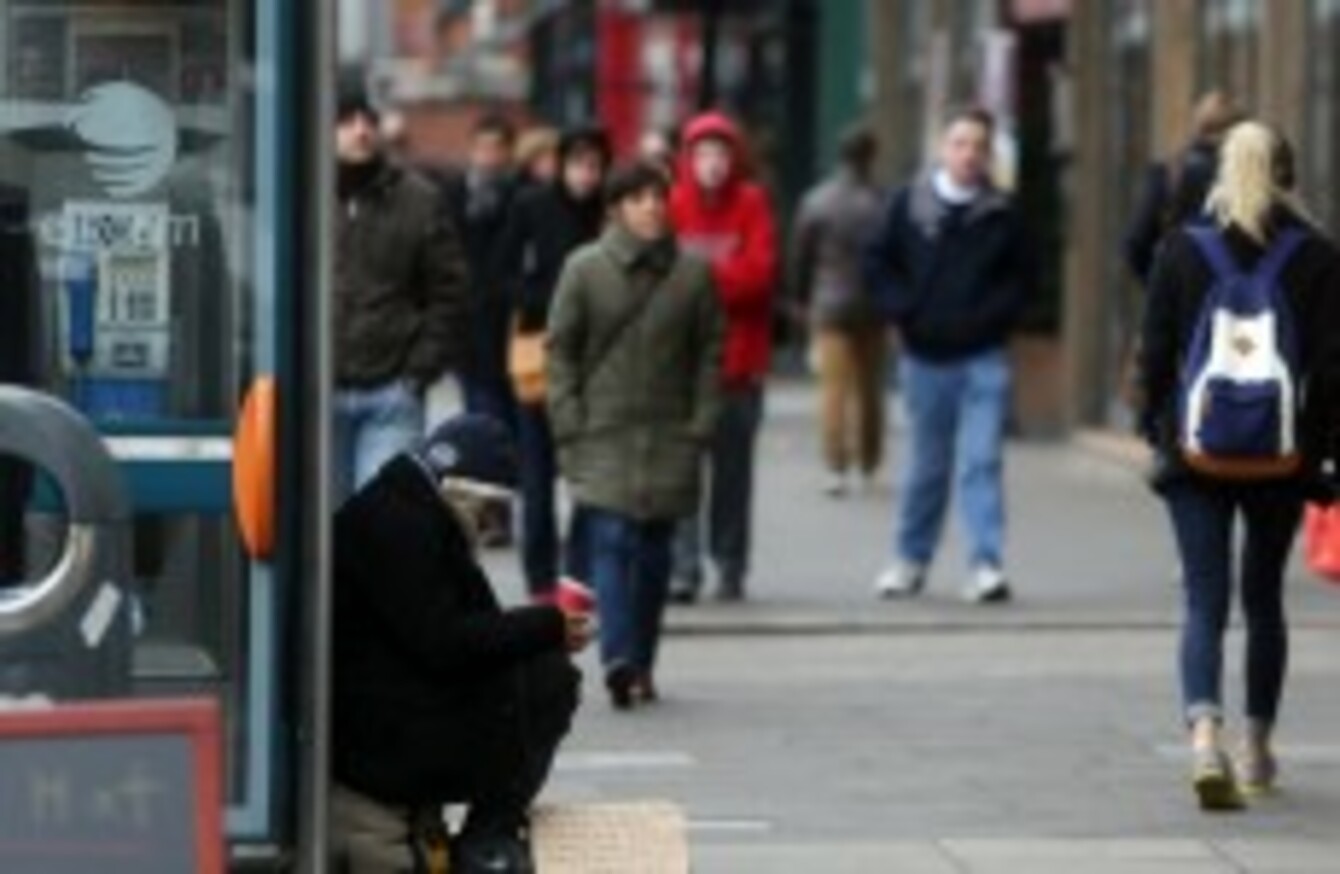 Begging in Dublin city centre (File photo)
Image: Sam Boal/Photocall Ireland
Begging in Dublin city centre (File photo)
Image: Sam Boal/Photocall Ireland
THE MAJORITY OF begging in Dublin city centre is of an organised nature, the head of an organisation representing thousands of businesses in the capital has said.
Richard Guiney, the head of DublinTown, said that current begging legislation "isn't worth the paper it's written on" and called on the government to do more to tackle the problem.
"Certainly we would see that the majority of the begging in the city would be of an organised nature," he told reporters on O'Connell Street this morning.
Guiney went on to say that it is the biggest issue in the city today, saying it is "definitely impacting on people's enjoyment of the city".
He added: "We would see pitches in the city that are basically one person goes, another person comes and there's a bit of interaction – it's almost a changing of the shifts.
"We would also have observed people collecting money from people who are begging on the street. It's like a cash collection in a shop and certainly prima facie [evidence] from where we're at."
He was speaking at the launch of DublinTown, the new name for the Dublin City Business Improvement District (BID) which is made up of 2,500 businesses in the capital's city centre.
Dublin City BID was established six years ago with the aim of winning back customers in the wake of the financial collapse and providing a strong city destination for tourists.
Guiney said the name change made sense given that most people living in the capital refer to the city centre as "town". "It has an awful lot of resonance with the general public," he said.
He also said he supported the Lord Mayor Christy Burke's call for a task force to tackle the drugs problem in the city but Guiney claimed that despite its reputation O'Connell Street is "probably one of the safest streets" in the capital.
"It's an extremely safe street," he said while acknowledging there is a "reputational" and "perception" issue.
Guiney claimed that there were just 18 assaults on the busy city centre street last year out of a footfall of around 27.5 million people. He said that most of the people involved in the assaults knew each other.
What do you think? Let us know in the comments