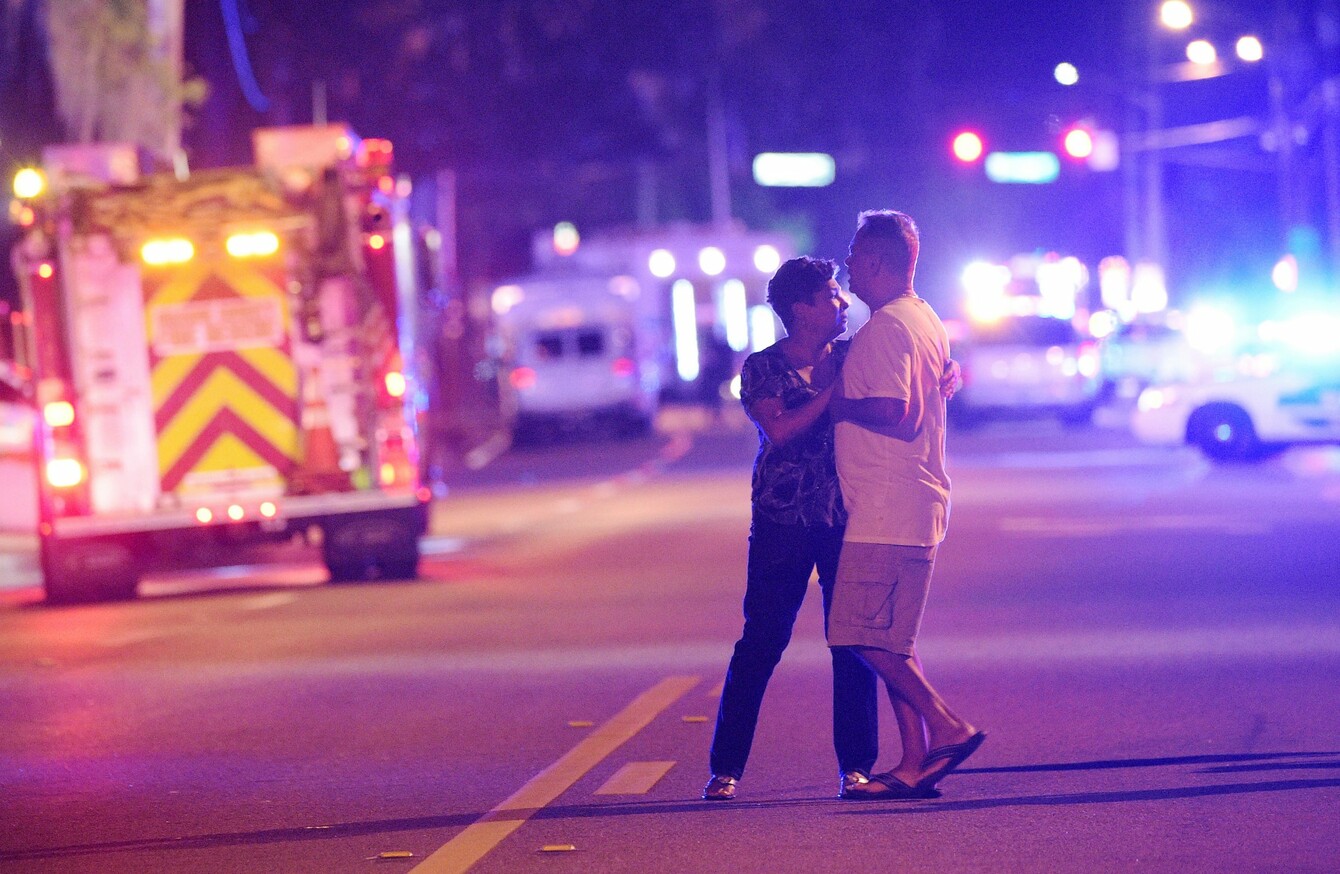 Image: Phelan M. Ebenhack
Image: Phelan M. Ebenhack
THE MAN WHO killed 50 people at a gay nightclub in Orlando yesterday bought his guns legally – despite having been investigated by the FBI twice.
The suspect, 29-year-old Omar Mateen, is a Muslim American of Afghan descent and law enforcement were investigating whether he had ties to or was inspired by Islamist extremism, after a source linked to the Islamic State group claimed the attack.
Authorities say Mateen was not under surveillance, but that in 2014, they discovered he had ties to an American suicide bomber. They said the ties were minimal and they didn't think he represented a threat at the time.
Authorities also say Mateen legally purchased at least two firearms within the past week or so.
The FBI said he apparently made a 911 call just before the massacre to claim allegiance to the Islamic State group.
The attack, the worst mass shooting in modern US history, was carried out at Orlando's Pulse nightclub, a well-known gay hangout.
Not dangerous
But relatives interviewed by US media said Mateen, who worked as a security officer and had a wife and young son, was not especially religious.
They did, however, describe a man who had anti-gay views, mental health problems and was physically abusive to his ex-wife.
Mateen's father, Mir Seddique, said his son had recently been offended to see two gay men expressing affection on a Miami street.
"We were in downtown Miami, Bayside, people were playing music," the shocked father told NBC News in the immediate aftermath of the shooting.
"And he saw two men kissing each other in front of his wife and kid and he got very angry," Seddique said.
Mentally ill
#Open journalism No news is bad news Support The Journal

Your contributions will help us continue to deliver the stories that are important to you

Support us now
Mateen's ex-wife said he was violent and mentally unstable — but not a religious extremist.
"A few months after we were married I saw his instability, and I saw that he was bipolar and he would get mad out of nowhere," Sitora Yusufiy told reporters outside her home in Boulder, Colorado.
"After a few months he started abusing me physically … not allowing me to speak to my family, keeping me hostage from them."
Yusufiy, who met Mateen online and married him in 2009, said he was a practicing Muslim but showed no signs of radicalisation.
"There was no sign of any of this at all," she said.
She noted that Mateen was "mentally unstable and mentally ill" and had a history of steroid use.