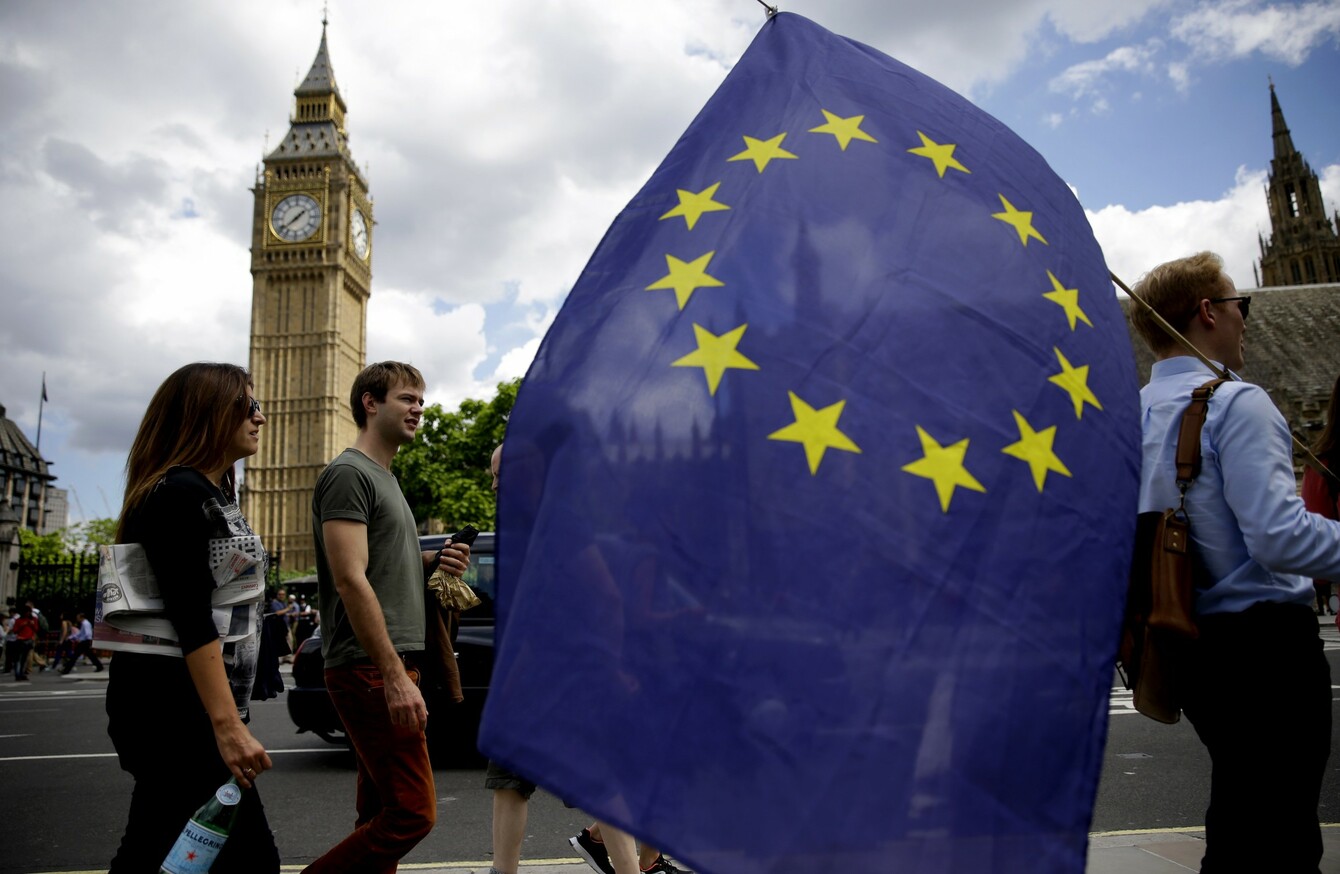 Image: Matt Dunham
Image: Matt Dunham
BRITISH CHANCELLOR GEORGE Osborne has spoken for the first time since Friday's Brexit vote result.
Osborne was a leading voice in the Remain camp but has, unlike his Prime Minister David Cameron, been silent since the result.
Speaking at the Treasury in London today, he said that he did not "resile from" the fallout of the result and said his department had put in "robust contingencies" for the result.
"The Bank of England (BoE) is able to lend in foreign currency, if needed. As (BoE governor) Mark Carney made clear on Friday, the bank is ready to make £250 billion available if needed.
"It will not be plain sailing in the days ahead, but we are equipped for what will happen."
Osborne said that it was right that Britain would delay triggering Article 50 of the Lisbon Treaty, which would begin the process of leaving the EU, until after a new Prime Minister has been elected.
"The British economy is fundamentally strong…we remain open for business.
"Only the UK can trigger Article 50. In my judgement we should only do that when there is a clear view about what new arrangements we are seeking with our European neighbours," Osborne said in his first public comments since the result.
While Osborne delayed the so-called "emergency Brexit budget" which he had said would come within two months of the vote until the autumn, he also addressed his own future, in light of his Prime Minister's resignation.
I've got a very important job to do as Chancellor of the Exchequer: to do what I can to provide stability to the British economy and that is what I am 100% focused on and will continue to be focused on in the weeks ahead.
Osborne said that he would address his future in the coming days and did not say whether he would serve an anti-EU government.
Meanwhile at home, the Dáil will be recalled to discuss the impact of a Brexit.
Markets
On the markets, the pound dropped again against the dollar, dipping 2% in early exchanges before climbing slightly.
While the currency recovered marginally as Friday wore on – helped by promises of financial market support from major central banks – the pound resumed its losses in early Asian business.
Stephen Innes, senior trader at OANDA Asia Pacific, warned sterling "is extremely vulnerable" and predicted an interest rate cut in the summer.
Proud and positive
Former London mayor Boris Johnson says that Britain should be "proud and positive".
Writing in The Telegraph, Johnson said the country must heal.
"We who are part of this narrow majority must do everything we can to reassure the Remainers. We must reach out, we must heal, we must build bridges – because it is clear that some have feelings of dismay, and of loss, and confusion.
"We should be incredibly proud and positive about the UK, and what it can now achieve. And we will achieve those things together, with all four nations united. There is every cause for optimism; a Britain rebooted, reset, renewed and able to engage with the whole world.
"This was a seismic campaign whose lessons must be learnt by politicians at home and abroad."