Aimee, Carl and Henke Pistorius
Image: AP Photo/Themba Hadebe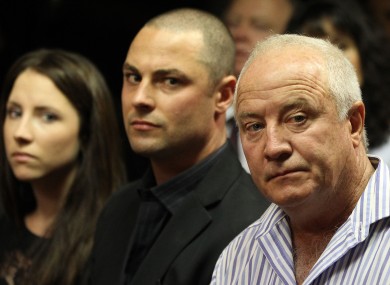 Aimee, Carl and Henke Pistorius
Image: AP Photo/Themba Hadebe
THE PISTORIUS FAMILY says it is "relieved" Oscar has been granted bail until his trial later this year.
The family's spokesperson, Mulligan Pearce, issued a brief statement to reporters following the magistrate's ruling on the athlete's bail application today.
Arnold Pistorius said, "Of course, we are relieved Oscar has been granted bail but this is still a very sad time for the family of Reeva and for us all."
He added that they were "convinced Oscar's version of what happened on that terrible night will be proved true".
Sister Aimee (pictured below), brother Carl, father Henke and uncle Arnold were all present in the courtroom today. Shouts of 'yes' could be heard from the benches when the judgement was read.
©Pic Chris Ricco/BackpagePix
The 26-year-old's bail was set at one million Rad by the presiding judge today. That is about €85,000.
In granting bail, the magistrate found that the Paralympic champion was neither a flight risk nor a danger to society because of a propensity to violence. He found there was no evidence that the accused would approach State witnesses or create disorder because of public outrage or shock.
Judge Desmond Nair also noted how Pistorius had "reached out" in his affidavit. In his two-hour judgement, he seemed to be creating a multiple-pronged justification for granting bail in a case of a schedule six offence. He was meticulous with his background information and was careful to say at certain points that he was not setting precedent in relation to an applicant being kept at a police station, rather than prison cell – which had occurred in this instance.
(AP Photo/Antoine de Ras-Star)
The Paralympic champion and Olympian still stands accused of the pre-meditated murder of his girlfriend Reeva Steenkamp. She died in the early hours of St Valentine's Day at Pistorius's Pretoria home. She was shot three times.
Until his trial later this year, Pistorius will have to live by strict conditions set out by the court. For one, he has given up his passports and is banned from international departures. He must tell authorities if he leaves Pretoria and is not allowed into the Silverwood estate or approach a State witness. He also must hand over all his guns and is prohibited from consuming alcohol or drugs. Random tests have been ordered.
His next court appearance will be 4 June this year.
Sprint coach Ampie Louw (pictured below), who was in the courtroom today, is planning to return to training "immediately".
What's next?
The setting of bail does not necessarily give us any insight into what way the trial might go as Nair picked holes in both the State and defence's cases.
Although he kept the charge as a schedule six offence of pre-meditated murder, the judge said that the prosecution had only produced circumstantial evidence over the past four days.
He read out several "errors and concessions" made by the original lead investigator Hilton Botha, including his failure to check cellphone records of both the accused and the deceased, his possible contamination of the crime scene and his agreement with the defence that Oscar Pistorius's version of events could be true.
#Open journalism No news is bad news Support The Journal

Your contributions will help us continue to deliver the stories that are important to you

Support us now
He also "blundered" on the issue of the alleged testosterone and needles found in the house.
Although he catalogued the weaknesses in Botha's testimony, Nair emphasised that the officer was not the sum of the State's case. The pieces of the puzzle still need to be put together, he said, because there are no witnesses to the shooting. He also raised the doubts he had about Pistorius's sworn statement.
He echoed the lead prosecution Gerrie Nel when questioning "some aspects of the version of the accused that are quite pronounced".
He said he had difficulties as to why Pistorius did not try to ascertain where Steenkamp was before shooting, or why he didn't verify who was in the toilet, and why the deceased would not have screamed back at him?
"I have difficulty with the defence version – at this early stage – that the accused chose to sleep on that side of the bed on that night but the deceased had slept there the night before.
"There are improbabilities that need to be explored…in evidence under oath."