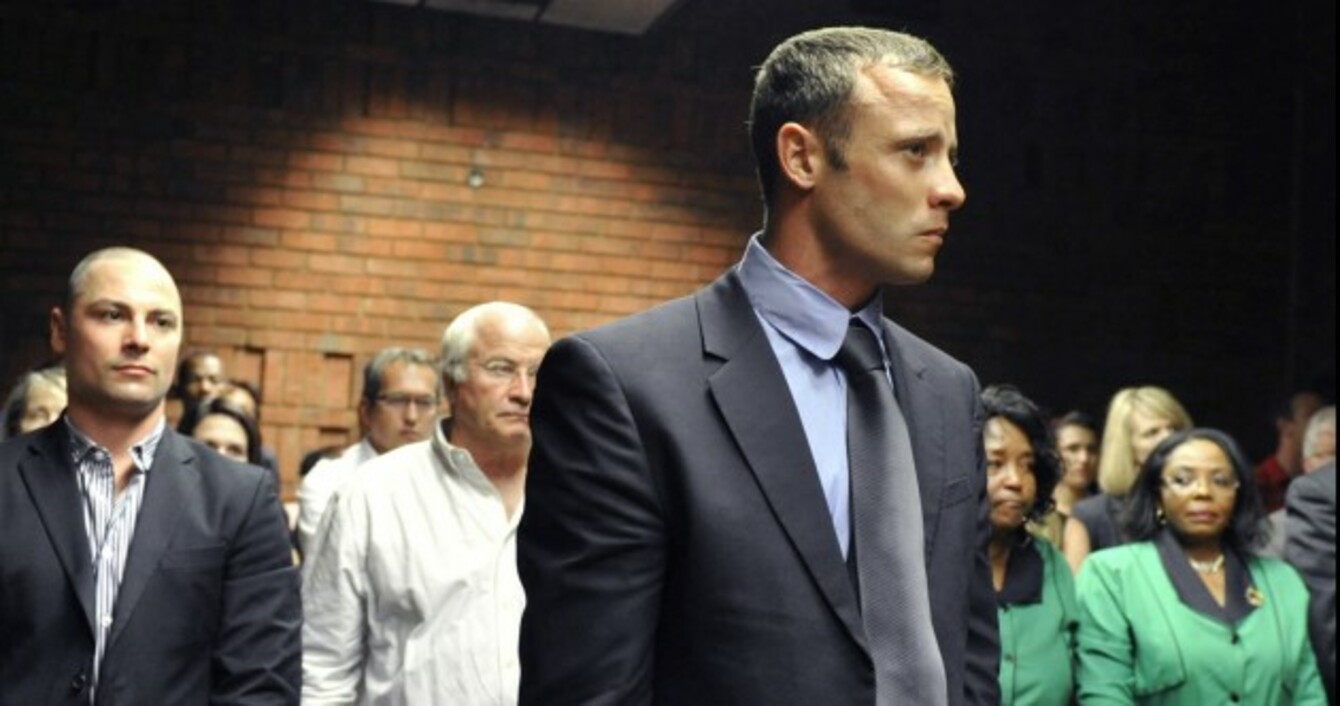 Oscar Pistorius in court today.
Image: AP/Press Association Images
Oscar Pistorius in court today.
Image: AP/Press Association Images
OSCAR PISTORIUS HAS told a South African court his version of events from the morning his girlfriend Reeva Steenkamp was shot and killed at his house.
In a submitted affidavit, the 26-year-old athlete said he did not intend to kill the 29-year-old model. His statement, read by lawyer Barry Roux, outlined his fear of intruders, as well as his love for Steenkamp.
ENCA News reporter Karyn Maughan tweeted much of the proceedings:
I fail to understand how I can be charged with premeditated murder, let alone murder. I didn't mean to kill Reeva.
I have no intention to relocate as I love my country.
I earn R5,6million a year. I've never been convicted of crimes.
I deny that I committed murder in the strongest point. Even though I don't have to, I want to deal with these allegations.
On 13 February, Reeva and I agreed to have quiet dinner at home. She later did yoga exercises.
Reeva had bought me a present for Valentines Day. We were deeply in love. [Oscar sobs]
At this point, the magistrate Desmond Nair interrupted proceedings and called a short recess, stating his compassion as a human being would not allow the statement to continue. He asked the defendant to try and maintain composure. Permission was sought for Pistorius's brother to sit with him but the Paralympian insisted he was "fine".
The affidavit continued to be read:
We were deeply in love and couldn't be happier. I loved her and I know she felt the same way.
I'm acutely aware of violent criminals breaking in. I've got death threats.
At some stage, I went outside to get a fan. I heard a noise in the bathroom and felt sense of terror come over me.
I thought Reeva was in bed. I screamed out that the person must get out of house and Reeva must call police.
I didn't have my prosthetic legs on. I felt vulnerable. I feared real harm to me and Reeva. I fired.
Then I realised Reeva wasn't there. I went onto balcony and screamed for help. I put my legs on.
Reeva was slumped over in the toilet. She was still alive. I called paramedics. I tried to take her to hospital.
I tried to save Reeva. But she died in my arms. I can't stand how much hurt I've caused.
I believe the forensic evidence will prove what I am saying. I used a cricket bat to break open toilet door.
I will stand my trial. I didn't attempt to flee after the shooting.
Earlier, the prosecution argued – and the magistrate agreed – that Pistorius should face a pre-meditated murder charge. His defence team will have to outline 'exceptional circumstances' for a successful outcome in the bail hearing. Before lunch, the magistrate said the charge may be reduced after this bail hearing, depending on evidence.
An important factor in the arguments appears to be when the South African star put on his prosthetic legs. The State believes he got out of bed, put on his prosthetic legs, walked seven metres to the bathroom door and fired. This version was contested strongly by the defence team.
The bail hearing has been postponed until 9am (7am Irish time) tomorrow. That gives the prosecution time to digest the affidavits submitted by Pistorius's lawyers.
Attorney Barry Roux read other sworn statements, including one from Steenkamp's best friend Sam Greyvenstein, who told the court that the model would have married Pistorius if he asked. "She said he was intense but she loved him."
The Olympian will be held overnight at Brooklyn Police Station in Pretoria, the last night he is due to spend there. Depending on tomorrow's decision, he will be allowed home or be sent to prison, remanded until his trial.
A woman holds a photo of Reeva Steenkamp, as she leaves her funeral in Port Elizabeth, South Africa this morning. (Image: Schalk van Zuydam/AP/Press Association Images)
A private and intimate memorial for Steenkamp was held in Port Eliabeth this morning.
Her uncle, Michael Steenkamp, broke down in tears as he remembered his niece's wish to be an advocate for women affected by violence and abuse.
Speaking outside Victoria Park Chapel, he spoke about how theirs was a family who liked to "get together". "We are all here today as a family. There is only one thing missing today, Reeva."
#Open journalism No news is bad news Support The Journal

Your contributions will help us continue to deliver the stories that are important to you

Support us now
He said the issue of abuse against women echoed so much in recent months because of her mentions of it. "She wanted to be an activist for that," he continued. "That has now swung right around. Her statement is more powerful now."
Her brother, Adam, said the memorial was "sad" but that "at certain points, we were smiling" because of the happy times they had.
"We only have good memories of her and that is what we were all thinking…There's a space missing inside all of the people she knew that can't be filled."
The family confirmed that another memorial, during which her ashes will be spread, will be held at some stage in the future.
-Additional reporting by AFP