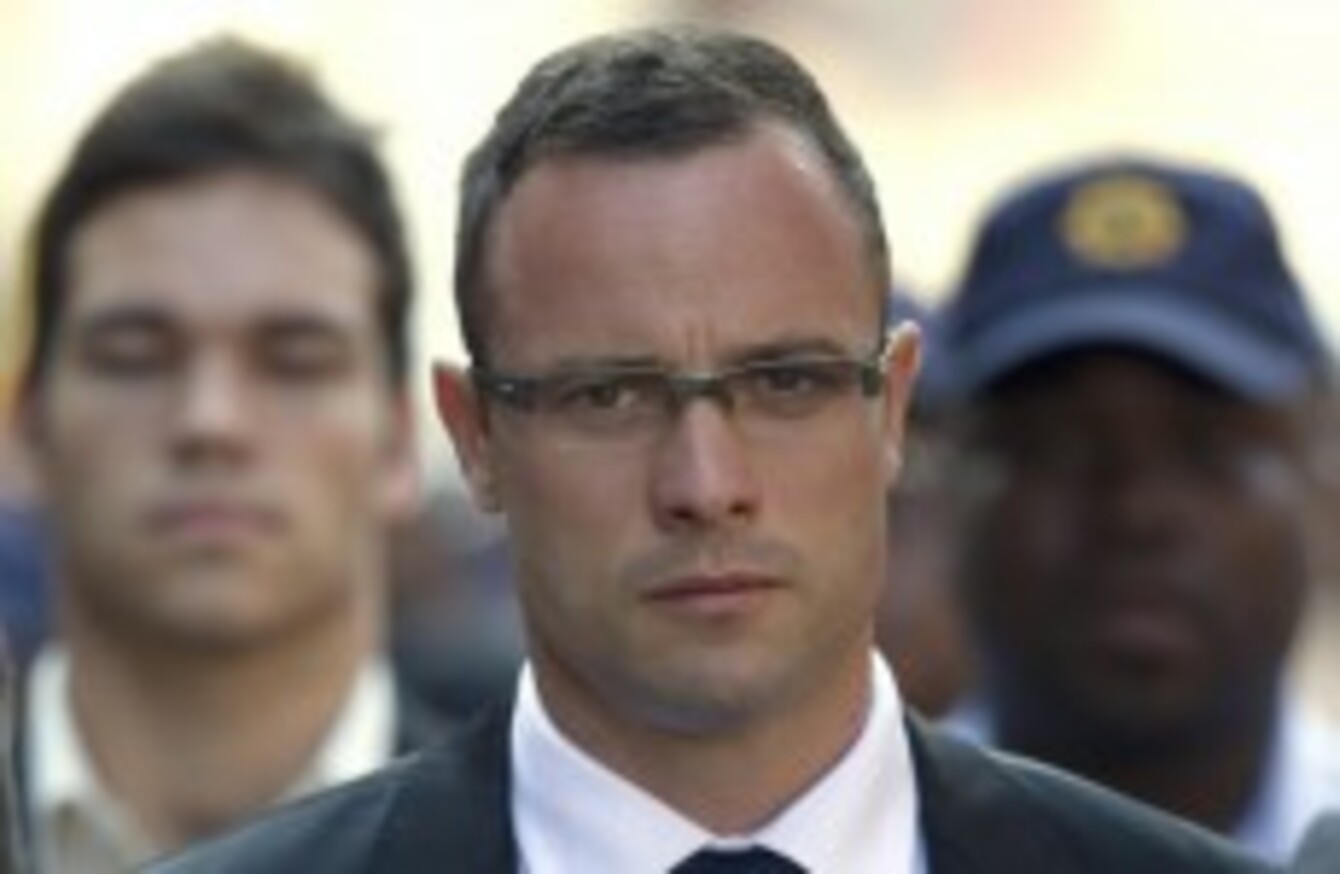 Oscar Pistorius
Image: AP Photo/Themba Hadebe
Oscar Pistorius
Image: AP Photo/Themba Hadebe
OSCAR PISTORIUS'S GIRLFRIEND Reeva Steenkamp told the athlete she was sometimes scared of him in a text message nearly three weeks before he shot her dead, a South African court heard today.
"I'm scared of you sometimes and how you snap at me and how you react to me," Steenkamp said in a message after the athlete thought she had flirted with another man, the court heard.
Murder trial
Oscar Pistorius's murder trial entered its fourth week on Monday with more testimony on gunshots and a woman's terrified screams on the night the star Paralympian shot dead his glamorous girlfriend.
Anette Stipp, a neighbour and one of the prosecution's last witnesses, said she heard shots, then a woman screaming, then more gunshots in the early morning hours on Valentine's Day last year.
I heard three, which sounded to me like gunshots. It was moments after the shots I heard a lady screaming. Terrified, terrified screaming.
Prosecutors accuse Pistorius of having knowingly killed his girlfriend Reeva Steenkamp by firing at a locked bathroom door inside his apartment in the dead of night. Pistorius denies the charge, saying he thought he was shooting at an intruder.
Prosecutors said they will finish presenting their case of premeditated murder against Pistorius early this week, when the defence will start calling their witnesses.
Over schedule
The trial is already running over schedule and may now last until May 16, with a short court recess in April, the justice department said Sunday.
Together with testimony of earlier witnesses, occupational therapist Stipp's evidence contradicts the 27-year-old sprinting star's account that he shot Steenkamp, a model and aspiring TV actress, having mistaken her for an intruder.
Pic: AP Photo/Themba Hadebe
Defence has argued that the shots that killed 29-year-old Steenkamp came too fast for her to scream out and alert her boyfriend that it was her in the toilet.
The defence has also said the screaming was not Steenkamp, but actually Pistorius who screams "like a woman" when he is anxious.
Stipp testified on Monday that "after the first set of shots there was definitely a female screaming for a period" and "just before the second set of shots there was a male screaming, then after the shots it went quiet."
The lights in Pistorius's house were switched on and his bathroom window was open, she told the court.
Pistorius, who has frequently cried throughout the court proceedings, maintained his composure as Stipp gave her testimony.
Testimony
Stipp's radiologist husband Johan testified earlier that he found the Paralympian on the scene trying to resuscitate Sttenkamp's lifeless body on February 14, 2013.
June Steenkamp, the model's mother, sat in the courtroom supported by members of the women's league of South Africa's ruling ANC.
Before closing their case prosecutors are expected to submit evidence on phone call records of the two iPhones and two Blackberries seized at the crime scene.