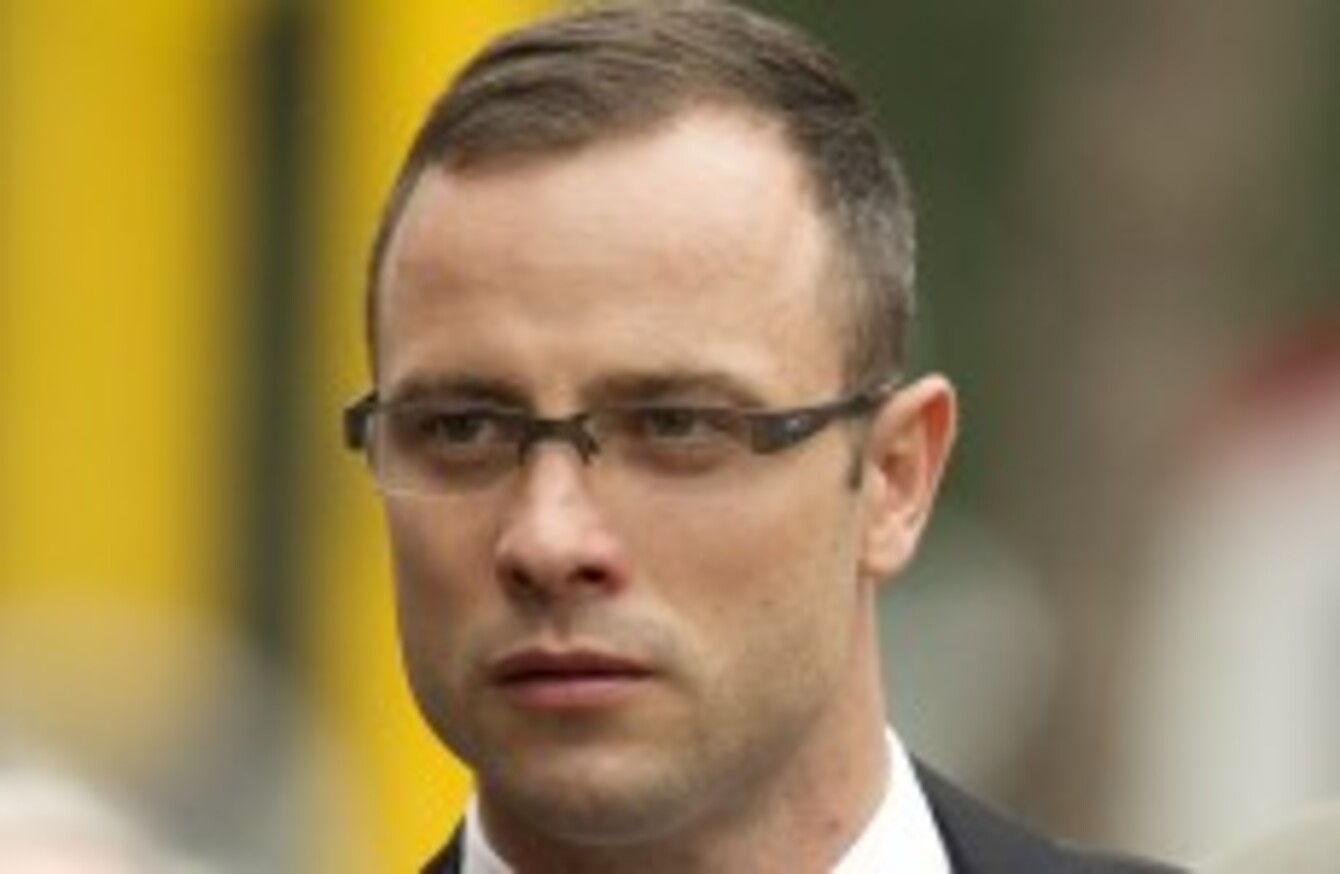 Image: Themba Hadebe/AP/Press Association Images
Image: Themba Hadebe/AP/Press Association Images
THE PROSECUTION WRAPPED up its case against Oscar Pistorius this week, with attempts to portray him as a scary, temperamental lover.
The athlete's defence team were due to begin their case yesterday but it didn't play out as expected.
Here are some of things we heard, learned and saw this week:
1. Stalled Proceedings
The South African public were expecting to hear from Pistorius himself on Friday but plans to put him on the stand were stalled due to an unforeseen event.
One of Judge Thokozile Masipa's two assistants fell ill, leading to the early adjournment. Proceedings will restart on 7 April.
Before Masipa told the High Court in Pretoria that it could not proceed as "one of my assessors is not well".
The South African court does not use a jury – just one main judge and two assessors. Majority rules on points of fact which need to be made.
The trial, which began on 3 March, will now go on well past the initial three weeks that were set aside for it.
2. A Strained Relationship?
About 1,709 messages between the pair sent over WhatsApp were discussed in much detail on Monday. A police investigator revealed a number of texts and, although he noted that about 90 per cent of the messages were warm and loving, there were some that caught the attention.
In one, Steenkamp said: "I'm scared of you sometimes and how you snap at me and of how you will react to me."
Eyewitness News reporter Barry Bateman tweeted screenshots of two of the messages. The first is from Steenkamp, sent on 26 January last year.
(Source: Twitter/ Barry Bateman)
Steenkamp's message suggests that Pistorius got angry with her for "flirting" with another man at a party, and she says she feels like she's living in a "double standard relationship".
She also tells Pistorius that he has "picked on [her] incessantly" and complains about things like how she talks and chews gum.
Pistorius' apologetic response is below:
(Source: Twitter/ Barry Bateman)
In another text Steenkamp sent on 7 February, she tells Pistorius that she was hoping to make him proud in a certain social situation, but he criticised her loudly.
Bullish defence lawyer Barry Roux explained away the disagreement, noting it had been sorted by email and showed CCTV footage of the couple kissing while shopping.
3. A Woman's Scream?
Much of the evidence for the prosecutors lies in whether or not neighbours heard a woman screaming in terror - or if it was Pistorius screaming (like a woman) in the aftermath of discovering he had shot his girlfriend.
Anette Stipp, an occupational therapist who can see Pistorius's house from her bed, testified that she heard "terrifying screams" by a woman.
I couldn't make out what she was screaming, it was just screams, very terrified screaming."
She said the screams came after three gunshots in rapid succession. Minutes later, she heard three more shots, she said.
She told the court that both sets of shots sounded the same.
"I could still hear the scream up until the second set of shots," Stipp said. "I could also hear a man screaming."
The neighbour said she was 100 per cent certain it was a woman screaming.
#Open journalism No news is bad news Support The Journal

Your contributions will help us continue to deliver the stories that are important to you

Support us now
Despite her testimony, both the prosecution and defence agree that Pistorius only fired four bullets. Roux explained that Pistorius bashed in the door with a cricket bat when he realised it was his girlfriend in the bathroom.
4. Trial by Twitter?
Arguably South Africa's second most famous man (after Nelson Mandela), it is hardly surprising that the trial has received huge attention.
It has its own 24-hour channel, dedicated to coverage of the hearings, with almost 200,000 viewers at peak times.
It is also a well-followed conversation on Twitter. Dozens of reporters inside the Pretoria courtroom are tweeting their way through proceedings. Since 3 March, more than 400,000 tweets have been sent in relation to the trial, according to Topsy Labs reports.
In just two minutes on March 24, contributors dispatched 50 Twitter messages with the hashtag #OscarPistorius, which were delivered to 1.2 million accounts when retweets are included, estimates Tweetreach.com, a researcher in San Francisco.
"The very striking thing is how much debate there is about every aspect of the trial and its implications, almost immediately" on Twitter, said Anton Harber, a journalism professor at Johannesburg's University of The Witwatersrand. "The whole media ecology is changing."
Even the 24-hour TV channel dedicated to Pistorius is taking cues from Twitter. At 6 p.m. every weekday, the channel features an hour-long program called Social Media Analysis that looks at tweets and Facebook posts by reporters and the general public. The show encourages viewers to send questions to anchor Emma Sadleir using the hashtag #AskEmma.
"Do you think Roux looks up all the social media posts and then gets new ideas for the case #AskEmma?" Armando Loureiro of Johannesburg tweeted to Sadleir. "Why did he not plead temporary insanity?" asked another.
5. The Prosecution's Case
As we said above, State lawyer Gerrie Nel has done all he can and the prosecution has rested. Here's a brief summary of the case he has presented:
Reckless Gun Enthusiast: Pistorius loved guns - holding them, owning them and shooting them. That is the picture Nel tried to portray throughout his 15 days in the spotlight. Boxer Kevin Lerena's testimony about the day the Paralympian accidentally set off his friend's firearm started things off. Then a gun trainer outlined how Pistorius had ordered several guns just weeks before the killing. And another friend, Darren Fresco, recalled the day the 27-year-old shot his gun out of the sunroof of a moving car.
A Moody Partner: The text messages revealed above were used to portray a moody, unloving partner by Nel, one who was often overcome with jealousy and need to control. In the messages, Reeva appears as a loving woman who was scared of - and didn't understand - her boyfriend's outbursts.
A Romantic Night In? The defence has described Pistorius and Steenkamp as a young couple in love. But Nel set up a very different night to the romantic, calm St Valentine's evening that had been portrayed. Search history from an iPad showed up porn sites, while neighbours testified to hearing arguments. The doctor who carried out a post-mortem exam also said that, in his opinion, Reeva had eaten two hours before she was killed. That means she ate food at about 1am - three hours after Pistorius claimed they went to bed.
A Love Cheat: An ex-girlfriend of Pistorius, Samantha Taylor told the court that Oscar cheated on her. She also detailed out he was prone to fits of rage and screamed at her, her sister and her friends.
The Scream: That screaming has also been deemed important by the prosecution as the defence has tried to dismiss the screams neighbours heard as Pistorius's own. They say he sounds feminine when he screams. Taylor said, "That is not true – he sounds like a man."
The Bullets: A police ballistic expert told the court that Reeva was standing, facing the locked bathroom door when she was hit in the right hip by the first of four bullets. Captain Christiaan Mangena said the victim then fell back on to a magazine holder in the cubicle and was struck in the right arm and head. She crossed her arms over her head to protect herself. "She ended up with her head on top of the toilet seat, and the lower part of her body on the rack," he concluded.
With reporting from Bloomberg and Business Insider