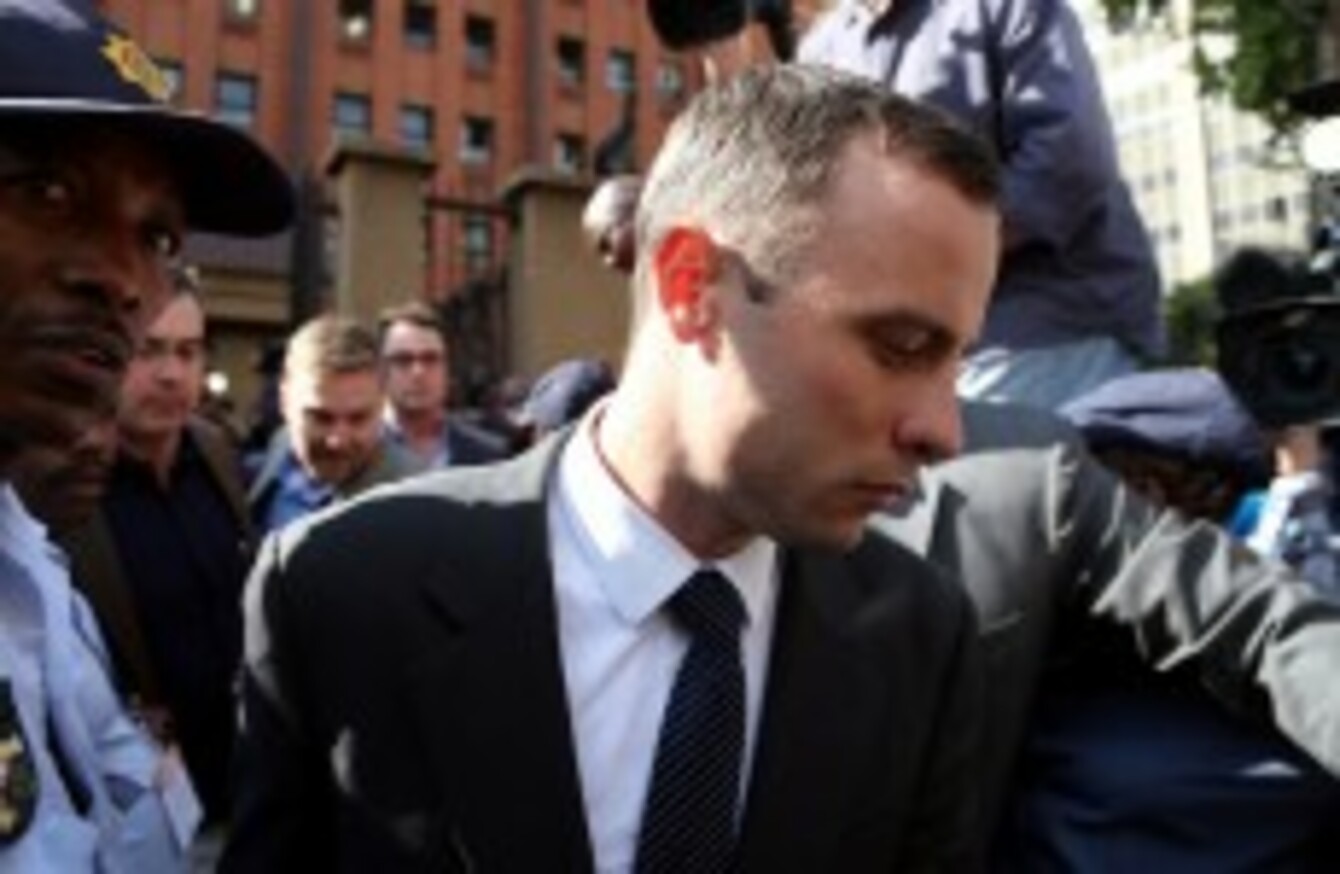 Image: AP/Press Association Images
Image: AP/Press Association Images
"I DID NOT intend to kill Reeva or anybody else for that matter," Oscar Pistorius insisted during his murder trial at a South African court today.
Picking up from where the hearing adjourned early yesterday, the athlete described the moments after he discovered he had shot his girlfriend Reeva Steenkamp.
After shooting four bullets through a locked bathroom door – and subsequently breaking down the door with a cricket bat – Pistorius said he found the 30-year-old model on the toilet bowl.
"I could feel the blood was running down on me," he said.
He then went on to say how he thought that he felt her breathing so he put her weight on him as he sat on floor.
"I could see that her arm was broken…I couldn't pick her up. I was on my knees and one of my feet. I placed her down and placed her head down softly on the carpet.
"I saw that her cellphone was in the toilet…I grabbed it…It had a passcode I couldn't access. I ran back to my bedroom where my phone was…both my phones were there. I picked them up and ran back to Reeva."
Pistorius repeated multiple times how he tried to pick the victim up but that he wasn't able to.
I then phoned Mr Standar…a gentleman who lived in the estate that I had become friendly with…I asked him to come help. I was struggling to pick her up.
"I was scared I would hurt her more," he added. According to reports, he demonstrated where he put her hands.
"I was trying to pick Reeva up…I didn't know what to do. I could see that she was breathing, she was struggling to breathe. I phoned 911. I don't recall speaking to the operator but I remember him telling me that I needed to get Reeva to the hospital, that I mustn't wait for him."
A characteristic of his testimony throughout the morning, he noted that he doesn't really remember calling security, but acknowledged that phone records show a call was made.
He detailed how his neigbours, Mr Standar and his daughter arrived, and that he was "shouting and screaming for him to help".
I felt helpless. I wanted to take her to the hospital. I had my finger in her mouth, trying to help her to breathe and my hand was on her hip to try to stop the bleeding.
He noted his relief when a doctor – a neigbour, Mr Stipp, who has already given evidence during the State's case – arrived.
However, Pistorius claimed he didn't know Mr Stipp and that he still would not recognise his face.
I cried for him to help me, to help Reeva. He didn't seem to know what he was doing. He seemed overwhelmed by the situation. Everything he told me to do, I was already doing.
"He kneeled down on her righthand side for a couple of minutes, I don't remember seeing him again. He walked outside and he was outside. I was shouting for him to come back into the house and help me."
The 27-year-old recounted how the ambulance arrived shortly later.
Reeva had already died whilst I was holding her before the ambulance arrived so I knew there was nothing they could do for her.
"The lady paramedic came to me and said that she would like to inform me that Reeva has passed."
Investigation
Compared to yesterday's evidence, Pistorius stayed calm and composed throughout the early morning. He was able to give detailed answers to his counsel's soft questioning.
Remembering the aftermath of the shooting, the accused said he was "just sitting on the floor crying", unable to speak to police officers.
"Everytime I looked up there were more people in the house – more policemen. People going up and down the stairs. I was standing in kitchen…I asked the policeman could I wash my hands because the smell of the blood was making me throw up.
"I don't remember washing my chest. I just remember washing my hands and washing my face.
"Everytime I saw Reeva, I got sick. I stayed more inside the kitchen…I sat in the pantry against the washing machine."
He also carried out multiple demonstrations with the cricket bat which was used to break down the bathroom door.
The trial continues.