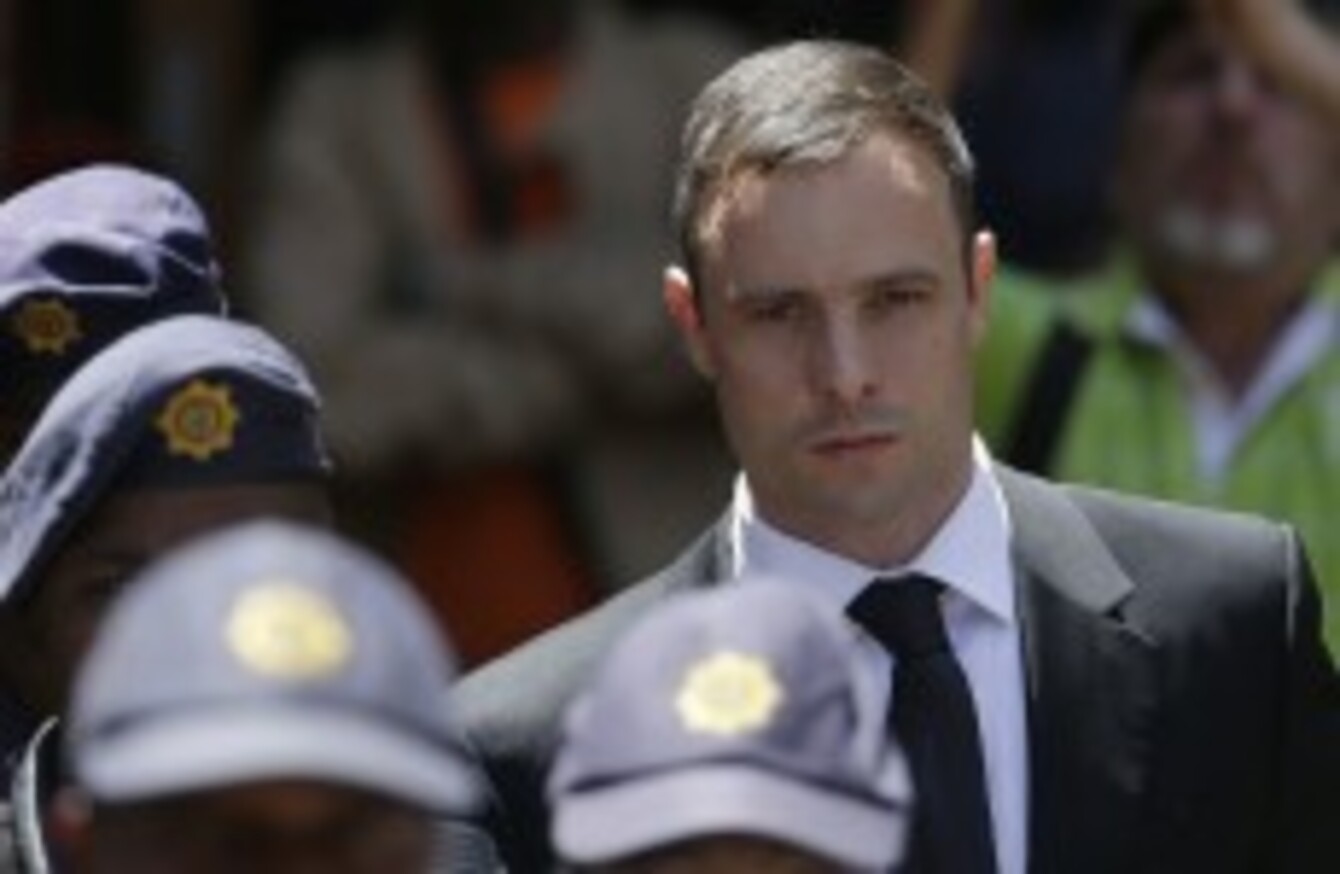 Image: AP/Press Association Images
Image: AP/Press Association Images
Updated 23.14pm
OSCAR PISTORIUS HAS been sentenced to five years in jail for killing his girlfriend Reeva Steenkamp on St Valentine's Day last year.
He was also given a three-year suspended sentence for gun charges.
Handing down the sentences today, Judge Thokozile Masipa emphasised that the "decision on sentence is mine and mine alone", despite the presence of two assessors in the courtroom.
She told the court that sentencing is an imprecise and imperfect procedure and that there are a number of appropriate sentences often available to criminal judges.
As she came towards her conclusion, she said that nothing she could do today would "reverse what happened on 14 February 2013″, but added that she hoped her decision would give closure to the Steenkamp family so they could "move on with their lives".
Reeva Steenkamp, a model and TV personality, was shot four times while in the bathroom of her boyfriend's house. He claimed that he believed she was an intruder and that he was protecting the household.
She said that to reach an appropriate sentence, she was "duty-bound" to consider the nature and seriousness of the offences and the personal circumstances of the accused, as well as the interest of society.
Sentencing is about finding a balance, Masipa added, citing retribution, deterrence and rehabilitation as important factors.
Judge Masipa spent over 60 minutes delivering her rationale for the sentence. She said she was "satisfied" that the South African prison system can deal with people with special needs, an argument used by the defence lawyers as they tried to help the Paralympian avoid jail time.
"I have no reason that the accused would present the correctional services with an insurmountable challenge," Masipa added.
She also said she had a feeling of "unease" with the defence's "overemphasis" of the Olympian's perceived vulnerability. She conceded that he was "vulnerable" but countered that he also possesses "excellent coping skills".
He rarely saw himself as disabled and he excelled at his chosen sport, she added.
Masipa also dismissed defence arguments that Pistorius would suffer more in prison than other convicted criminals.
It would be a sad day for this country if an impression were to be created that there was one law for the poor and disadvantaged and another for the rich and famous.
The judge cited a number of other culpable homicide cases where non-custodial sentences were handed down, but she noted that Oscar Pistorius's case was "dissimilar".
She said that there was an aggravating and significant factor in that the athlete was trained in the use of the gun.
"Using a lethal weapon, a loaded firearm, the accused fired not one, but four shots into the door," she continued.
"The toilet was a small cubicle and there was no room for escape for the person behind the door."
Speaking outside court after the hearing, the Steenkamp family said they were hoping to move forward.
"We are satisfied," Reeva's father told reporters. "I am just happy it is over," added her mother, June.
Pistorius was found not guilty of murder after a six-month long trial this year. The court had heard how the man who became the first Paralympian in history to compete against able-bodied athletes at the 2012 London Olympics has lost his career and a loved one.
Masipa noted during the ruling the "enormous" contribution he had made to society, through charitable donations – both monetary and time – and by inspiring those with disability, as well as changing the public's perception of disability.
There was no immediate reaction from Pistorius, who stood stony-faced as the sentence was read to him. His sister, seen behind him, also did not react to the jail term.
First published 09.35am