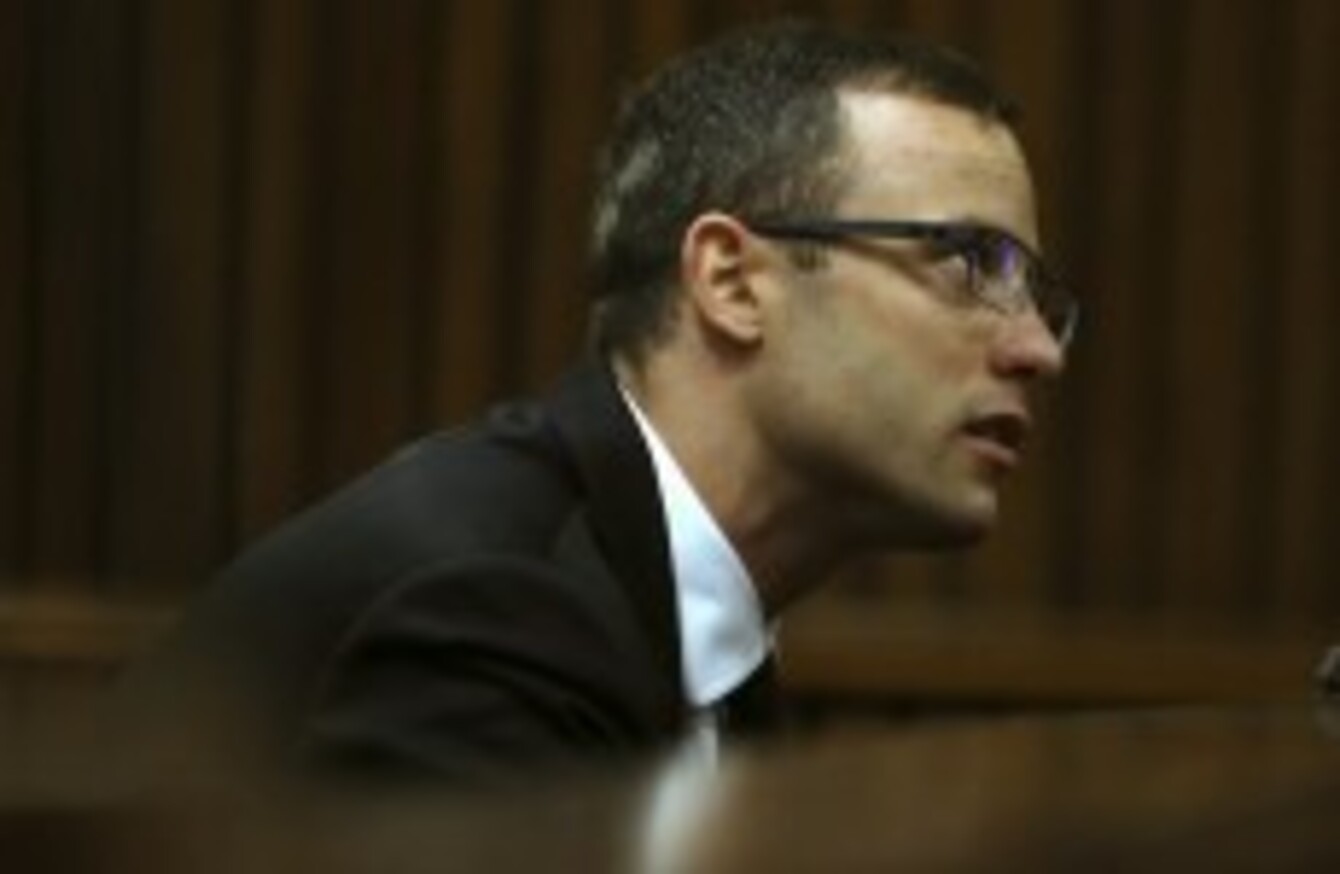 Oscar Pistorius sits in the dock at a court in Pretoria, South Africa
Image: Themba Hadebe/AP/Press Association Images
Oscar Pistorius sits in the dock at a court in Pretoria, South Africa
Image: Themba Hadebe/AP/Press Association Images
Updated 1.50pm
THE MURDER TRIAL of Oscar Pistorius was adjourned early for the second day in a row because the suspect was emotionally drained and exhausted in the witness box.
Judge Masipa granted the early adjournment as the 27-year-old wailed while giving evidence on the stand about the night he shot and killed his girlfriend, Reeva Steenkamp.
He had been describing the moments – after he fired four bullets – in which he realised that he could have accidentally targeted the 30-year-old model, who was behind a locked bathroom door.
The Paralympian has admitted to shooting dead his girlfriend on Valentine's Day last year but claims it was an a case of mistaken identity. He says he believed there was an intruder in his home when he shot four bullets through a locked bathroom door in his bedroom.
Pistorius said today that he was "overcome with fear" on waking to sounds in his home.
Earlier, the athlete recounted the details of the evening before the incident in his Pretoria home. After discussing what the couple did on the evening of 13 February, he went on to explain his actions later that night, describing it as "the moment everything changed".
He said that he woke up and thought the noise he heard was a burglar/burglars entering the home.
"The first thing that went through my mind was that I needed to arm myself, I needed to protect Reeva," he said.
After grabbing a gun from its holster, he said he wanted to put himself "between the person that had gained access to my house and Reeva".
Pistorius explained that he did not have his prosthetic legs on and that he was "overcome with fear", "constantly aware" of the threat the intruder or intruders posed.
I started screaming and shouting for the burglar to get out of my house…I shouted for Reeva to get on the floor and call for the police.
He also claimed to have ceased shouting as he made his way towards the bathroom in case the person "would know exactly where" he was.
After a lunch-break, he continued to go over the events of the morning of 14 February 2013.
"Before I knew it I had fired four shots at the door," he told Judge Mapisa. "My ears were ringing and I couldn't hear anything."
He returned to his bedroom, gun still raised, and put his arm on the bed to feel if Reeva was there. It was at this point that he realised that she was not in the bed but he thought she may have been scared and got down on the floor, as he had requested. He also checked behind the curtains to see if she was hiding.
It then "dawned" on him that it could have been her in the bathroom. He went back and realised that the door was locked.
He said, at that point, he ran to the balcony and cried out for help before putting his prosthetic legs on.
He told the court he was "crying out for the Lord to help me, crying out for Reeva".
I haven't ever screamed like that.
He recalled breaking through the door and discovering Reeva on the floor. He said he lay over her, telling the court that "she wasn't breathing".
At that point in his testimony, Pistorius was sobbing loudly between words.
Judge Mapisa called for an adjournment. On return, defence lawyer Barry Roux said that his client was exhausted, emotional and stressed, his shirt "soaking wet".
An early adjournment was agreed
***
Earlier, questioned softly by his own counsel earlier, the 27-year-old was given the opportunity to recount the beginning of his relationship with Steenkamp.
He insisted that they had a loving relationship and that they had planned a future together.
The court heard Pistorius and Steenkamp met through a mutual friend on 4 November 2012.
"The first six days we knew each other we called each other every day," he said, mentioning that he was 'besotted' by her.
I was very keen on Reeva. I think if anything I was more into her, than she was at times with me.
His defence lawyer, Barry Roux, asked him to go through a vast array of WhatsApp messages that the couple sent to each other.
The majority were caring texts, sent with numerous kisses (x), words of endearment such as 'Boo', 'Baba' and 'Angel' and Pistorius telling Steenkamp that he liked her a lot.
The selection from the 1,700 messages sent between Steenkamp and Pistorius have been chosen by Roux to display a healthy relationship, putting a different version forward than that portrayed by the State through an argument over four WhatsApp texts.
Referring to those messages, in which Steenkamp said she was sometimes scared of her new boyfriend, Pistorius said it was a "bad hour in our relationship".
There is also a message from the 30-year-old model and TV star which says their arguments are not about "fundamental issues".
There was one interjection from the State's counsel, Gerrie Nel, who insisted that Roux was incorrect to claim that the argument – or "unhappiness" – was over following the exchange of 'xs' in text messages later that day.
Another text mentioned by Roux highlights how Steenkamp asked Pistorius if she could wear a particular dress.
Both the athlete and model discussed being stressed by their hectic lifestyles and diet worries.
The trial continues tomorrow morning at 8.30am (Irish time).