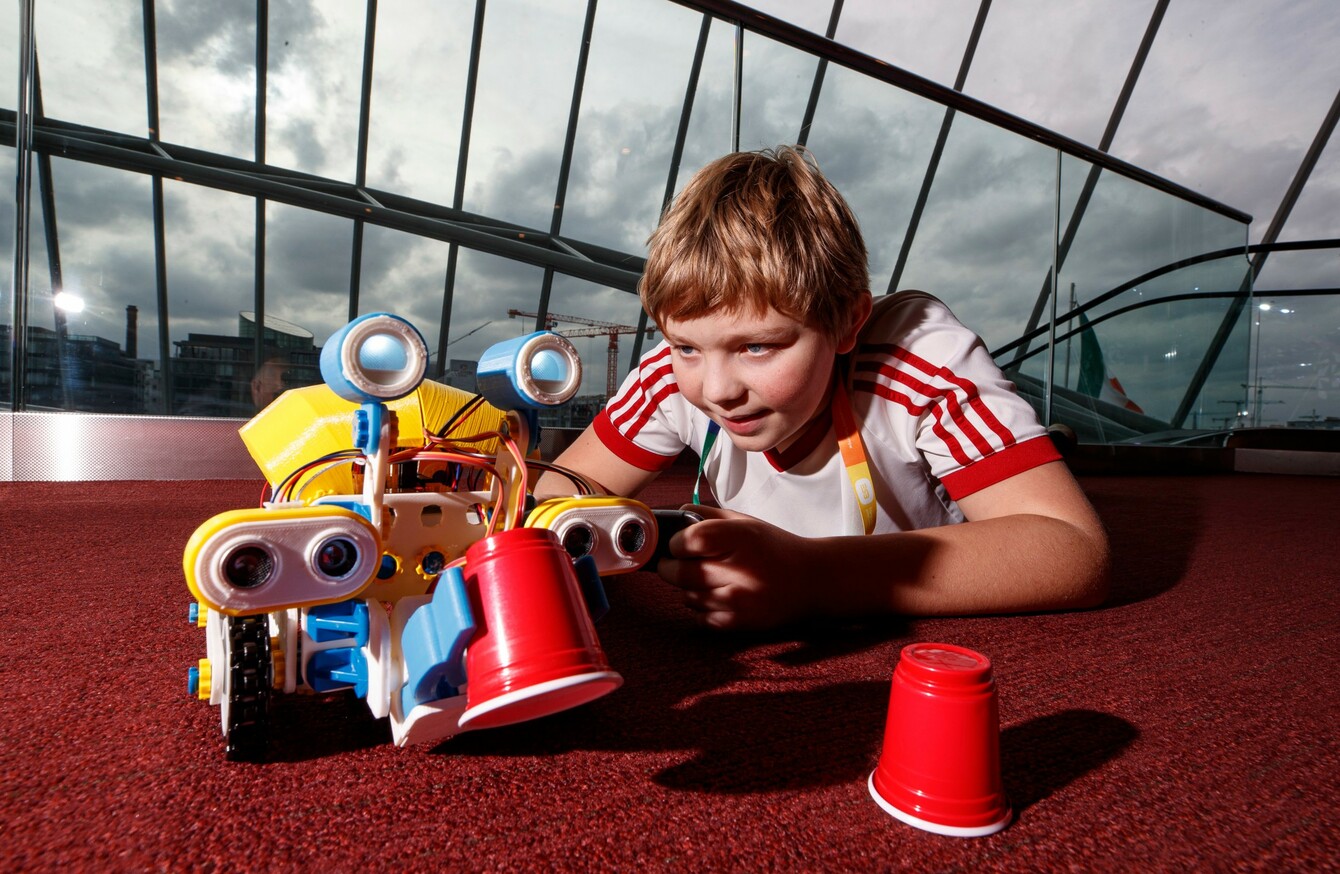 TechSpacer Sean Walsh at the ESB Creative TechFest 2019
Image: Andres Poveda
TechSpacer Sean Walsh at the ESB Creative TechFest 2019
Image: Andres Poveda
IN THE TEN weeks since schools closed their doors in March, TechSpace programme manager Jen Hesnan has been busier than ever before. "We've sent out 1,000 youth kits to schools around the country, with little things like LED lights you can make circuits with," she says. "We've trained 256 youth workers and teachers just since Covid-19 hit."
The mission of TechSpace is to close the opportunity divide in Ireland between those who have ready access to technology, and those who don't. This divide has been deepened and widened by the Covid-19 crisis, as many schools turn to remote learning. So TechSpace aims to provide access to creative technology opportunities to all young people, through both English and Irish. 
"Access to technology is not equal," says Jen. More and more of everyday life is facilitated by technology, she adds, but "young people don't always have the opportunities – if their school doesn't have the hardware, if their teachers aren't trained." This can limit education and career progression, and is a particular issue in disadvantaged and rural communities, she says. "We want to make TechSpace open to any young person." 
Part of the problem is that the digital divide also applies to educators, many of whom may not be digital natives themselves. So TechSpace – a programme managed by Camara Education Ireland – provides training and support to those working with young people nationwide, from teachers and social workers to Garda youth diversion officers and school completion officers. They also run an annual event, the ESB Creative TechFest, bringing hundreds of young people and youth workers together to showcase their projects and spark new ideas.
The Covid-19 crisis has sent demand for TechSpace's services through the roof. "One of our biggest struggles before social distancing was trying to convince teachers and youth workers that this was important," says Jen. "You'd often hear, 'Oh, I'm not a techie person'. So we'd be trying to show how technology creates opportunities. But now, people are being asked to take their work online." 
TechSpace are running training sessions for educators to engage young people in creative activities online – a challenge which is redoubled in the current circumstances. "They're working with young people who are homeless, who are in crisis situations, and trying to engage them online," says Jen. 
To help with this, the organisation have had to adapt the training they offer. All classes moved online immediately, but they also created new resources for young people and parents – from a monthly newsletter, to step-by-step projects they can try at home, without specialised equipment.
Thomas is a youth worker with Clare Youth Service, who is part of the TechSpace network. Since school closures, he says, "I have moved our maker space online and been using scribble bots [simple DIY 'robots' that draw patterns] with young people.
We have a young person writing a song, as part of our music project. He made a beat using a Rubik's cube. His cousins in other parts of Ireland have been able to share their own Rubik's cube beats online, to be included in the song. 
Helen Creedon, a teacher from Inish Méain, received TechSpace funding for her students to attend TechFéile – an Irish-language tech event – at Shannon Airport in March. "The equipment TechSpace gave my school allowed all our students to engage with soldering and glue guns and make their own vehicles," she says.
One of my colleagues jokes, our students were like Eurovision winners at the TechFéile event. They were delighted and inspired by the opportunity to use technology. Especially in this time of remote working, effective use of technology is essential. Those who can tinker, engage and ask questions will succeed. 
Training as Gaeilge is a key focus of the programme. "Since school closures we've trained 70 teachers through Irish," says Jen. "We've trained 37 youth workers in using STEAM [Science, Technology, Engineering And Maths] online." Those 1,000 TechSpace kits for young people have gone out to 27 different youth organisations, while 41 'cluster coordinators' – key youth workers in the TechSpace network – are supporting an average of 10 local educators each.
#Open journalism No news is bad news Support The Journal

Your contributions will help us continue to deliver the stories that are important to you

Support us now
Source: ESB/YouTube
For Jen, the impact of technology can be profound – something she saw in her own days working directly with young people. "When I was a youth worker with Foróige, Camara trained me, and I saw the benefits it had for the young people I was working with. I saw them really flourish in different ways, and do creative things that people didn't think they were capable of."
Currently, TechSpace has a network of more than 800 educators and almost 30,000 young people around the country. With the support of sponsors ESB ("the TechSpace programme wouldn't be where it is without ESB's support, they're an amazing sponsor," says Jen) they aim to keep celebrating creative work and supporting educators through events like the TechFest – due to take place this October. 
Ultimately, she says, the mission of TechSpace is to move towards a world in which access to technology and the educational opportunities around it are as normal a part of every Irish upbringing as playing sport. For people around the country, she envisions:
[Technology] just becomes normal. In the same way that there's a local GAA club, there's a local TechSpace club. It becomes a positive force in the community.
TechSpace design and deliver training through both Irish and English, working with educators to support young people to develop creative technology and STEAM projects from film-making and graphic design to coding and circuitry. ESB has supported the TechSpace programme since 2012 through its Energy for Generation fund. To find out more, visit techspace.ie.