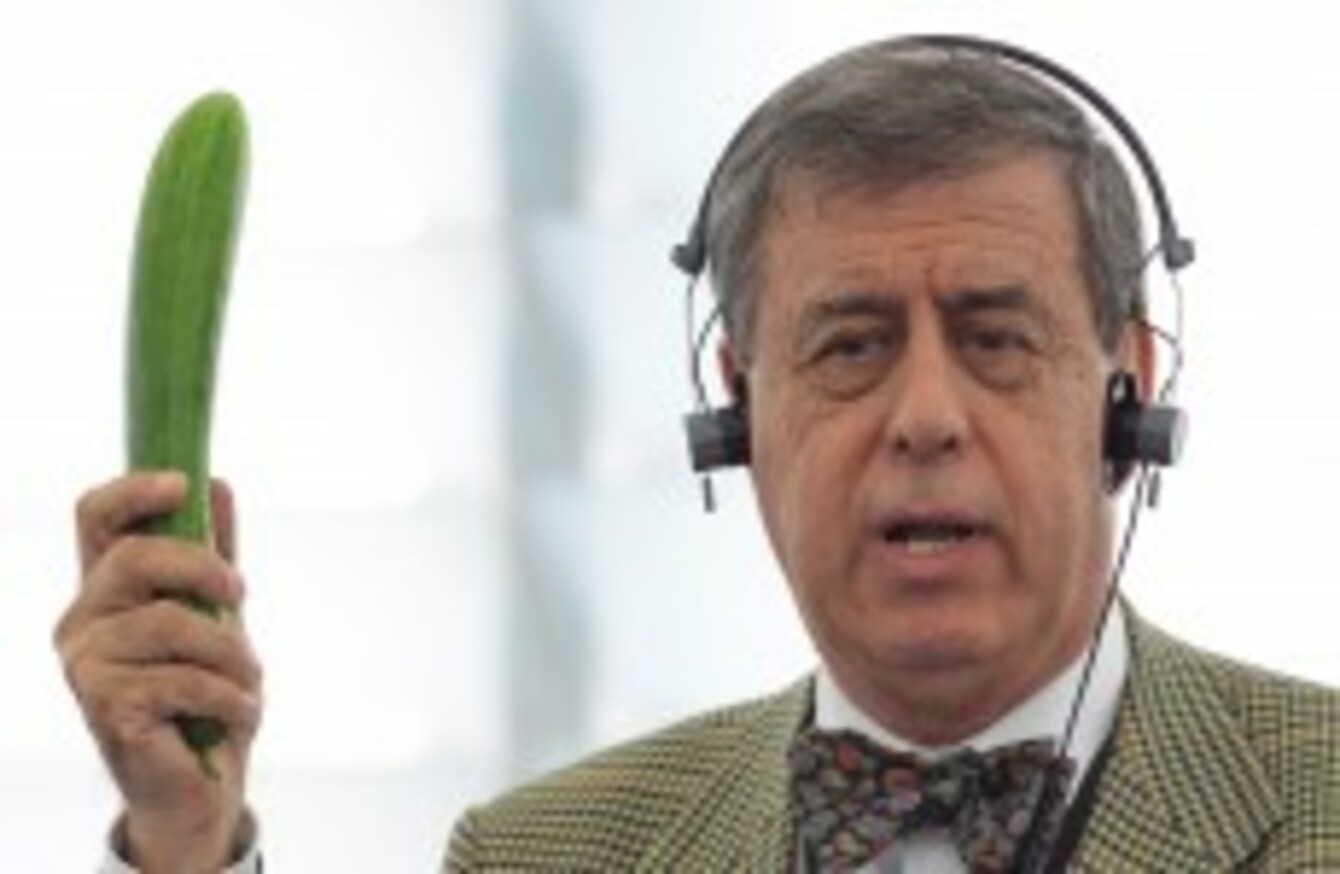 Spanish Member of Parliament Francisco Sosa Wagner holds up a cucumber during a Plenary Session debate on the recent outbreak of E.coli at the European Parliament in Strasbourg
Image: /AP/Press Association Images
Spanish Member of Parliament Francisco Sosa Wagner holds up a cucumber during a Plenary Session debate on the recent outbreak of E.coli at the European Parliament in Strasbourg
Image: /AP/Press Association Images
THE EUROPEAN UNION has increased its offer of compensation from €150 million to €210 million to struggling farmers left with tonnes of unwanted produce rotting in fields and warehouses as Europeans shun vegetables, fearing they are contaminated with a deadly strain of E. coli.
The EU Farm Commissioner Dacian Ciolos had originally offered €150 million but under pressure from big producers like Spain, Italy and France, he was forced to offer more help.
The package covers the period from when the farm crisis began late last month till the end of June, in the hopes that the scare will have abated by then.
"We don't know how things are going to evolve. We cannot predict," Ciolos said. "At the end of June we will see where we stand."
The proposed aid still falls far short of the losses that European farmers have estimated — over €400 million a week — and farmers are expected to demand even better terms. The European farmers federation Copa-Cogeca immediately rejected the new offer as insufficient. Copa-Cogeca Secretary-General Pekka Pesonen said:
More funds must be made available to help pull the sector out of this deep crisis.
Ciolos had hiked the compensation from 30 percent of the value of the crops to 50 percent, but the industry is still demanding 100 percent compensation for the losses.
Ciolos said he came up with a better offer because he included zucchini and peppers on top of his initial offer for cucumbers, tomatoes and lettuce. He said the funds would be covered by the existing EU farm budget.
At least 26 people have now died since May 2 in the world's deadliest known outbreak of E. coli, and over 2,700 have been sickened by the bacteria. No cause for the outbreak has yet been found.
Germany officials say they think the worst may be behind them after a slight drop in the number of infections was reported.
- Additional reporting by AP