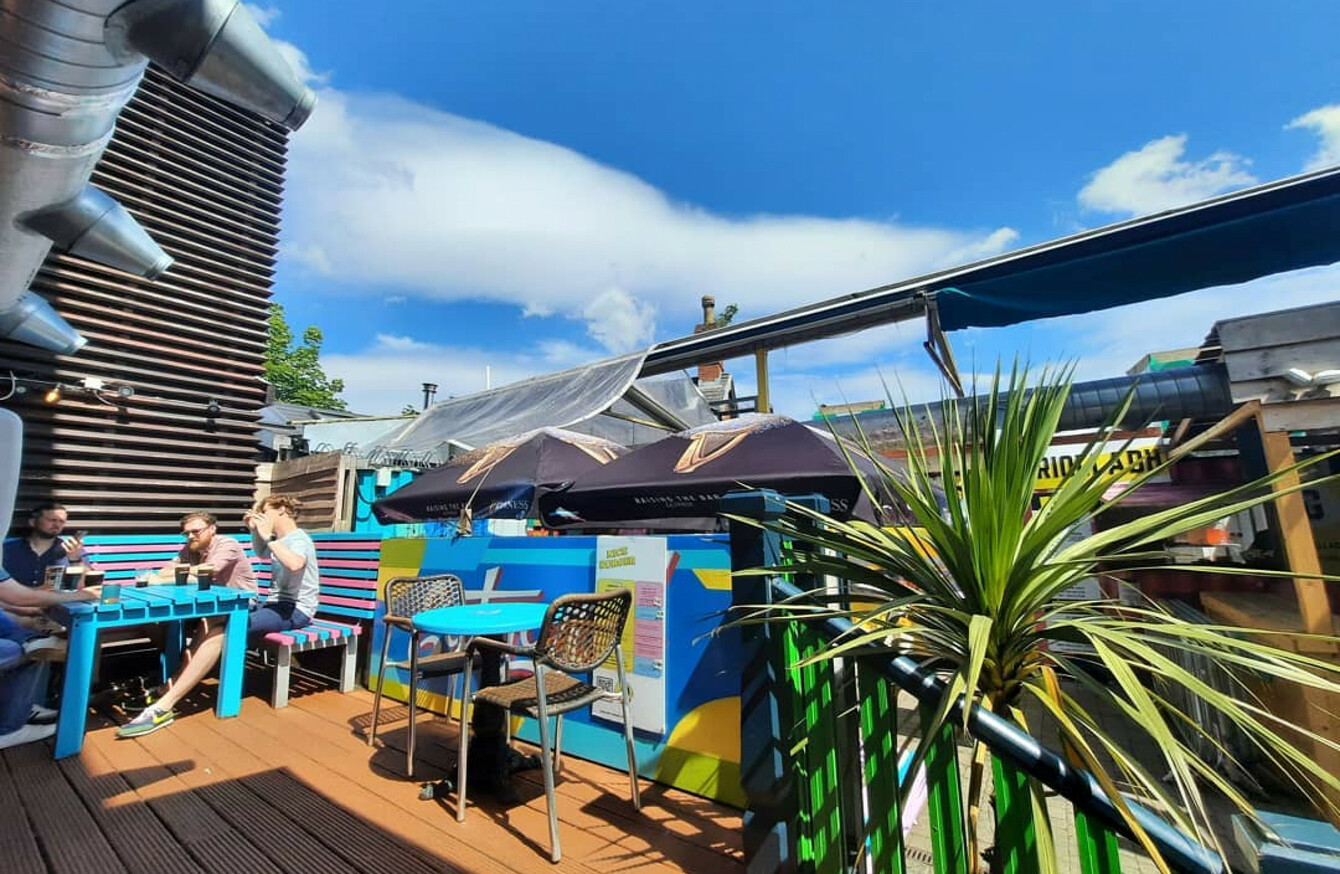 Some of the outdoor seating at Eatyard, Dublin 9.
Some of the outdoor seating at Eatyard, Dublin 9.
Ireland's outdoor summer is going strong, with bars and restaurants around the country creating bustling spaces for people to dine and drink al fresco, whatever the weather.
And even with indoor dining back on the table for some diners, restaurants are still serving up mouthwatering meals outdoors, from flavour-packed street food eaten on picnic benches to fine dining on bright and airy terraces.
In the second instalment of our Social Spots series with N26, we're asking people around the country to share the outdoor dining spots they've been visiting as they reconnect with friends this summer.
With N26′s new bill-splitting feature, sharing moments with loved ones is simpler than ever – it's finding the right venue that's the tough part. So which restaurants and cafés are a match for all the funds you've saved after over a year of meals at home?
Take a look through this list for starters, and vote for your favourite at the end…
Dublin
777 Afuera, 16 Sth Great George's St, Dublin 2: "I'm a longtime fan of 777 so was delighted when they opened their outdoor area, which is out the back of the restaurant, with its own bar. I was there a few weeks ago with a group of friends and the place was absolutely buzzing. It felt like a return to normality! They have incredible taquitos, but don't skip the street corn/elotes either. Or the margaritas." - Deirdre
Currently open Monday to Friday from 5pm – late, Saturdays from 1pm – late and Sunday from 2pm – late. Last minute walk-ins are sometimes available, or you can book ahead here with a €20 deposit per person (this will come off your bill on the night). If you're not in the mood to sit down, 777 also offers food and drinks to go from The Hatch, open Friday to Sunday from 2pm.
Janet's at Eatyard, The Bernard Shaw, Dublin 9: "Dumplings are a topic close to my heart, and Janet makes some of the best in town. You're right on the Costa del Canal in Phibsboro, so you can either grab a drink and sit down there, or get your dumplings to go and eat by the waterside (remembering to dispose of all your litter afterwards, naturally). The pork gyoza – first item on the menu, you can't miss them – are what dumpling dreams are made of." – Michael
Eatyard opens Thursday to Sunday, 12 to 10pm. Book ahead for a table, or chance your arm with a walk-in. Once you're there, you're free to order from any or all of the vendors – good news if you can't decide between dumplings, pizza or tacos.
Mamó, Harbour Rd, Howth: "Mamó is one of those places you get to and everything on the menu sounds amazing – even the butter. The staff and owners are all really sound, welcoming and passionate about what they do. The outdoor area is a simple setup but you can still see into the kitchen and main restaurant because of the glass frontage. Mamó is between the two Howth piers so is a nice spot to stop for lunch or dinner on a day out." – Conor
Mamó's terrace is open for lunch and dinner Thursday to Sunday, with slots between 90 mins and two hours available. Lunch service starts at 12.30pm and dinner at 5.30pm. Seating is limited so booking is essential. 
Cork 
Amicus, Paul St: "I had a lovely brunch here recently with two old friends, our first meeting in months and even though it was busy they found a lovely table for us. It was raining but we were sheltered well under the canopies. The staff are some of the friendliest you will find in the city and dealt with requests for gluten free toast, extra marmalade, extra hot water… all while still smiling. I'd recommend the crushed avocado and poached egg with lime and chilli!" - Teresa
Open daily with covered outdoor seating from 10am to 9.30pm. Walk-ins are often available, but it can get busy in the evenings, so book ahead by emailing info@amicusrestaurant.ie.
Kings Cork, 24 Princes St: "After missing out on holidays to Greece for obvious reasons, this summer I've been getting my souvlaki fix at this chill little walk-in bar and eatery. They do some really delicious cocktails, great wine and a selection of meaty Mediterranean dishes like lamb kofta, shawarma and sumac spiced beef, plus good veggie options. Hot tip: No matter what you're getting, order the Greek fries with feta dip and oregano on the side." – Katie, editor of Yay Cork
Open daily from 12pm – 9pm for food, and until 10.30pm for drinks. Outdoor seating is on Princes St, which is currently fully pedestrianised. Book a table here. 
Galway
The Universal, 9 William St West: "This is a gorgeous little wine bar serving small bites, a great spot for couples or small groups. In the evenings there are seats on the street so you get to soak up the whole West End atmosphere." - Emma
Open from 6.30pm to 11.30pm Wednesday to Sunday. Walk-ins only, but it can get busy, so come early.
Moran's Oyster Cottage, The Weir, Kilcolgan: "Moran's has longtime connections with the Clarinbridge Oyster Festival and it's an incredible spot to stop off at for fresh oysters, fish and chips or whatever seafood takes your fancy. The huge covered outdoor area is outside the thatched cottage, looking right over the water." – Maria
Open Tuesday to Thursday from 3pm until 8.30pm, and Friday to Sunday from 1pm until 9pm. The outdoor area has plenty of tables, but it's still wise to book ahead, especially on weekends: info@moranstheweir.com.
Tipperary
Lava Rock, Castle St, Cahir: "The outdoor space here is amazing, there's an open terrace which is a sun trap and then more seats under parasols. I loved the food here, the menu was quite special with loads of interesting dishes. I had an open crab and salmon sandwich which was so tasty, but the highlight was definitely the baked Alaska we had for dessert." – Trudi
Open Thursday to Sunday from 10am to 4.30pm for lunch and brunch, or grab a coffee at Lava Brew from 9am. Walk-ins only.
Belfast
The Bone Yard, 29 Bedford St "Our party of six showed up without a booking but we got lucky and were seated in one of The Bone Yard's quirky 'outside living rooms'. The food from Pugs is worth trying whenever you get peckish. I'd recommend this spot to anyone looking for a lively atmosphere and, if our experience is anything to go by, impromptu singalongs in the middle of the afternoon." - Ben
Open Tuesday to Sunday. For parties of less than six, just call in and grab a table. Book a container or pod for larger groups here. 
Maggie Mays, 50 Botanic Ave: "There's plenty of outdoor seating here, and because it's right across from the Botanic Gardens, there's a really nice, chill atmosphere. They serve breakfast all day, so it's a great spot if you've had a late start. The pancakes are delicious, and the milkshakes are a dream for anyone with a sweet tooth. Plus, you can head to the Botanic Gardens afterwards for a stroll!" – Amy
Open Monday to Sunday from 9am to 8.45pm. Dogs are welcome at outdoor seats. Walk-in tables only. Maggie Mays offers BYOB, with corkage of £1 per bottle of wine or six-pack of beer.
So, which of these outdoor dining spots gets your vote? Choose the one you'd like to visit most here…

Poll Results:
Moran's Oyster Cottage (79)
N26 is The Mobile Bank, helping you manage your bank account on-the-go, track your expenses and set aside money in real-time. And as the world opens back up, we're giving everyone a free year of our premium N26 You account with travel insurance that covers COVID-19 related claims.
The premium N26 You account includes up to 10 Spaces sub-accounts for budgeting and saving, along with a range of incredible benefits including a free Mastercard debit card in the colour of your choice, free ATM withdrawals worldwide, 24/7 customer care and premium partnership discounts to help you save money on some of your favourite everyday brands.
Like all N26 plans, you'll get free payments worldwide, 100% mobile banking and no hidden fees. Get a free N26 You account for one year using the code FREEN26YOU on N26.ie until July 31, 2021.