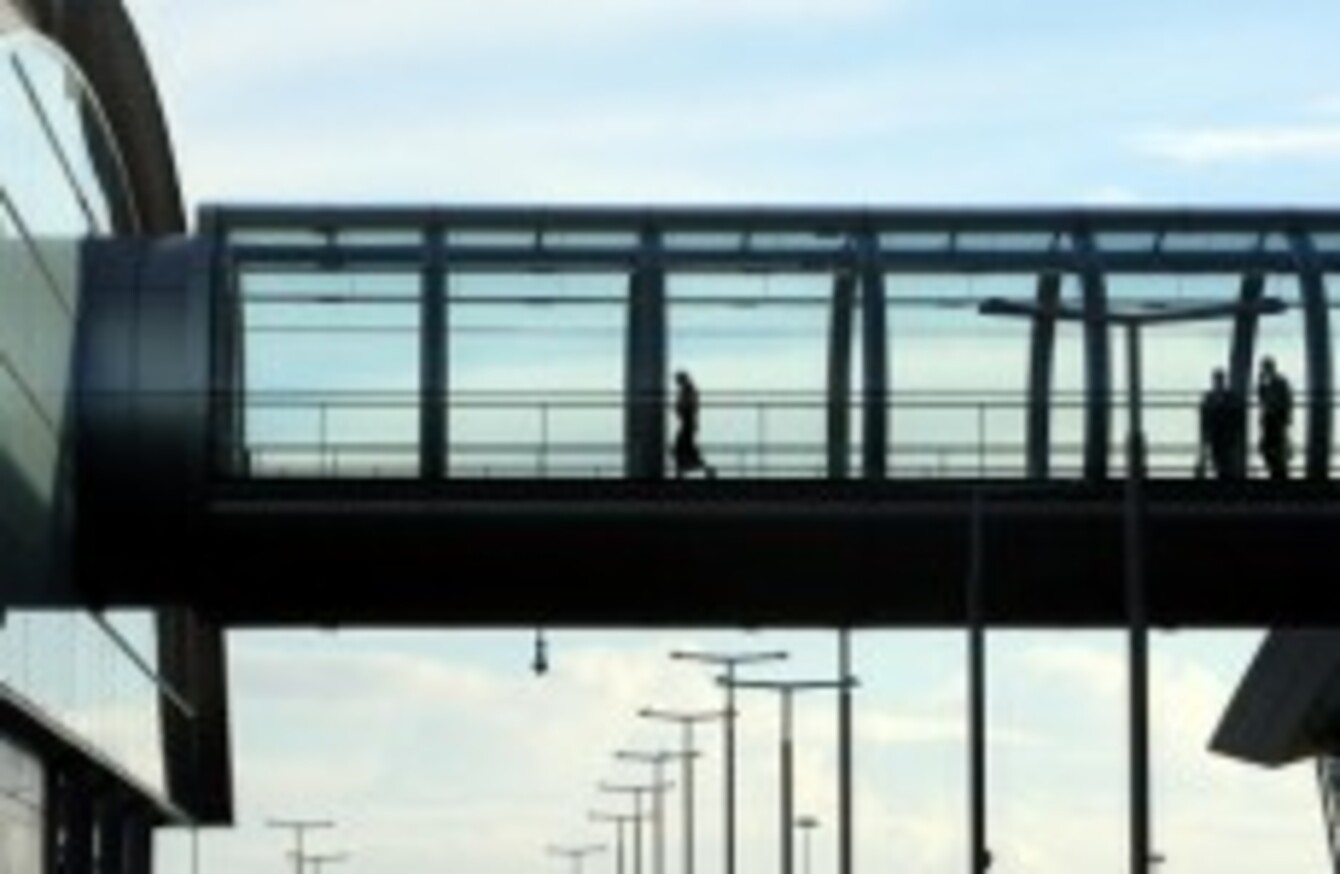 A passenger crosses a walkway at Dublin Airport - an average of 12 women a day are travelling from Ireland to England and Wales for abortions
Image: Paul Faith/PA Archive/Press Association Images
A passenger crosses a walkway at Dublin Airport - an average of 12 women a day are travelling from Ireland to England and Wales for abortions
Image: Paul Faith/PA Archive/Press Association Images
Updated 25 May, 12.50pm
AROUND 12 WOMEN a day travelled from Ireland to England and Wales last year to have terminations, new figures have revealed.
The statistics, published today by the UK's Department of Health, show that women giving Irish addresses accounted for a majority of the abortions requested by non-residents in Wales and England in 2010. Of the 6,535 terminations given to non-residents, 4,402 of those were to women who gave Irish home addresses. That accounts for 67.4 per cent of all the non-resident abortions. It represents a tiny drop – 0.5 per cent – on the figures for 2009.
The breakdown of demographics of the Irish women having terminations in the UK are as follows:
Under 16s – one per cent;
16-17 year olds – three per cent;
18-19 year olds – seven per cent;
20-29 year olds – 53 per cent;
30-39 year olds – 31 per cent;
women aged 40 and over – six per cent.
The Irish Family Planning Association (IFPA) claimed today that the figures show that women "don't want sympathy, they simply want access to the health services they need". IFPA Chief Executive Niall Behan said:
The statistics show that the women, girls and couples who travel to Britain for an abortion come from all walks of life and all stages of life. They do so after weighing up a complex set of personal and emotional factors.
Since 1980 we know that at least 147,881 women travelled to Britain for abortion services. These figures serve to highlight yet again the hypocrisy of Ireland's restrictive abortion laws and clearly demonstrate the necessity for domestic-based abortion services in Ireland.
The European Court of Human Rights in Strasbourg ruled in December that rights of an Irish woman who had been unable to seek an abortion in the UK because she was undergoing chemotherapy at the time were breached by the current restrictions on abortion within Ireland.
Mara Clarke, Director of the Abortion Support Network, said that her organisation has received a "steep increase" in calls from women in Ireland and Northern Ireland seeking information on abortion services. Women from Northern Ireland accounted for 16.8 per cent, or 1,101, of the total of non-residents seeking abortions in Wales and England last year. Abortion is only legal in Northern Ireland in "exceptional circumstances".
Dr Ruth Cullen of the Irish Pro-Life Campaign noted that there was a "downward trend" in women travelling from Ireland to England and Wales for abortions. (Twenty women fewer travelled for terminations in 2010 than in 2009 – or a 0.5 per cent drop). She said:
It has been suggested that the reduction in abortions may be as a result of more Irish women travelling to countries other than England for abortions. This is purely anecdotal as there is no statistical evidence to back up these claims.