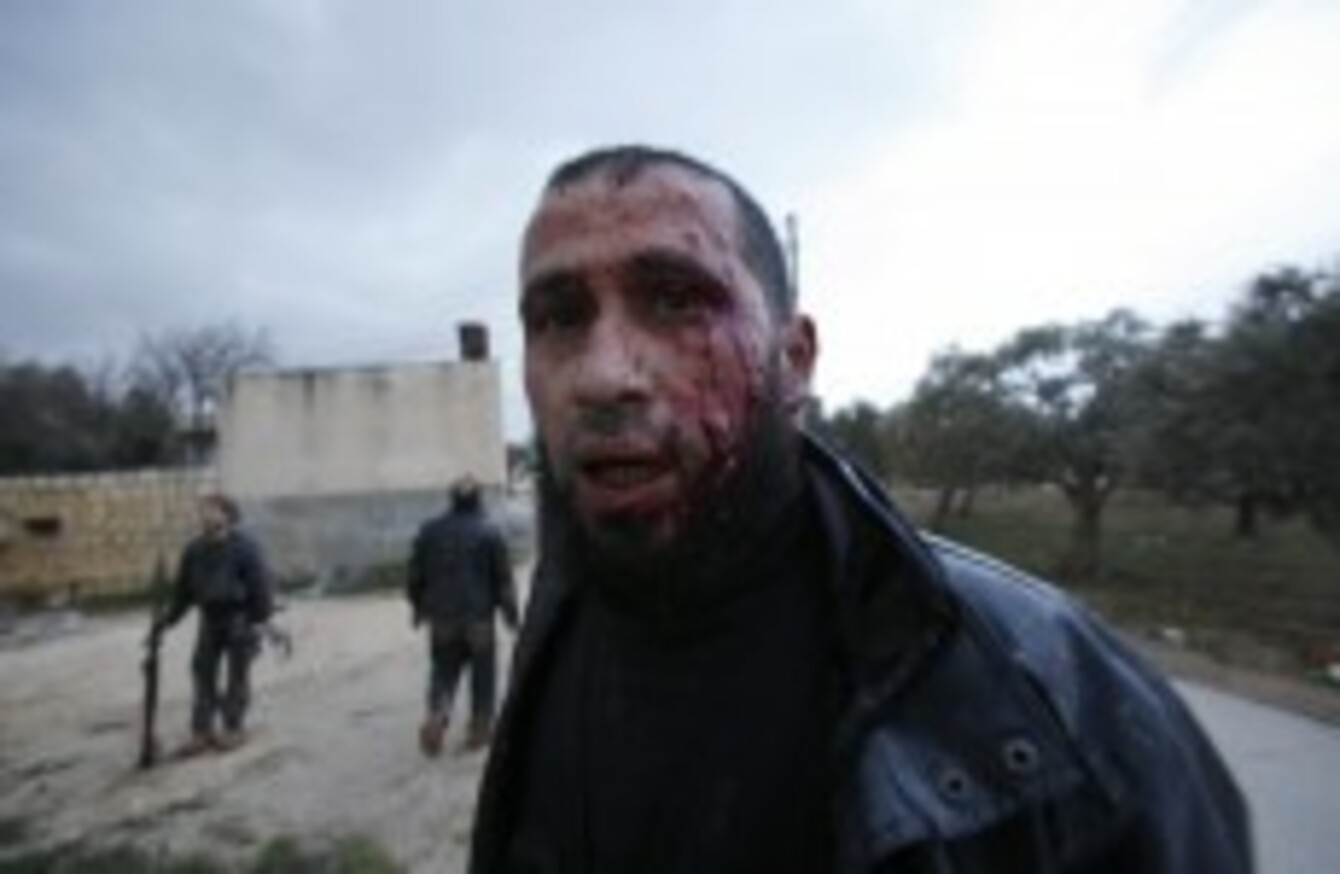 A Syrian rebel retreats for medical treatment folowing an exchange of fire with army troops, unseen, in Idlib.
Image: AP Photo
A Syrian rebel retreats for medical treatment folowing an exchange of fire with army troops, unseen, in Idlib.
Image: AP Photo
AT LEAST 13 people are reported to have died in violence in the Syrian city of Homs today as forces loyal to president Bashar Assad bombard the rebel stronghold.
Several districts of Syria's third largest city are controlled by rebel forces and have become to main focus of Assad's crackdown on dissent which has so far left over 5,400 people dead across the country.
Scores of people have died in the last week alone as UN chief Bank Ki Moon said that the failure to agree a resolution on Syria at the UN Security Council had encouraged Damascus "to step up its war on its own people".
"I fear that the appalling brutality we are witnessing in Homs, with heavy weapons firing into civilian neighborhoods, is a grim harbinger of worse to come," he said.
Ban said that the Arab League was hoping to revive its monitoring mission in Syria which collapsed last month and said that it had been proposed that a joint UN-Arab League observer mission, including a joint special envoy, could be set up:

YouTube: NizzarAbboud
No clear way to resolve the conflict has emerged as attempts to end the violence at a UN level failed last weekend following a veto by China and Russia of a peace plan proposed by the Arab League.
Russian Foreign Minister Sergei Lavrov visited Damascus this week in an attempt to broker peace without regime change but he appeared to be given false assurances that the violence would stop. It has continued unabated.
Russia is adamant that Syria should be allowed settle its conflict without intervention from the West: "We should not act like a bull in a china shop," prime minister Vladimir Putin said yesterday, according to the ITAR-TASS news agency.
"We have to give people a chance to make decisions about their destiny independently, to help, to give advice, to put limits somewhere so that the opposing sides would not have a chance to use arms, but not to interfere."
As the violence continued witnesses in the Baba Amr district reported intense shelling by tanks, mortars, artillery and heavy machine guns yesterday. More than 50 people died, according to the UK-based Syrian Observatory for Human Rights.
Omar Shaker, an activist in Baba Amr said: "The situation is dire."
"We are short of food, water and medical aid. Doctors have collapsed after treating the wounded without rest for five days. We want Lavrov to come and spend a night in Homs to see what we have been passing through."
Regime forces also launched assaults on the village of Tseel in southern Daraa province on the Jordanian border, and the rebel-controlled mountain resort town of Zabadani, north of Damascus, according to reports from the region.
Troops loyal to Assad also clashed with army defectors in the northwestern province of Idlib, bordering Turkey, the two groups said.
In Brussels, a senior EU official said the 27-member states will soon impose harsher sanctions against Syria including include bans on the import of Syrian phosphates and on financial transactions with the country's central bank.The EU imports 40 per cent of Syria's phosphate exports.
- additional reporting from AP