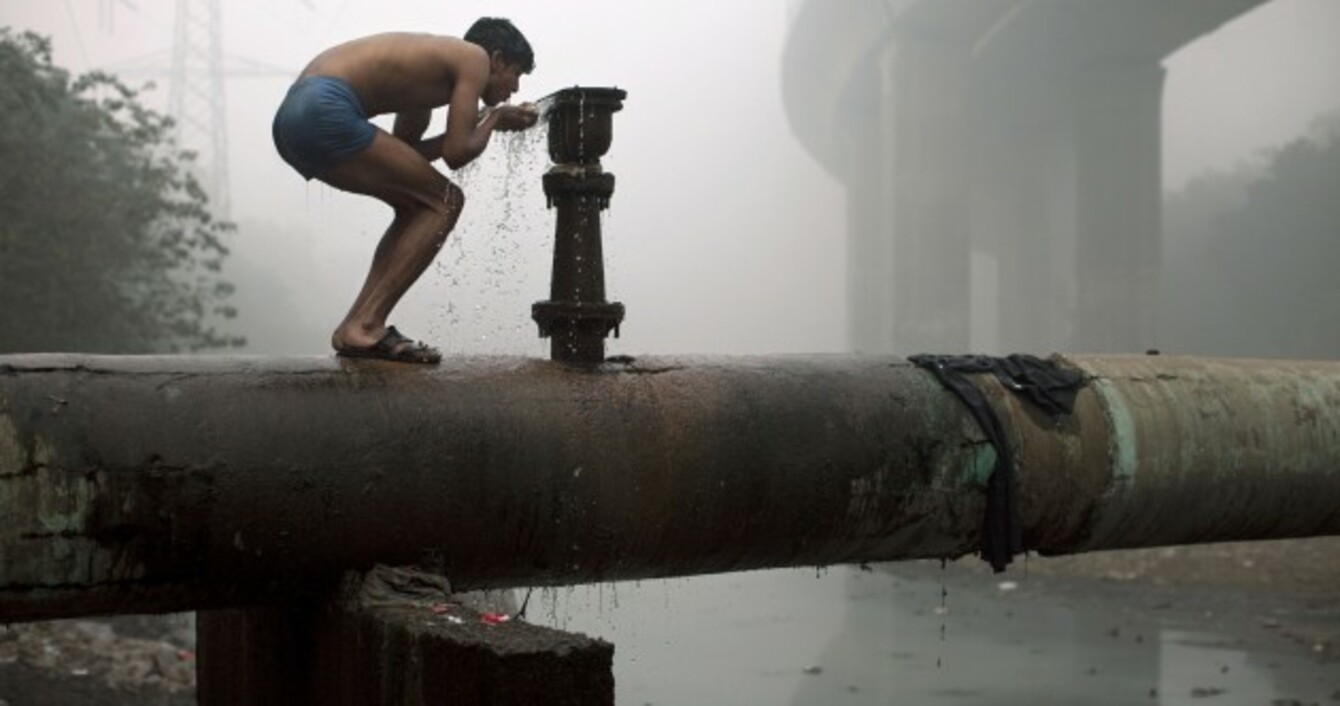 A man in New Delhi, India, drinks water from a tap near a sewage drain.
Image: AP Photo/Kevin Frayer
A man in New Delhi, India, drinks water from a tap near a sewage drain.
Image: AP Photo/Kevin Frayer
IF PREDICTIONS ARE right, an extra 2 billion people will be living on the planet within the next three decades.
That population growth, from an estimated 7.3 billion today to the United Nations' forecast figure of 9.6 billion by 2050, will bring with it many challenges – not least how to effectively deal with the waste produced from all those bodies.
But Athlone company OxyMem is helping to solve that problem with a wastewater-processing system it claims is up to four times as efficient as conventional processes, which have barely changed over the past century.
Managing director Wayne Byrne told TheJournal.ie that sewage processing typically consumed up to 3% of developed nations' electricity supplies and energy costs were the "number-one issue" for councils and companies that needed to process liquid waste.
"The last 100 years the developed world has relied on biological wastewater treatment … there hasn't been a lot of innovation over that time," he said.
The process suffers because typically 70% of the energy used in oxygen delivery is lost to the atmosphere – so it is very wasteful and it is very energy intensive."
How it works
Sewage has traditionally been broken down by pumping bubbles into waste water in order to feed oxygen to the bacteria used to process the material.

Under Oxymem's system, the bacteria instead grow on a network of filters which are supplied directly with oxygen while waste passes through them.
The process not only saves energy, but produces half the wast "sludge" at the end of the process, the company says.
Here's how that looks (when explained using cartoon bacteria):
Source: OxyMem/YouTube
Byrne said other companies, including the water arm of giant industrial conglomerate GE, had been developing similar systems, but Oxymem had been the first to bring the technology to market.
"I take comfort in knowing that GE is telling the market that this will be a mainstream offering in the near future," he said.
As populations grow, it will be more and more difficult to maintain the high standard of water processing that people require."
Why Athlone – not China
The company, which began life as a UCD spin-out after the technology was in development for over a decade, has already been on the receiving end of a string of awards, including most recently as the "growth stage" winner at the US Imagine H2O Infrastructure Challenge.
OxyMem has raised about €2 million in funding and now employs 30 people, with a dozen installations under its belt across Ireland, the UK and Spain since its factory came on-line in January last year.
Byrne said the company initially considered outsourcing its production but discovered it was near-impossible to find a factory to make the expensive and highly-specialised membranes it needed.
If you had asked me about this system three or four years ago, I would have told you that I would be going to find a contract manufacturer to make this somewhere in Asia," he said.
But the company instead developed production in-house with its skilled local workforce and is now aggressively expanding the output from its Co Westmeath base.
Byrne said the company was targeting €1.5 million in sales this year – a fivefold increase on 2014.
That means more people in the factory and more opportunity to serve the international market," he said.
This month, as part of TheJournal.ie's ongoing small and medium enterprise (SME) focus, we look at business and the environment, and making enterprise more sustainable.
To view other SME stories from our collection, click here.