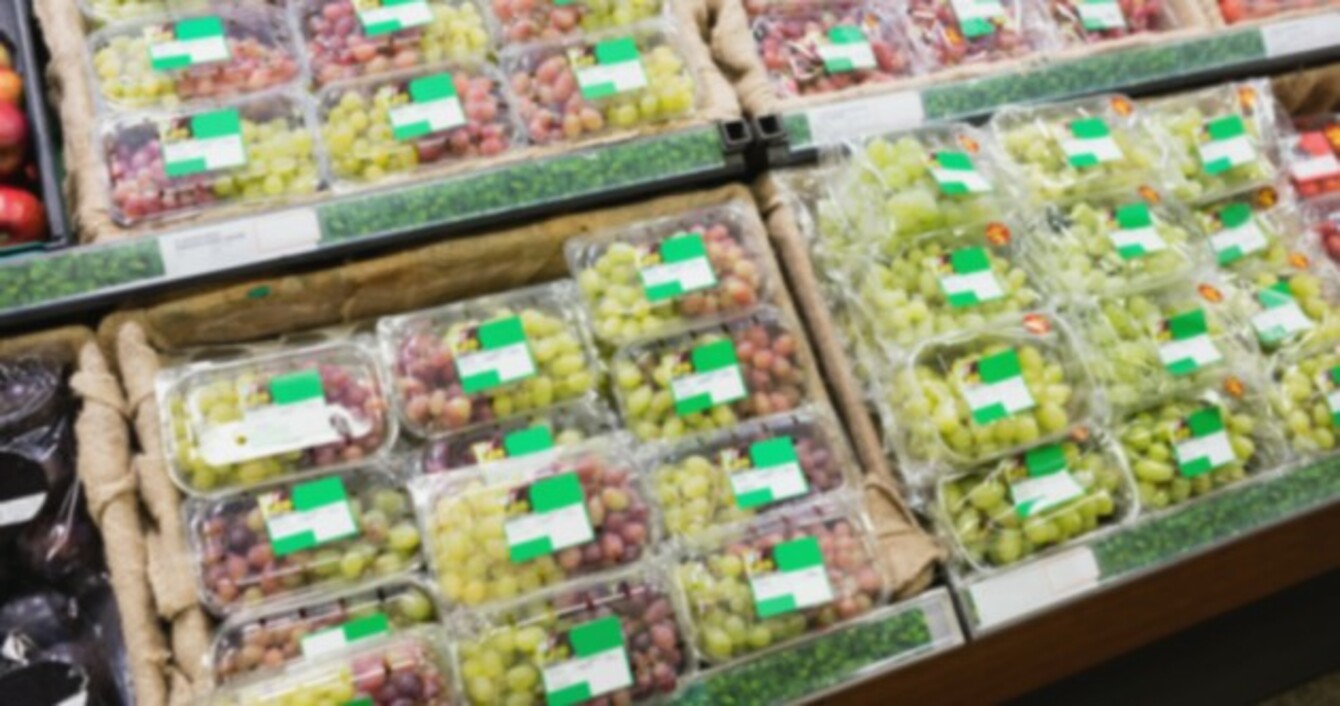 Grapes in plastic packaging on supermarket shelf.
Image: Shutterstock/wavebreakmedia
Grapes in plastic packaging on supermarket shelf.
Image: Shutterstock/wavebreakmedia
MINISTER FOR COMMUNICATIONS Denis Naughten is looking at introducing large-scale recycling bins outside supermarkets in a bid to tackle waste at source.
It was announced on Tuesday that flat fee bin charges are to be scrapped in a shaking-up of the waste charging regime.
Instead, the minister said the customer will be able to control their own bin charges through a number of options.
Under the new arrangement, waste collectors must offer a range of incentivised pricing options to their customers.
These include the option of standing charges, per-lift, per-kilogramme, and weight bands, as well as weight allowance charges.
Essentially, it means that the more you put into your recycle bin, and the less you put into your black bin, the less you will pay.
However, the government is facing another political headache with the new scheme as both Sinn Féin and Fianna Fáil are not happy with the announcement. Both parties have tabled motions on the issue for this week.
Naughten told TheJournal.ie the objective of the new regime is to encourage people to reduce the amount of waste they produce, urging them to recycle, which will result in them paying less.
"I am looking at how to reduce packaging at source so customers don't bring it home in the first place, then you don't have to dispose of it," he said.
In order for people to be able to recycle, the waste operators have been instructed to roll out thousands of brown bins around the country.
A brown bin is used for the collection of all your household food waste.
However, the minister acknowledges more can be done to address the issue of recycling packaging at source.
It's understood the minister is looking to European countries, such as France, where many supermarkets have recycling bins at their exits. Customers are encouraged to remove the packaging from items they have purchased, before returning home.
France has been at the forefront of recycling and food waste management in Europe, with a law being introduced last year to make supermarkets donate unsold food to food banks and charities.
Naughten is investigating if recycle bins at supermarket exits might work in Ireland.
However, there would be costs associated with such a move, which the retailers would have to pay for.
#Open journalism No news is bad news Support The Journal

Your contributions will help us continue to deliver the stories that are important to you

Support us now
Naughten said everyone must play a role in reducing the waste Ireland produces, stating that in just three years, there is going to be a 17% shortfall in landfill.
"Effectively meaning we will have no landfill capacity for two months of the year," he said of this.
Naughten said too much food and organic waste is ending up in the regular black bins.
The minister plans to raise the idea of recycling facilities at supermarkets at the next meeting of the Retail Sector Action Group on Preventing Food Waste, which was established by the government in March.
The group, which is chaired by Dragon's Den investor Eamonn Quinn (who is also the son of retail giant turned politician Feargal Quinn), is made up of all the big players in the supermarket industry.
There are plans to expand the working group to include other key stakeholders, such as food producers in the agri-food sector, as well as groups such as the Bord Bia and the Irish Farmers Association.
While the supermarkets have a role to play in reducing packaging and food waste, it's believed the minister also wants to prioritise food waste prevention throughout the food chain from primary producers, food manufacturers, retailers and food service operators.