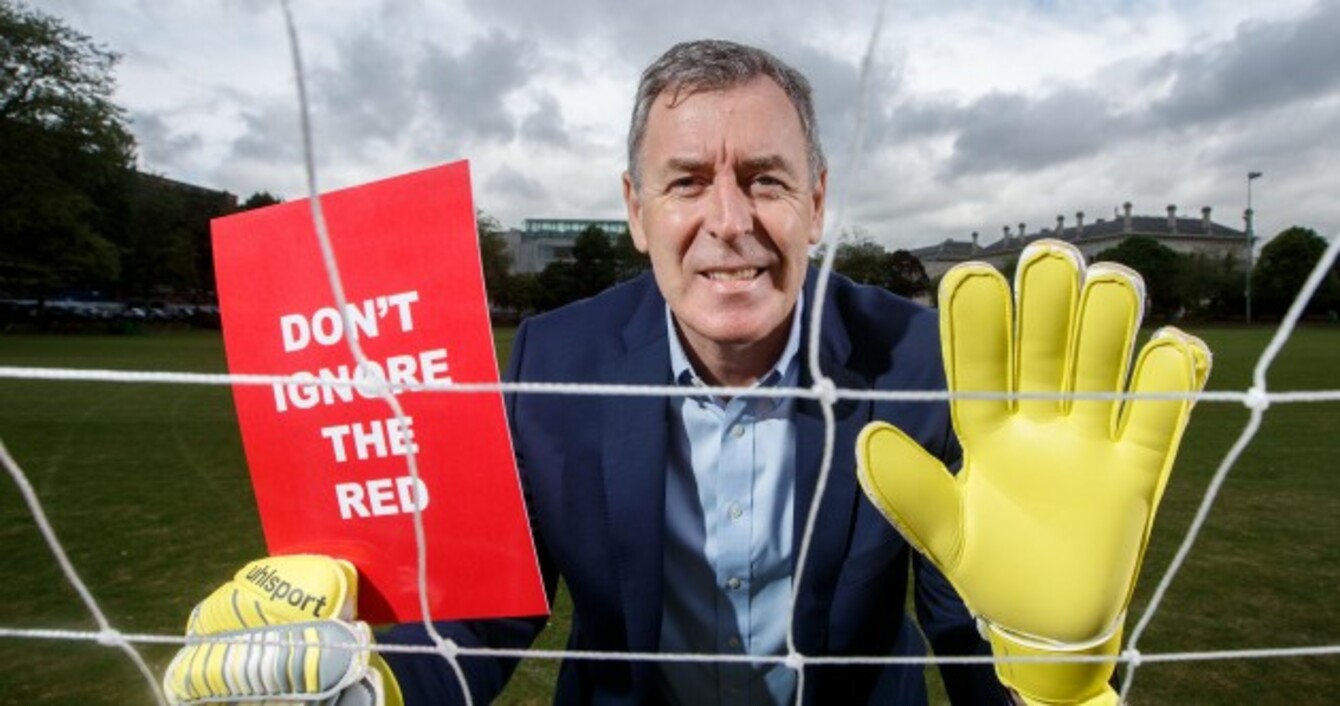 Packie Bonner
Image: James Crombie/INPHO
Packie Bonner
Image: James Crombie/INPHO
EVERY YEAR ABOUT 450 people in Ireland are diagnosed with bladder cancer.
Of this, some 120 men and 65 women die from the disease. It's much more common among men, particularly those over the age of 55.
There's no national screening programme for bladder cancer, something usually reserved for more prevalent cancers.
However, it's still the ninth most common cancer in Ireland and eighth most common cancer among men.
Former Irish goalkeeper Packie Banner (56) is fronting a new campaign aimed at raising awareness about the disease.
Speaking to TheJournal.ie today, Bonner said he wanted to get involved as bladder cancer affects men his age and older and is particularly prevalent in his home county of Donegal.
"It's always nice to be able to give something back and make people aware, especially men because us men we tend to hide things, we don't talk about things, we keep things to ourselves, we think 'Ah, it'll go away'.
We all suffer from that. I'm from Donegal, we're very private people. For me it's about awareness. Listen, if anything happens, just go and check it. It may mean nothing but if it does mean something at least then you can go and get some treatment and get it sorted out, but if you leave it, who knows?
The awareness campaign is called Don't Ignore The Red because one of the most common symptoms of bladder cancer is blood in a person's urine. Other symptoms include needing to pass urine urgently and experiencing a burning feeling when you urinate.
It's not entirely clear why there are spikes in the instances of bladder cancer in certain places – including Donegal, Kerry, Cork and Dublin – but smoking and exposure to certain chemicals once used in the dye, rubber, paints, plastics and gasworks industries are among the causes.
Mental health
Bonner notes that it's not just physical health people sometimes struggle to talk about, particularly men.
The former goalie previously spoke out about his own experience with anxiety and needing to talk to a psychologist in the run-up to the 1994 World Cup.
Mental health is a topic more footballers have spoken out about recently, with fellow former Ireland player Jason McAteer detailing his battle with depression in The Telegraph earlier this month.
Bonner, who describes himself as "an introvert", thinks famous faces opening up about their own mental health struggles is a positive step.
"I think recently anxiety and mental health have been a big, big thing that people have been talking about obviously because of people like Prince Harry speaking out, but in football also.
#Open journalism No news is bad news Support The Journal

Your contributions will help us continue to deliver the stories that are important to you

Support us now
"We all go through that period, some of us can handle it and some of us need help and some of us don't know where to go to get help, so from that perspective it's good to see people talking about these things.
Everybody has got different types of pressure. Pressure is relative, your pressure is different to my pressure. Your mental way of handling things is different to my way. The environment, the people around you are very important, my family was vital for me to handle all these things.
"Going to Donegal, getting away from it all was vital for me, I had the space. We're all fairly different in other ways, and for some people it all comes on top of them so having some sort of mechanism, some process and some people to help out is important."
Bonner said he was somewhat reluctant to speak out about certain issues in the past but now realities his position can help start important conversations.
"That's one of the good things about being in the position I'm in. I never thought about this when I was in the middle of my sporting career – that if I had some success that I could help out in this manner.
"I would probably have been very shy about success, you not what I mean, kind of say, 'Oh well, other people can talk about it but I won't', but then I realised that who I am and what I've done can help in things like this here so I'm only too happy to help out."
Don't Ignore The Red is a joint campaign by the Marie Keating Foundation and Roche, a company specialising in pharmaceuticals and diagnostics. More information can be read here.
If you need to talk, contact:
Samaritans 116 123 or email jo@samaritans.org
Aware 1800 80 48 48 (depression, anxiety)
Pieta House 1800 247 247 or email mary@pieta.ie (suicide, self-harm)
Teen-Line Ireland 1800 833 634 (for ages 13 to 19)
Childline 1800 66 66 66 (for under 18s)