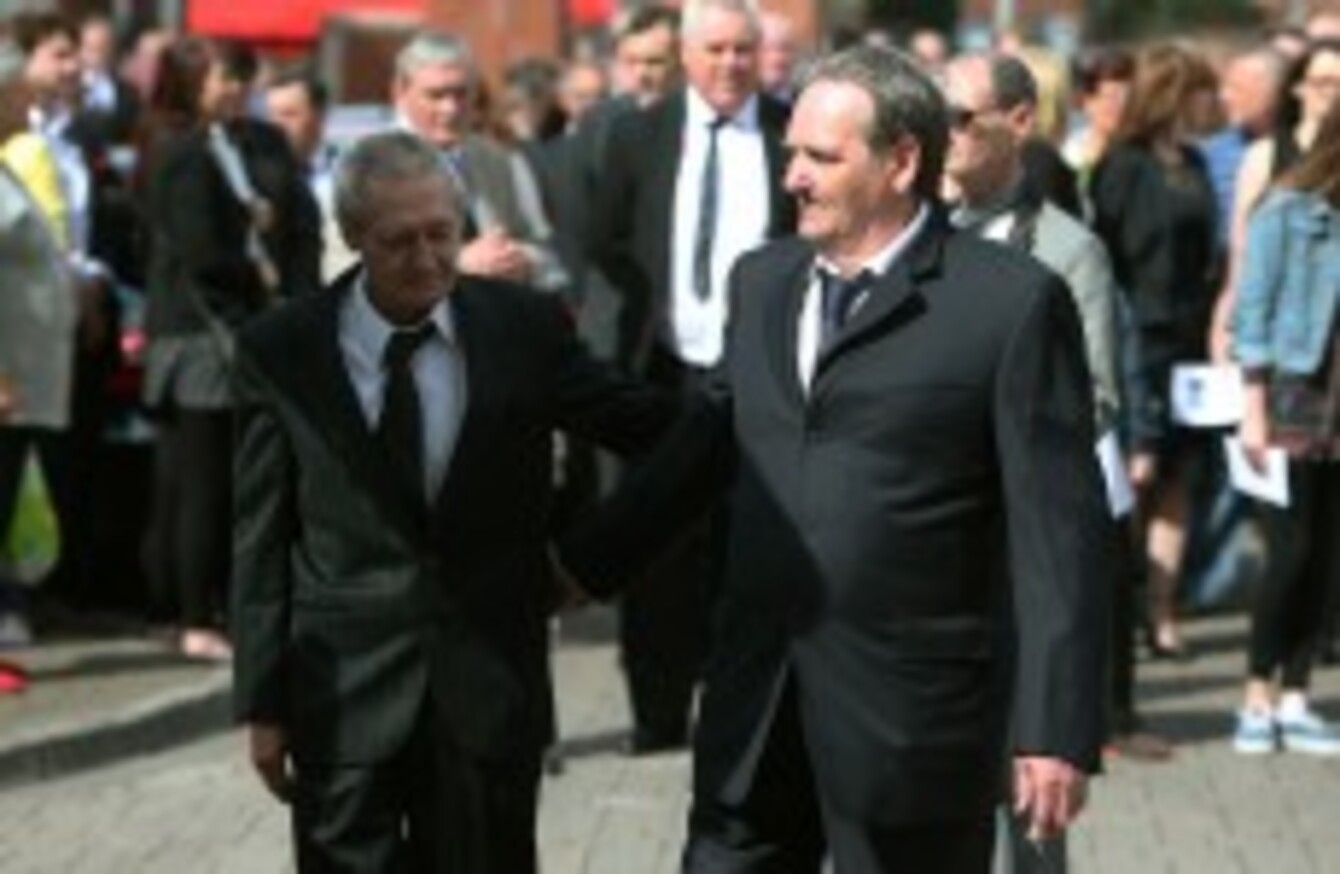 Paddy Hill and Paddy Armstrong (right) at the funeral of Gerry Conlon.
Image: PA Wire/Press Association Images
Paddy Hill and Paddy Armstrong (right) at the funeral of Gerry Conlon.
Image: PA Wire/Press Association Images
FIFTEEN YEARS AFTER being imprisoned for murder, the Guildford Four walked free from the Old Bailey in London after their conviction was finally quashed.
Last month, 25 years on from the day he was freed, Paddy Armstrong returned to London to remember that day, and to show his wife the life he led before the British justice system changed it completely.
An RTÉ team accompanied Paddy on his return and produced an intimate documentary, Small Lives and Great Reputations, telling his story.
The documentary features contributions not only from Paddy and his wife, but also from other players in tragic story including the Guildford Four's campaigning solicitor Alistair Logan and IRA bomber Ronnie McCartney.
Paddy, along with Gerry Conlon, Paul Hill and Carole Richardson were all convicted of the 1974 bombings after having confessions beaten and coerced out of them.
During the 45 minute documentary, friends of Paddy tell of how he never had any connection with the IRA despite many of hies friends joining in the early 1970s. Paddy moved to England purely for work and to live what he described as a hippy lifestyle.
"The only reason I went to England is because the priest was saying 'Paddy you better go over to England to get work', and I went," he recalls.
"But nobody knows what's going to happen to you in life, I mean I didn't think I was going to go over there and end up in prison for something I didn't do. That's life, a long long time ago."
The image of the now deceased Gerry Conlon storming out of the Old Bailey clutching his sisters while telling the media how he was a "totally innocent man" is one which is synonymous with their story. On that same day, Paddy left quietly through a back door.
Paddy and Gerry grew up near each other on the Falls Road area of Belfast but weren't necessarily friends. They became friends after they were released and drove across America as part of a friendship that lasted until Gerry's death earlier this year.
London
After moving to London in 1974 Paddy worked as a builder and says that life living between a number of squats was "great craic". One such night he went over to a friends place and was arrested:
"I went over to see my friends in the other squat, we're all sitting there talking, having a laugh and next thing the glass broke and police were coming in from everywhere.""One policeman asked me 'do you know about Guildford?' I said I had that I'd heard about it on the news. He said, 'well you're being nicked for it."
The same year the Guildford Four were arrested the IRA's Balcombe Street Gang were caught and admitted carrying out the Guildford attack and another at Woolwich that killed two people.
When the IRA members were in court, instead of not recognising the court as was the usual IRA practice, they made a statement on the bombings knowing that innocent people had been imprisoned.
#Open journalism No news is bad news Support The Journal

Your contributions will help us continue to deliver the stories that are important to you

Support us now
Ronnie McCartney was an active IRA volunteer in London when the Guildford bombing was carried out. He speaks during the documentary about learning that the Guildford Four had been arrested and the mixed feelings the IRA in London had:
I actually turned around and I said, I think it was to Brendad Dowd, "Are they anything do with us?" He says no and he looked at me and said,"What can we do?" They've arrested them, they're not going to be looking for us, it was the reality of the situation at the time. It wasn't like we were saying that's good that they got arrested."
Despite campaigning from Alistair Logan and human rights groups, Paddy remained in prison for 15 years.
Seven years after being released he met his now wife Caroline, they have two children, Sophie and John. Part of the documentary has Paddy showing Caroline some of his old haunts in London, it's now 40 years since he first moved there.
"I'm having a stroll down memory lane and I'm trying to get my bearings because half the things here now weren't here when I was around," he says as he walks along the streets.
He also visits the Seven Stars Pub where one of the bomb was placed on the night in October 1974, a Costa Coffee now sits there in its place. Paddy says, however, that he still feels uneasy about visiting the memorials placed at the bomb sites.
"I just think people probably still think I done it, I think it would have been wrong for me to come in," he says.
The documentary is produced by Mary Elaine Tynan and Nicoline Greer and is available on the RTÉ website.