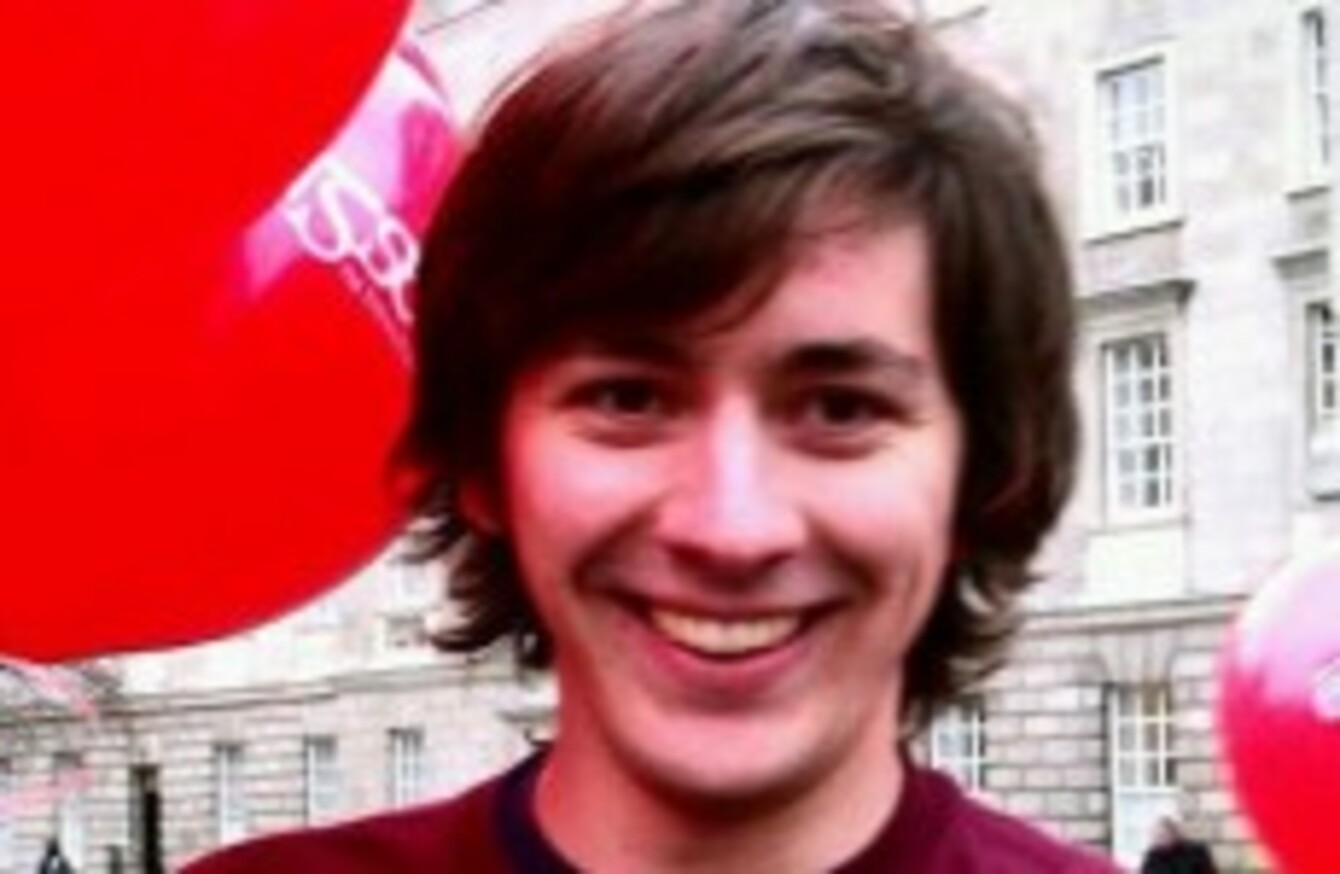 Pádraig Schaler
Pádraig Schaler
LAST JUNE, YOUNG Irish student Pádraig Schaler was badly injured when he was hit by a truck while on a J1 trip in Cape Cod.
A year on, his family – who have kept up a constant bedside vigil since his injury – say that he is still in a coma but making slow progress.
The news comes as his dedicated friends prepare to launch a single to raise money for Pádraig's medical care. He is currently in hospital in Hamburg, where he was brought after his family realised he would not get the treatment needed in Ireland.
This month, Pádraig's father Reinhard – who keeps a daily blog about his son's progress – told TheJournal.ie that his 24-year-old son started to communicate "in a very basic way" recently.
This includes answering 'yes' or 'no' to by lifting his right foot for 'yes' and left foot for 'no'.
Alternatively, he has been moving his tongue to the right for 'yes' and to the left for 'no'.
His family are hopeful that this could lead to a communications breakthrough for their son, giving him more control over his life.
Raising money for Pádraig's family
Pádraig's parents – Reinhard and wife Pat – both spend much time in Hamburg, with Pat having to do more travelling home to Ireland due to work.
Their two other children, daughters Laura and Maria, are in Dublin. It has not been an easy process for the family, but it is clear they remain united and positive.
While Pádraig is in Hamburg, his friends have been showing their support by fundraising for the family back home in Ireland.
They raised €37k with a sponsored multiple swim event earlier this year, and now they have decided to record a song inspired by Reinhard.
Dream Boat
The song was written by musician Maitiú Ó Casáide, a good friend of gaeilgeoir Pádraig, inspired by Reinhard's blog post about a dream he had where he and his son built a boat together.
Explained Ó Casáide:
It was really beautiful and it inspired me to write a song called 'Dream Boat'. Pádraig is a huge music fan and he is friendly with a lot of bands. The idea is to get lots of Pádraig's friends together to record a track that is full of positive energy. The aim is to raise as much money as possible but also to support and show our love for Pádraig and his family, to let them know we are always thinking of them, especially now, a year on from the accident.
The song will be performed for the first time in public at Club Conradh na Gaeilge, 6 Harcourt Street, Dublin tonight, with recording due to take place on 2 and 3 July in Sonic Studios, Stoneybatter.
Source: Rónán Mistéil/YouTube
The bilingual song will feature his friends, and they expect to release it in August.
Caoimhe Ní Mhuilleoir, one of the many friends organising the recording, said that the friends have received "phenomenal" support.
"Because Pádraig just means so much to everyone, we're constantly thinking of him and thinking of what we can do next," she said. "I can't emphasise enough how amazing we think Pádraig's parents are."
They read his father's blog "religiously", which enables them to feel near to their friend even though he is so far away.
A lack of services in Ireland
The money raised by the single will go to Pádraig's family for long-term care and costs, but the event also serves another purpose, said Ní Mhuilleoir:
It's about fundraising but also just about raising awareness as well about the lack of services in Ireland [for people with head injuries like Pádraig]. That is why Pádraig is in Hamburg – it's an absolute lack of services.
"In a strange way, Pádraig is lucky that he can go to Germany and get care. But he shouldn't have to go to Germany. There are other people in Ireland who can't. The treatment he is getting is amazing."
Members of the public are welcome to come along tonight to the gig at Conradh na Gaeilge at 8pm. It will cost €5 on the door and the money will go towards the cost of recording.
"We're looking forward to a really great night – a night Pádraig would love himself," said Ní Mhuilleoir.
Keep up with the fundraising at @forpadraig, www.caringforpadraig.org, on Facebook and http://www.hospi-tales.com/