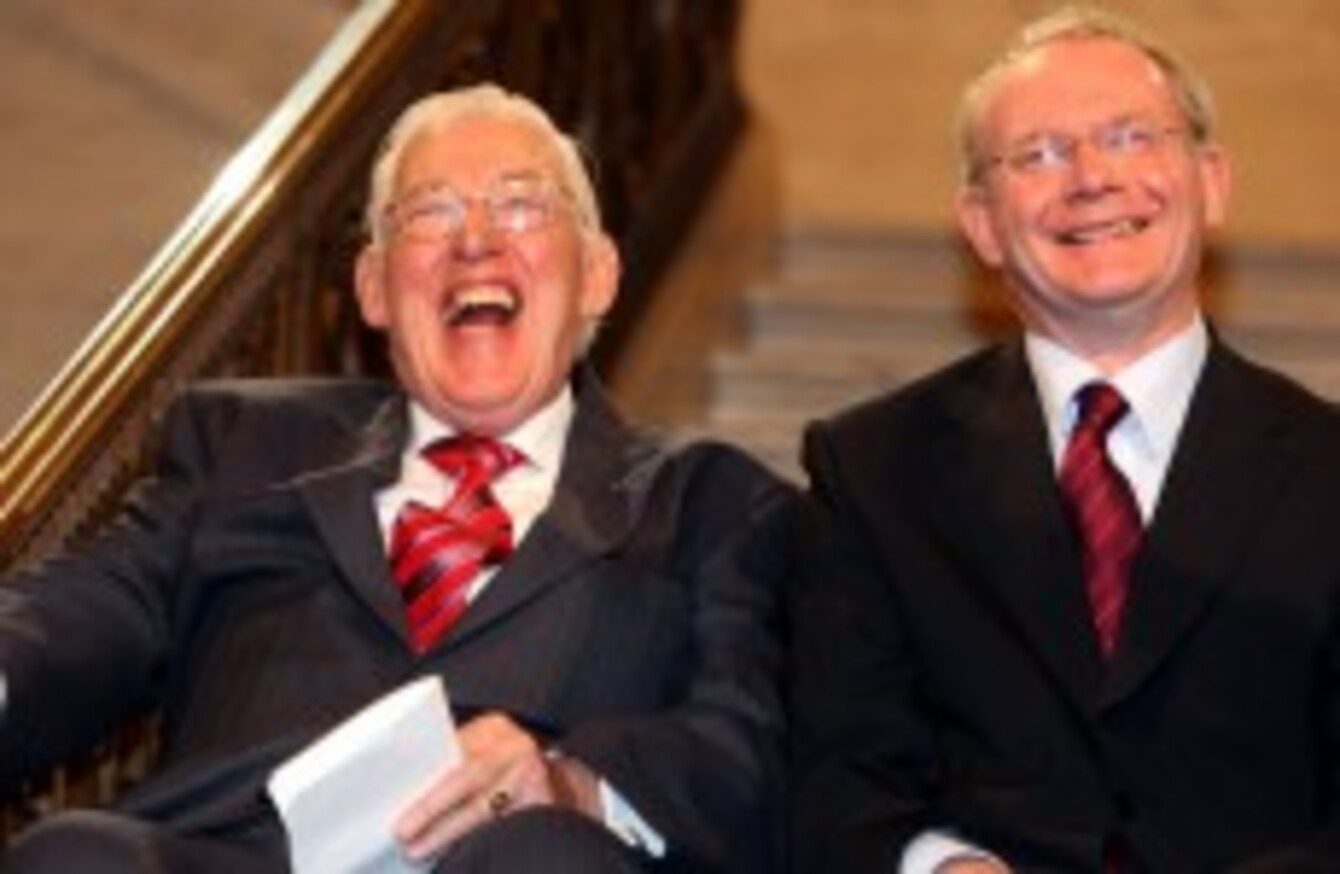 Image: PA Archive/Press Association Images
Image: PA Archive/Press Association Images
FORMER NORTHERN IRELAND First Minister Ian Paisley has claimed he was edged out by senior figures in the DUP, after a canvass of the party found many MLAs were unhappy with his performance in the role — not least with his "chuckling" appearances alongside his deputy, Martin McGuinness.
The second part of a wide-ranging interview with Paisley is to be broadcast on BBC Northern Ireland tonight. It's the first time the former leader has spoken candidly about his departure since he stepped down in June 2008.
Paisley told the programme-makers that a meeting with current DUP leader Peter Robinson and deputy leader Nigel Dodds took place soon after the canvass of MLAs was carried out.
"Nigel Dodds said to me I want you to be gone by Friday," Paisley said.
"I just more or less smirked and Peter said 'no, no, no he needs to stay in for another couple of months'."
Robinson and Dodds have taken issue with their former leader's version of events, with the current First Minisiter saying in a statement that "there are many who believe that in agreeing to to participate in these interviews Lord Bannside will have done nothing to enhance his legacy".
"They will struggle to reconcile the spirit and tone he presents with that which they will have known and admired. This is not the Ian Paisley we knew."
Dodds said he was "personally saddened" at Paisley's comments and that "clearly the passage of time has diminished accurate recall of events".
Prime Minister Gordon Brown, First Minister Ian Paisley and Deputy First Minister Martin McGuinness at a reception in Stormont in May 2008 [Image: Paul Faith/PA Archive]
The DUP also released a statement on the issue, saying the party was "saddened to see Lord Bannside harm his own legacy".
"In his later years as party leader, many colleagues shielded his frailty from public view, to avoid embarrassment and protect his legacy.

"Those people are hurt by untrue and bitter comments contained in the documentary."
Paisley spent just over a year as First Minister of Northern Ireland, taking office in May of 2007.
Despite often vowing he would never share power with Sinn Féin, he and McGuinness forged a close working relationship while in power.
Images of the pair laughing and joking together earned them the nickname "The Chuckle Brothers".
The second part of 'Paisley: Genesis to Revelation' is on BBC Northern Ireland at 10.35pm tonight.