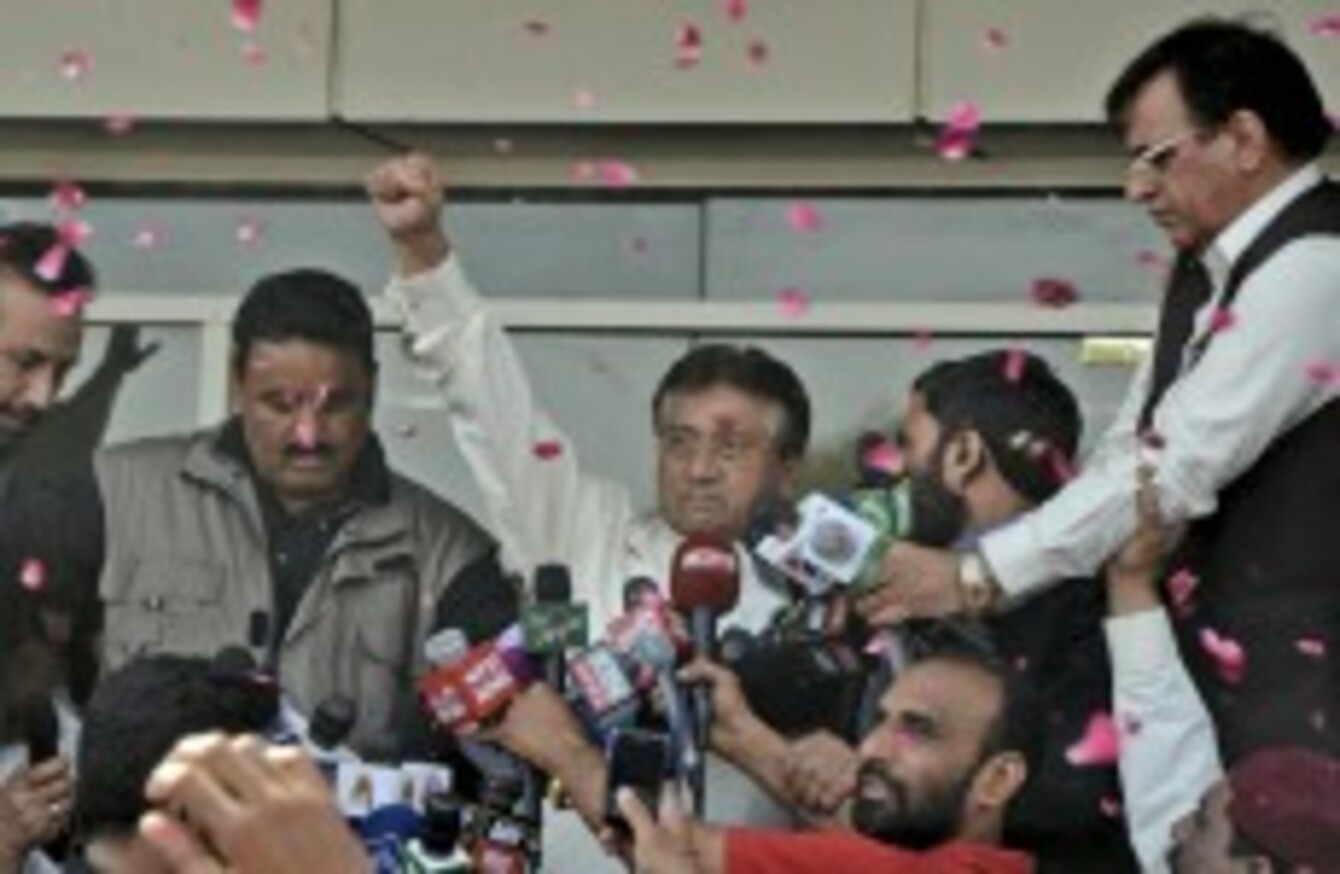 Musharraf, centre, gestures to his supporters, unseen, upon his arrival to Karachi airport
Image: S.I. Ali/AP/Press Association Images
Musharraf, centre, gestures to his supporters, unseen, upon his arrival to Karachi airport
Image: S.I. Ali/AP/Press Association Images
PAKISTAN'S FORMER MILITARY Ruler Pervez Musharraf  has returned home after more than four years in exile, defying a Taliban death threat and vowing to risk his life to "save" the country.
"I have come back home today. Where are those who used to say I would never come back?" the former dictator, who plans to stand in a historic 11 May general election, told supporters at Karachi airport.
The upcoming election will be the first democratic transition of power in the history of the nuclear-armed country dominated by periods of military rule and struggling with a weak economy, chronic instability and poverty.
Shortly before Musharraf's arrival, Pakistan selected a caretaker prime minister, retired judge Mir Hazar Khan Khoso, to guide the country through the elections.
Musharraf's power base has all but evaporated and he is not thought likely to win more than a couple of seats for his All Pakistan Muslim League party, which he founded in self-imposed exile with the help of Pakistani expatriates.
"I am very nostalgic but very happy to be back after four years," he told AFP on his Emirates flight from Dubai.
Supporters of former Pakistani President Pervez Musharraf dance upon his arrival at the Karachi airport. (AP Photo/Shakil Adil)
Musharraf faces several court cases related to his time in office and he remains a highly controversial figure in a country struggling to shake off the legacy of extended periods of military rule.
The outgoing government has rolled back much of the constitutional meddling of Musharraf and his predecessors.
Only hundreds of people greeted him at the airport, beating drums, dancing, waving flags and scattering rose petals. When he left the airport in a giant convoy, flanked by security protection, no one lined the main highway.
"I don't get scared by anyone except Allah the Almighty… I have come back by putting my life in danger," Musharraf told his supporters.
A court has granted him temporary reprieve from arrest, but he is wanted over the 2007 assassination of former premier Benazir Bhutto; the 2006 death of Akbar Bugti, a Baluch rebel leader; and the 2007 sacking of judges.
"I have been ordered by my people to come back and save our Pakistan, even at the risk of my life. I want to tell all those who are making such threats that I have been blessed by Allah the Almighty," Musharraf said.
Security concerns forced him to scrap plans to hold a public rally at the Karachi tomb of Pakistan's founding father Mohammad Ali Jinnah after the Taliban threatened to send a squad of suicide bombers to assassinate him.
In the southwestern city of Quetta, hundreds of tribesmen protested at Musharraf's arrival, chanting "America's friends are traitors!" and setting fire to a US flag with his picture over it, an AFP reporter saw.
Musharraf seized power in a bloodless coup as army chief in 1999 but left the country after resigning in 2008, when Asif Ali Zardari was elected president following the murder of his wife, Bhutto.
As ruler he became the target of Islamist extremists for making Pakistan a key US ally in the "war on terror" after the 9/11 attacks. He escaped three Al-Qaeda assassination attempts.
When Bhutto returned to Karachi from eight years in exile on October 18, 2007, bomb attacks killed 139 people in the deadliest single terror attack on Pakistani soil.
She was assassinated two months later. Her son Bilawal Bhutto Zardari, who is chairman of the ruling Pakistan People's Party, has accused Musharraf of her murder.
In 2010 a UN report said Bhutto's death could have been prevented and accused Musharraf's government of failing to give her adequate protection.
Police at the airport said 1,000 well-wishers turned out although an AFP reporter said the number appeared about half that. Members of the crowd, who were kept waiting for a couple of hours and then could not hear Musharraf's speech, told AFP they were disappointed.
"The sound system was so poor I couldn't catch a single word of his speech," said Afzaal Ahmad, 55, a civil servant who came with his two grandsons.