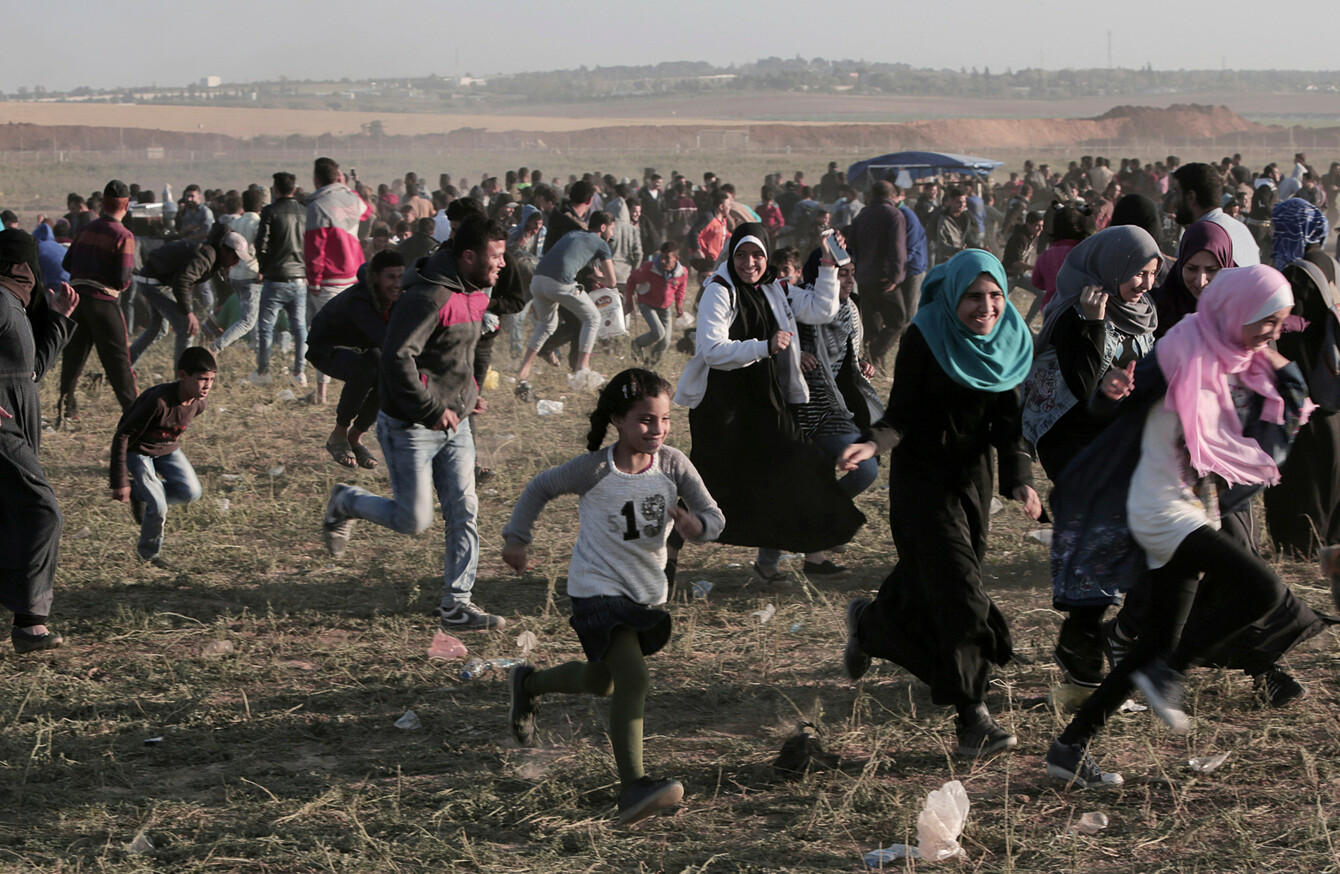 Hundreds get caught up in the protests along the Gaza border
Image: Adel Hana
Hundreds get caught up in the protests along the Gaza border
Image: Adel Hana
Updated at 2.30pm
THE PALESTINIAN DEATH toll in last week's mass protest on the Gaza-Israel border rose to 18 on Monday, officials said, as Israel rejected allegations of unlawful use of lethal force against unarmed demonstrators.
More than 750 Palestinians were wounded by Israeli fire in Friday's protest, according to Gaza health officials, making it the bloodiest day in Gaza since the 2014 Israel-Hamas war.
Gaza's Hamas rulers have not said if the final aim of protests, which are to continue off-and-on for six weeks, is an attempted mass breach of the border fence.
Hamas leader Ismail Haniyeh yesterday hinted at an escalation, saying last Friday's protests had a "limit," but that "next time, we won't know where that line would be".
Israel accused the Islamic militant Hamas of trying to attack its border under the guise of protests. Officials said Israel has a right to defend its border, and that troops were instructed to target what the army described as the "main instigators".
Amateur videos
However, the military's open-fire policies came under more scrutiny as two amateur videos emerged purportedly showing two Palestinians being shot — one killed and one wounded — while not posing any apparent threat to soldiers.
In one video, a man later identified as Ibrahim Abu Shanab is seen kneeling on the ground in the first of two rows of worshippers on Friday, facing the border fence at a distance of 150 to 200 metres. Suddenly, he stands up, limps a few metres, collapses and his carried away by a young man who shouts "Allahu Akbar".
Adli Abu Taha, who filmed the scene on his mobile phone, told The Associated Press that Abu Shanab had thrown stones close to the fence before joining the group for Friday prayers. The incident took place east of the southern Gaza city of Rafah, and medics said Abu Shanab was shot in the leg.
In another video that spread on social media, a young man is seen being fatally shot from behind while running away from the border area carrying a tire.
The Israeli military accused Hamas yesterday of releasing videos that were incomplete, edited or "completely fabricated", but did not elaborate.
The military said troops followed strict rules of engagement, and that protesters were putting themselves in "harm's way" by operating in a dangerous area.
Israeli military officials have said troops would not allow protesters to cross or damage the border fence, and that protesters would not be permitted to get closer than 100 meters to the fence.
The officials did not say how troops would respond if "red lines" were crossed.
Friday's protests
In Friday's protests, thousands gathered near the border in several locations. Smaller groups moved closer to the fence, throwing stones or burning tires. The military said that in one incident, two armed men opened fire near the fence.
Rights groups said it's unlawful to use lethal force when Palestinian protesters don't pose an imminent threat to the lives of Israeli soldiers.
"An army can use reasonable force to defend a border," said Omar Shakir of the international group Human Rights Watch.
"This was an incident where soldiers were firing from behind the fence, separated by buffer zones and other objects, firing on individuals well behind the fence, in some cases retreating, not moving forward, or advancing without posing an imminent threat."
Israel's Defense Minister Avigor Lieberman has rejected international calls for an investigation.
The death toll for Friday rose to 18 after a 29-year-old man died today of his injuries. The militant group Islamic Jihad said the man had been a member.
The Israeli military has said 10 of the Palestinians killed on Friday were members of Hamas and other militant groups but did not say if any were armed except for the two who had opened fire near the fence.
The idea for the mass marches was first floated by a Gaza social media activist several months ago and was later adopted by Hamas, which has ruled Gaza since a violent takeover of the territory in 2007.
#Open journalism No news is bad news Support The Journal

Your contributions will help us continue to deliver the stories that are important to you

Support us now
In response to Hamas rule, Israel and Egypt enforced a crippling blockade of Gaza's borders. Israel and Hamas fought three cross-border wars.
Protests are to continue until 15 May, the 70th anniversary of Israel's founding. The date is mourned by Palestinians as their "Nakba", or catastrophe, when hundreds of thousands were uprooted in the 1948 Mideast war over Israel's creation. Most of Gaza's 2 million people are descendants of Palestinian refugees.
Gaza's continued border closure has made it increasingly difficult for Hamas to govern. Life in the coastal strip has deteriorated further in recent months, with rising unemployment, grinding poverty and daily blackouts that last for hours.
In a risky strategy, Hamas appears to be using the protests to draw attention to the difficult conditions in Gaza, without plunging into another war with Israel. The sides have fought three wars in the past decade, resulting in heavy losses to Hamas and heavy damage to Gaza.
Coveney call for restraint 
On Saturday, Tánaiste Simon Coveney called on Israel to restrain from violence following the deaths of 16 Palestinian people.
Coveney said he called on all involved, "especially the Israeli forces, to show the utmost restraint".
The UN Security Council has also demanded an independent investigation into the incident.
In a statement this evening, Coveney said: "I also support the call from the UN Secretary General for an independent and transparent investigation into these incidents.
"These events highlight the urgent need for a credible, internationally-led peace process that can address the humanitarian situation in Gaza and the pathway to two states, Israel and Palestine, living together in peace and security.
"Ireland and the EU are ready to play a role in developing that process, together with the US and others, and planning and investing for that brighter future."
With reporting by Christina Finn