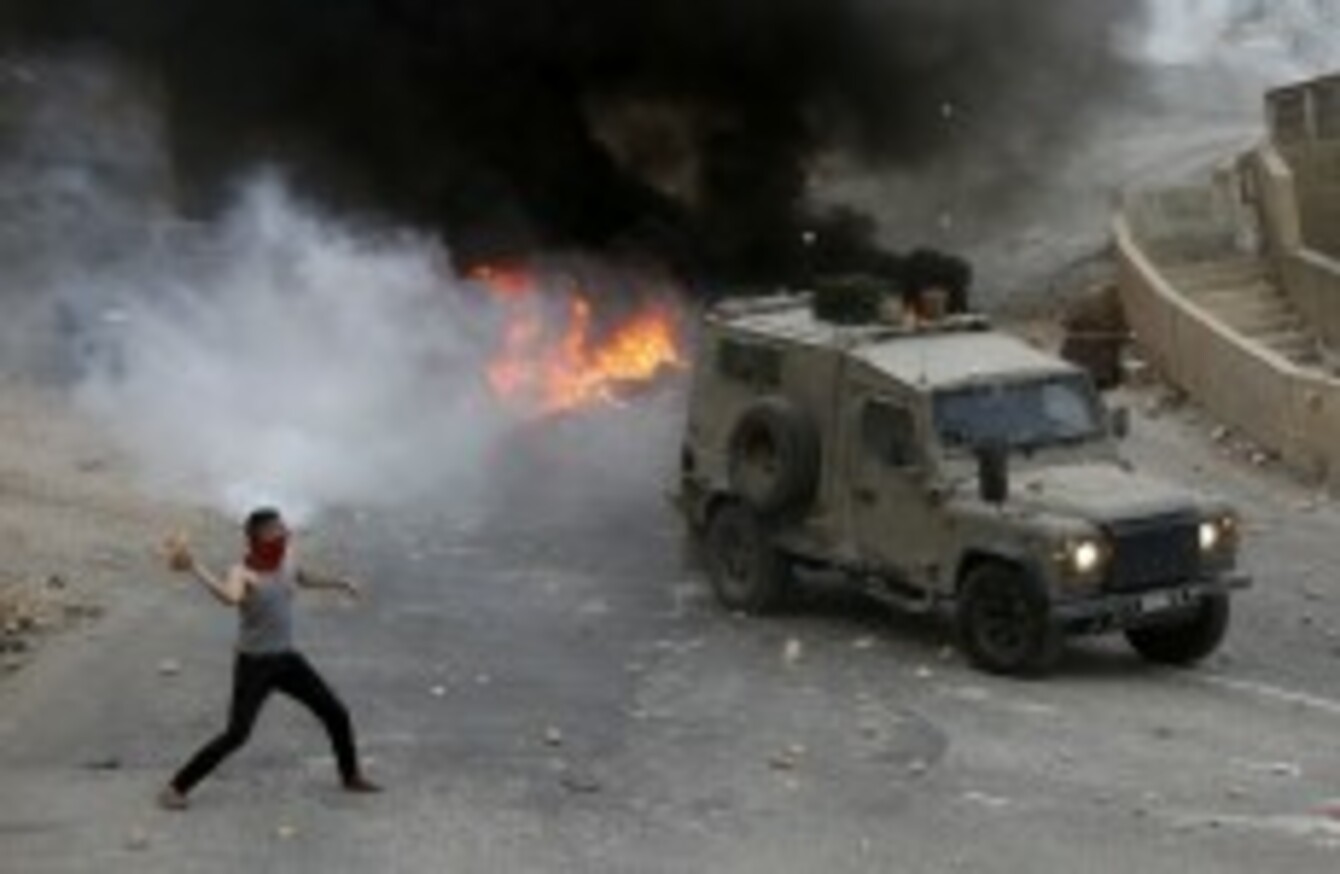 Image: AP/Press Association Images
Image: AP/Press Association Images
Updated 4.31pm
PALESTINIANS TORCHED A site revered by Jews in the West Bank overnight, Israeli and Palestinian sources said, amid calls for fresh protests after more than two weeks of deadly unrest.
Video showed what looked like an extensive blaze at the site in the northern city of Nablus known as Joseph's Tomb, and the Israeli army called the attack "a despicable act" of desecration.
Palestinians have called for a "Friday of revolution" against Israel and Jerusalem police barred men under 40 years of age from attending the main weekly prayers at the flashpoint Al-Aqsa mosque, seeking to keep young protesters away.
Israeli security forces have deployed massively in Jerusalem after two weeks of Palestinian attacks in the city and across Israel.
"Police and border police forces will act with determination and without compromise against any attempt to disturb order or public safety," a police statement said late on Thursday.
The United Nations Security Council will hold an emergency meeting at Jordan's request on Friday to discuss the upsurge of violence.
Israeli Prime Minister Benjamin Netanyahu on Thursday reiterated his willingness to meet Palestinian leader Mahmud Abbas, while accusing him of inciting and encouraging violence.
"It's time that president Abbas stops not only justifying it, but also calling for it," Netanyahu told reporters.
Abbas has called for peaceful protest, but frustrated Palestinian youths have defied attempts to restore calm.
There has been a spate of stabbing attacks and violent protests have swept the Palestinian territories in recent weeks.
Seven Israelis have been killed and dozens wounded.
At least 30 Palestinians have also died, including alleged attackers, and hundreds more been wounded in clashes with Israeli forces.
A Palestinian man wearing a t-shirt with the word "press" in large letters stabbed and wounded an Israeli soldier before being shot dead by troops earlier today.
The stabbing occurred on the sidelines of clashes between Israeli troops and Palestinian stone-throwers in the West Bank city of Hebron. The attacker blended in with journalists standing a few meters from a group of soldiers who were firing tear gas at the stone-throwers at the time.
At one point, shouts were heard, followed by several gunshots. Troops rushed to the scene of the stabbing, near a military jeep, and administered aid to the injured soldier who was eventually taken away by ambulance. The attacker lay on the ground, clutching a knife in his right hand.
The incident heightened concerns among journalists about their safety. The Foreign Press Association for Israel and the Palestinian territories said it "marks a worrying development" that demands all media operate with greater caution.
 © AFP 2015, additional reporting by The Associated Press. Originally published 9.36am.