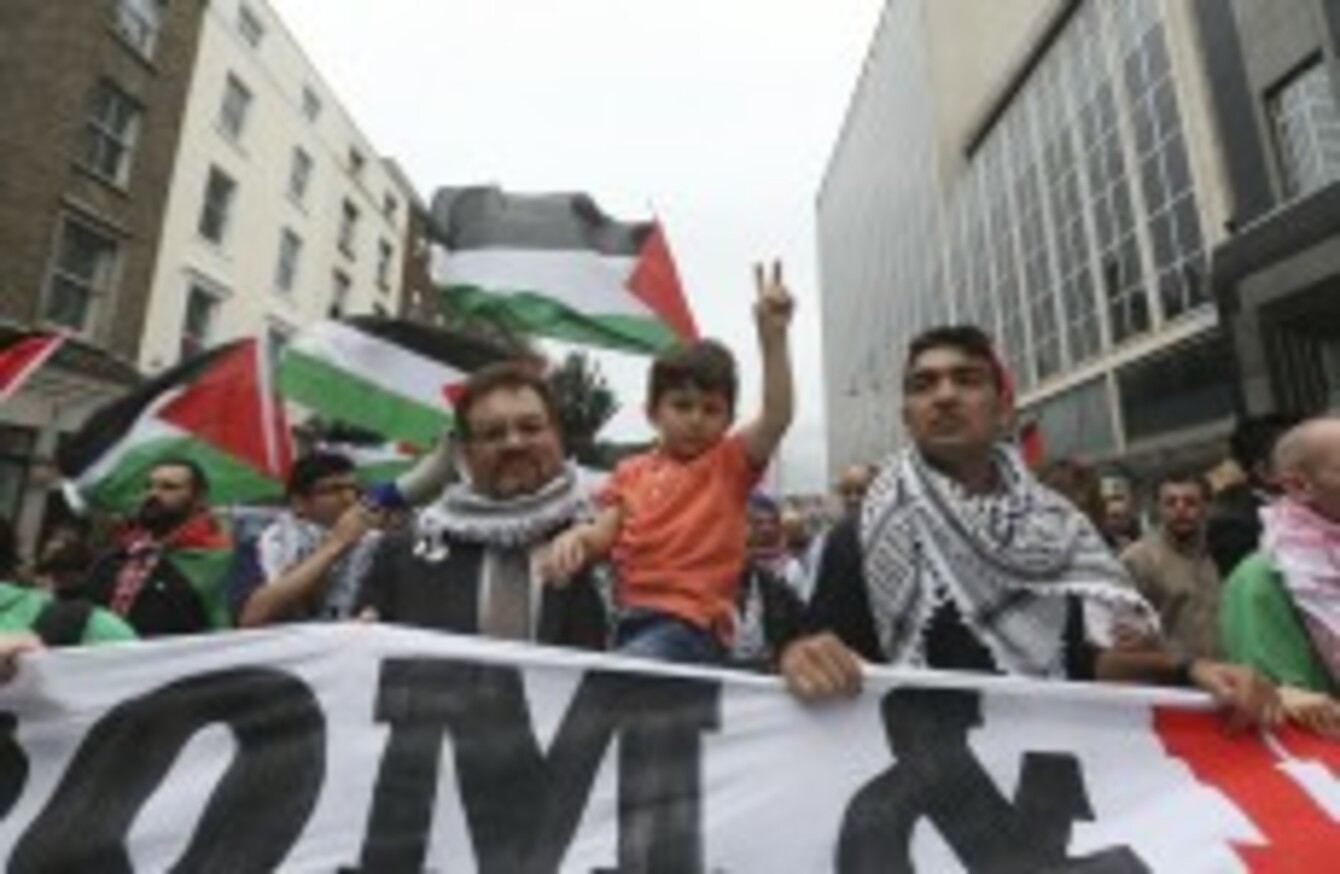 Image: Sam Boal/Photocall Ireland
Image: Sam Boal/Photocall Ireland
FOREIGN AFFAIRS MINSTER Charlie Flanagan has said he will "advance matters further" after the Dáil voted unanimously to call on the Government to recognise the State of Palestine.
The passage of the Sinn Féin motion was assured after the Government decided not to oppose it or make any amendments to it.
Flanagan said that "achieving and recognising  a Palestinian State has always been the objective of the Irish Government."
"While previous Governments have made it clear that that could only be done as part of an agreed peace, I've made it clear that I have no difficulty, in principle, with the idea of recognition if it can move things forward," the minister told the Dáil this evening.
Back in October, the Seanad passed a similar motion calling on the Government to follow the lead of 135 nations in recognising Palestinian statehood.
Palestinian Ambassador to Ireland Ahmad Abdelrazek watched tonight's debate in the Dáil along with other representatives.
Representatives from all sides spoke on the second day of debate with Labour TD Derek Nolan saying that, "one State's existence should never be subservient or should never be at the whim of another State. Palestinians themselves have the right to exist."
United Left Alliance TD Clare Daly said the Irish Government needs to go further and campaign for a "serious and sustained campaign of sanctions" against Israel.
Labour TD Joanna Tuffy said that, while she welcomed the motion and commended Sinn Féin leder Gerry Adams' recent trip to the West Bank, "the motion isn't ideal".
"It may be time for Sinn Féin to have a more nuanced approach," Tuffy said.
A number of Government TDs did not oppose the motion but disagreed with the Government's decision not to make any amendments to it.
Alan Shatter TD said that it was "regrettable that the Government has neglected to make amendments." "I presume this was done to avoid controversy, " the former minster said.
Shatter said he had specific problems with how the motion called for East Jerusalem to be exclusively part of the Palestinian State, something said would never be acceptable to Israeli politicians.
"In international relations words matter…the words of this motion will be examined carefully by the Palestinian and Israeli sides, " Shatter said.
Michelle Mulherin TD said that it was the wrong time to recognise Palestine.
#Open journalism No news is bad news Support The Journal

Your contributions will help us continue to deliver the stories that are important to you

Support us now
"While it right to recognise their right to a State, that does not mean that it is the right time," she said.
Symbolic
Currently, Ireland's official position is that the State supports a two-state solution on those borders. It reads:
"A two state solution allied to a return to pre-1967 borders unless amended by agreement between the two parties, an agreed solution to the issue of Palestinian Refugees who fled/left their houses in 1948 and 1967, Israel to cease settlement activities and dismantle all outposts erected since March 2001."
The motion goes further in that requests recognition of the State as opposed to a preferential solution.
Gerry Adams said that the vote represented a good start. "Some people have said that this is a symbolic act, well it may be the case, but let's move beyond symbolism as the Government have promised this evening," he said.
- First published 10.15 pm