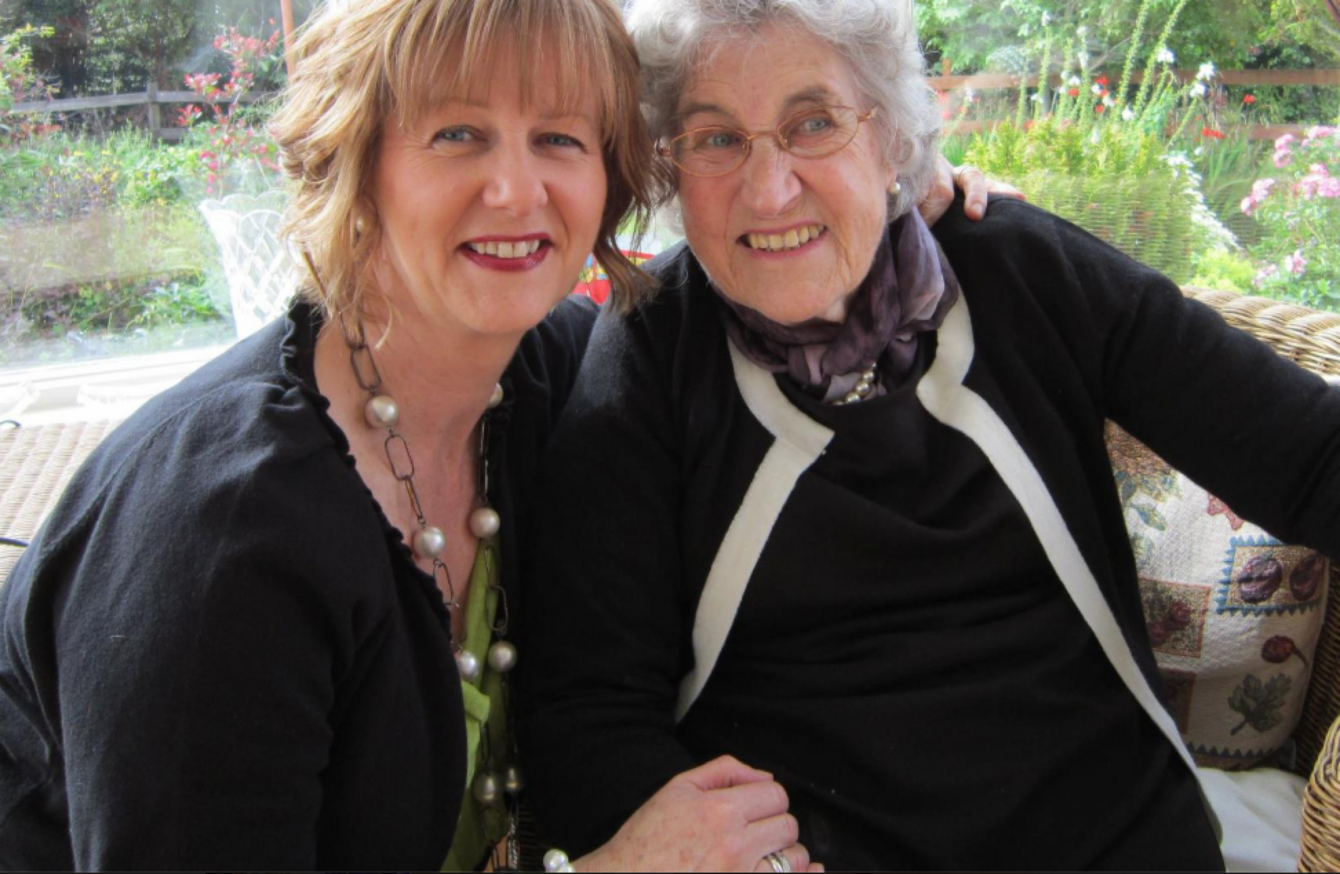 CARMEL GEOGHEGAN watched her father receive acute palliative care as he battled cancer for his last two weeks.
Little did Carmel know that, years later, her mother's late dementia diagnosis would change her own life forever, leading to a life of care and compassion for those with life-limiting illnesses.
Carmel, who is from Galway, detailed the horrific state the Irish care industry is in and how carers still struggle with the Home Help hours they receive.
Her mother Angela passed away in 2014 and both she and Carmel fought tooth and nail for every bit of support they could get.
Outlook
But now, in 2016, Carmel believes the outlook for carers and their loved ones is bleaker than ever and that the prospect of dying with dignity may as well be a pipe-dream set aside for the wealthy and privileged few.
Ireland's austerity Budgets continuously cut Home Help hours in a bid to balance the nation's books.
The respite home care grant was also reduced although HSE bosses said this year they will not be cutting the amount of Home Help hours.
According to the Disability Federation of Ireland, the budget for disability health services was reduced by €159.4 million between 2008 and 2015.
Home Help
Home Help hours, carer's allowance and disability grants all made up part of the near €160 million.
They now want Government to invest €112 million in Budget 2017.
Palliative Care Week runs from 3 to 8 of October and was launched to remind people they have options if and when their loved ones develop a life-limiting condition.
Carmel Geoghegan is just one of many who feel the life-changing benefits of caring for those who need help.
Speaking to TheJournal.ie, she said: "I suppose I got into it when mam got her late diagnosis. My father had died years previously from cancer and he himself got acute palliative care.
Palliative care is enabling people to have a better quality of life with their life-limiting diseases. It enables you to have a better quality of life.
"Mam had to come live with me. I enabled her to live a relatively independent life even though she was living with me.
"I enabled her to have her own autonomy. She could make choices for herself but, as her disease progressively got worse, she wasn't able to do the things she used to."
The landscape of care has changed dramatically in the past two years, according to Carmel.
Cuts
She added: "The home care package, that's part of the palliative care. It's giving people the help they need to stay at home, which is where they want to live. They may not be able to do it for themselves but that's where the few hours here and there come in.
"It was cut and cut and cut in all the budgets. We had to fight for everything we got. But now it's worse. Home care is being cut. People can't live at home any longer and that's why they're put into nursing homes which cost more money.
They're wasting so much money it's crazy. If they gave a little extra help at home and gave some kind of support, that would be ideal. At the moment it's just horrendous out there.
The HSE has leant its support to the awareness week, which is being organised by the All Ireland Institute of Hospice and Palliative Care (AIIHPC).
That group is comprised of a number of health agencies and universities north and south of the border.
HSE National Lead for Palliative Care, Sheilagh Reaper-Reynolds encouraged the public to take the opportunity to find out more and to talk about palliative care within families and also with health professionals.
She said: "Through our national clinical programme for palliative care and by supporting initiatives such as Palliative Care Week, our aim is to alleviate fears and anxieties surrounding palliative care services. This will help ensure that people with life-limiting conditions and their families can easily access the type of palliative care services that best meet their needs."
Advice
Carmel described how daunting it is when you start out caring for someone.
But she believes it is through the love and compassion you have for them which makes it seem like second nature.
She said: "If somebody came to me now, I'd sit them and down and tell them it's the most rewarding thing you'll ever do. It's changed my whole life, my whole outlook on life.
"The one good piece of advice is this; don't be terrified. What you're doing is the best thing you can do for a loved one. You're giving them what they really want.
Because once they are put into a nursing home, they just fade away. They lose their personality.
"When we were younger, we looked after older neighbours, running in and out. Everyone died at home years ago, not in hospital. We have to go back to that. We have such an ageing population. How are we going to afford it?
"It's terrifying. it's madness. You never think you'll get old until you do."
Publically focused information about palliative care and Palliative Care Week is available at www.thepalliativehub.com where a new section for health and social care professionals has been added.