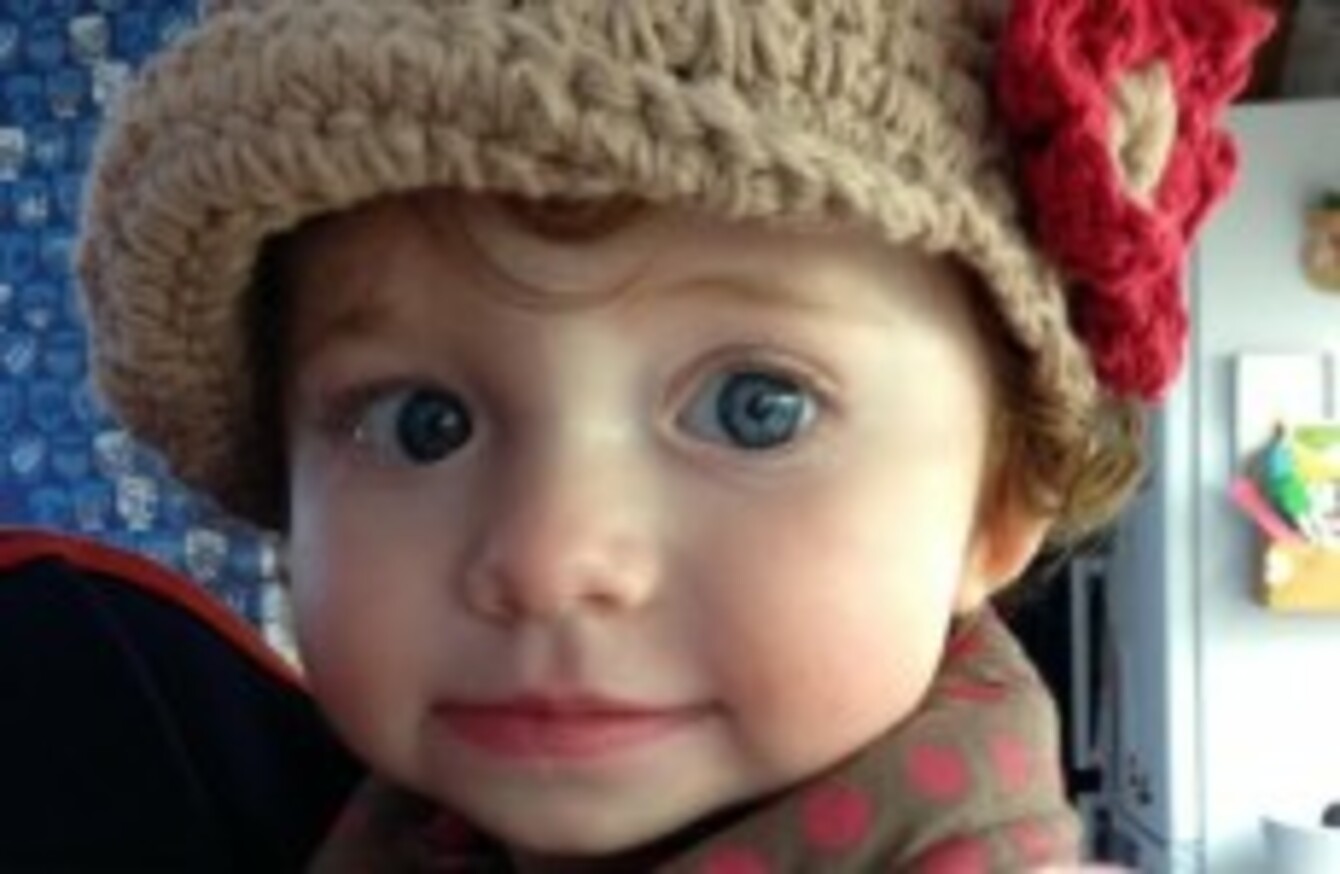 Sylvie Gray
Image: Laura Lynn Foundation
Sylvie Gray
Image: Laura Lynn Foundation
THE GRAY FAMILY are just like any other family who were only delighted to welcome their new addition, Sylvie, into the world.
However, last October their world was turned upside down when Sylvie was diagnosed with a brain tumour.
"At about five months old, she just stopped gaining weight. We later found out that it was the brain tumour that was causing it. It was such a massive shock. She had such a perfect start in life, no complications, no issues," said Tana Kaplan Gray, Sylvie's mother.
Diagnosis 
The family were told that many children live through it and carry on to have a normal childhood, but then they were told that the tumour was inoperable and that chemotherapy would be the only option for Sylvie.
"She became very sick during chemo and she lost her vision. She started vomiting and had to be tube fed just to get the calories into her. It was amazing how quickly it all happened. One day she was sitting in her bouncy chair and the next I was watching my little girl being tube fed and losing all her developmental milestones. It's not easy to watch your child in pain and be so unhappy," said Tana. 
In the beginning we started off thinking it was treatable, that she might get better and that she could be one of the lucky ones, but then we had to face the fact that maybe she is going to die from this.
Tana, who is from America, said that family support was so important. Her family from the states came over to help,  but they couldn't stay forever, she explained.
"Our family rallied around us. It was difficult to come to terms with what was happening and bleak as it was, we couldn't just give up. We have a little boy too, and we had to keep it together for him. We couldn't give over to the grieving process, so we were putting on a brave face for him. He was our motivating factor," she explained.
Sylvie was then referred to LauraLynn by Palliative care team in Crumlin and they first started providing nursing support in the home last January.
Being normal for a few hours 
"As much as this takes over your life, I had to get on with normal, everyday things. LauraLynn gave us nursing hours, so I could get out of the house and get errands done. It gave us the head space too," she said, adding that the nurses were all specially trained to deal with very ill children.
"They were excellent at symptom management and they were great for Sylvie. She has improved massively," said Tana.
She added that it took a while for the HSE palliative hours to come on line for them, adding that services like LauraLynn are holding the line for many families, like their own, who are in great need of respite. "It gave us a few hours to spend alone together and just be normal," she said.
Home care 
Jacqui Ellis, a palliative care nurse and team leader of  the LauraLynn team in Leinster North East, said that the new pilot home care scheme is helping over 40 families.
Ellis said that often families can wait for some time to get HSE palliative care organised, stating that the response could be a lot quicker. "You can understand why there are forms to be filled out and protocols to follow, but sometimes families just can't wait," she said.
The public often assume that families like this are getting all the care they need, but the case is that many charities, like LauraLynn, are holding the line for families.The charity sector has had a tough time recently, but I think people can't turn away from the palliative care needs for sick children.We are indebted to our donors and to our fundraisers like Ray D'Arcy, who raised half a million Euro by running the marathon. Without that funding, we wouldn't be able to provide this new home care scheme.
Ellis said that being a palliative care nurse can be stressful in itself. "It can be an emotional time for everyone. We are lucky that we have a clinical psychologist on board with us for our staff who holds one to one meetings with them on any issues they are experiencing doing their job. It sometimes can not be an easy job to do, caring for a sick or dying child".
Bereavement 
She added there support service doesn't end when a sick child has passed away.
"We care for bereaved families too. Many of these families will be used to having lots of people in their home, lots of health care workers and carers. Suddenly, when tragedy occurs, it can be the loneliest time. The house, that was once filled with people and support is now empty, so we continue to support families into their bereavement."
Fortunately, Sylvie appears to be improving symptomatically, said her mother.
"There has been some shrinkage of the tumour and we are getting back the little things, like she is able to smile more, she can interact more with us and she is gaining back some of her developmental milestones, like rolling over and sitting up. She just had surgery last week and is recovering well," said Tana.
"We won't be taking anything for granted. I would love to say that she is going to make it, but I don't know what is going to happen. We are waiting for the other shoe to drop, in a way. Who knows how much time we will get with her, we just have to hope for the best."
Palliative Care Week ends today. To find out more click here>>. For  more information on the LauraLynn Hospice click here>>