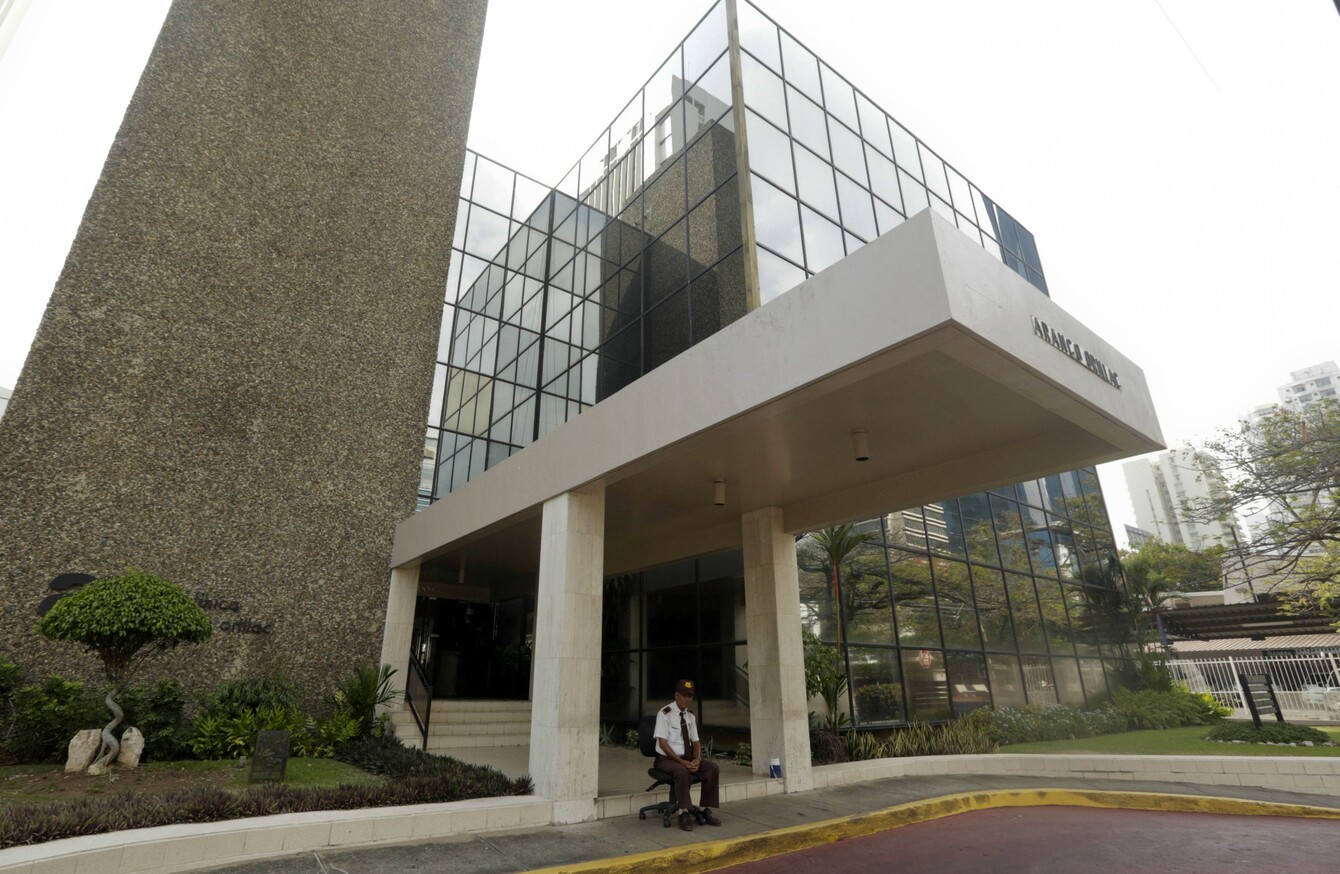 A security guard sits outside the Mossack Fonseca HQ in Panama City yesterday.
Image: Arnulfo Franco/AP/Press Association Images
A security guard sits outside the Mossack Fonseca HQ in Panama City yesterday.
Image: Arnulfo Franco/AP/Press Association Images
A DISCREET PANAMA-based law firm has come under intense scrutiny over its role in shifting billions to offshore tax shelters, details of which were revealed in leaked papers released yesterday.
The International Consortium of Investigative Journalists (ICIJ), a global network of media outlets, last night published the first batch of documents from the so-called Panama Papers, a leak of more than 11.5 million Mossack Fonseca files stretching back to the 1970s.
The data shows the company shuffled the assets of politicians, celebrities and other powerful figures through 214,488 offshore entities across the world – shell companies commonly used to avoid tax obligations.
Panama is one of a small number of low-tax countries known for laundering money. That reputation has been entrenched by yesterday's revelations, which appear to connect Mossack Fonseca with major criminal organisations and rogue nations, as well as global corporations.
The ICIJ said the company's clients include at least 33 people and companies blacklisted by the US for doing business with Mexican drug lords, terrorist groups or regimes like North Korea and Iran. One of the companies it allegedly worked with provided fuel for the aircraft that the Syrian government used to bomb its own citizens, according to American authorities.
Source: ICIJ/YouTube
So who runs Mossack Fonseca? Juergen Mossack, one of the two lawyers who founded the firm more than three decades ago, was born in Germany in 1948 and moved to Panama with his family, where he obtained his law degree.
Mossack's father was a Nazi in World War II, serving in Hitler's Waffen-SS, according to the ICIJ, citing US Army records. It said "old intelligence files" showed the father had offered to spy for the CIA.
The other founder is Ramon Fonseca, born in 1952. He, too, got his law degree in Panama but also studied at the prestigious London School of Economics, and once said in an interview he had considered becoming a priest.
Fonseca had a small business until he merged with Mossack, and the two went after offshore business by opening offices in the British Virgin Islands and later in a small Pacific island nation called Niue.
When the British Virgin Islands was forced to clamp down on some methods that had previously permitted anonymous ownership of companies, Mossack Fonseca moved the business to Panama and to the Caribbean island of Anguilla.
'No criminal wrongdoing'
The law firm, which now has offices in more than 35 countries, spent money to try to remove online references linking it to money laundering and tax evasion – but not before other countries took an increased interest in what it was doing.
In Brazil, it was named as being one of the parties within a huge bribery scandal unfolding involving the state oil company Petrobras. Last month, as the Brazilian allegations piled up, Fonseca declared he was taking a leave of absence from the company.
Just over a week later, Mossack Fonseca wrote in an email to the ICIJ that most of the people it had connected to offshore accounts were not its clients, adding that the firm had "never been accused or charged in connection with criminal wrongdoing".
"As a registered agent," the company said, "we merely help incorporate companies, and before we agree to work with a client in any way, we conduct a thorough due-diligence process, one that in every case meets and quite often exceeds all relevant local rules, regulations and standards to which we and others are bound."
Incorporating clients, it said, "is a very different thing from establishing a business link with or directing in any way the companies so formed".
Contains reporting by AFP