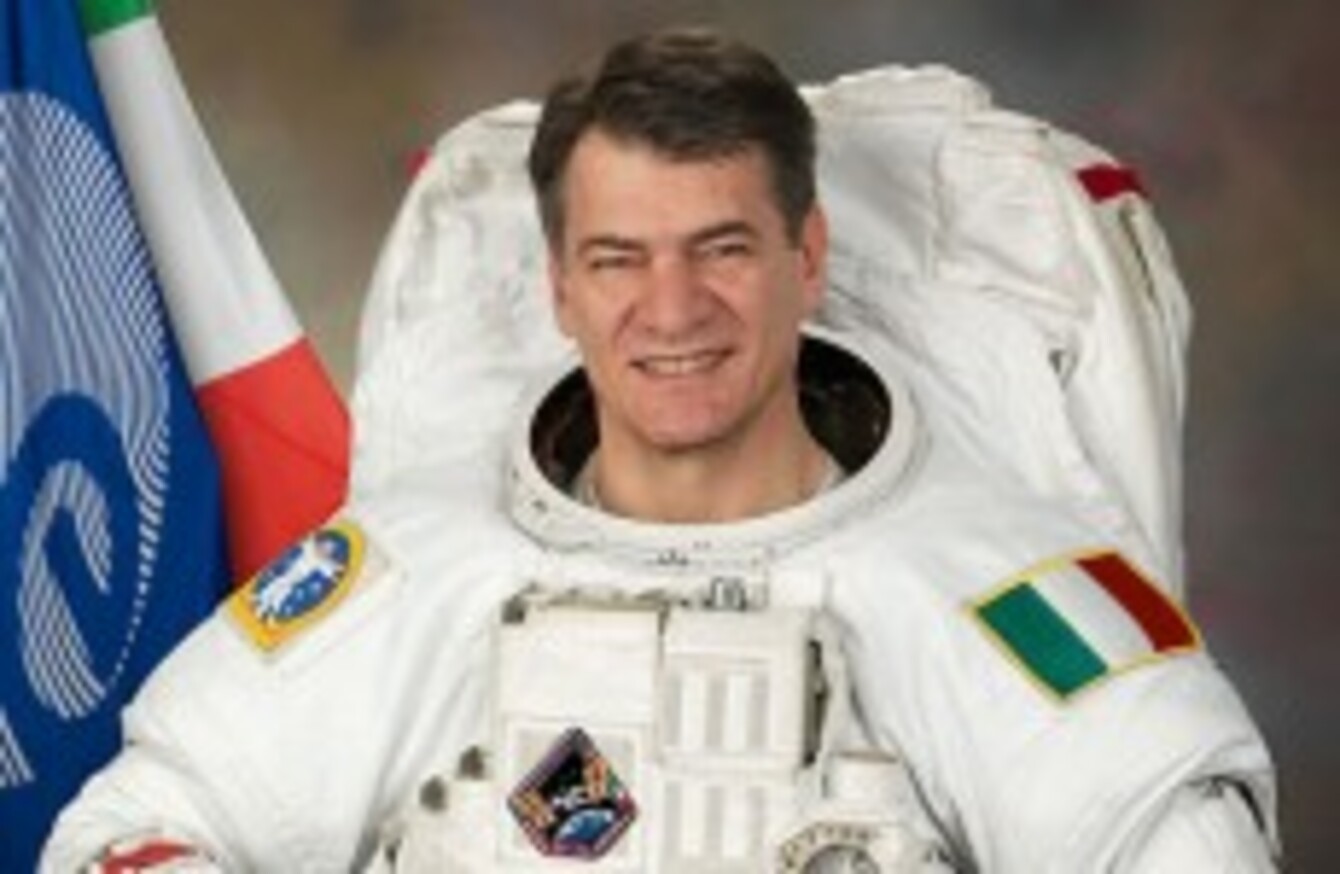 Paolo Nespoli, ESA astronaut
Image: Wikimedia Commons
Paolo Nespoli, ESA astronaut
Image: Wikimedia Commons
MANY OF US dreamed as children that we could one day be an astronaut, soaring into space in a rocket, dressed in a shiny spacesuit.
But once we got older and reality kicked in, that dream faded. Astronauts seem like the sort of people most of us could never be – super intelligent, capable of going where few men or women have gone before, and – excuse the pun – almost not of this world.
However, one meeting with Paolo Nespoli, the 55-year-old Italian European Space Agency astronaut who has been into space twice, is enough to convince any adult that their childhood dream could have been a reality.
Superheroes
Nespoli was in town to give a talk during Science Week, and sat down with TheJournal.ie to chat about his career – and why he thinks it is important to always dream big.
His first point was that people should forget about any assumptions they have about what an astronaut is.
"People think astronauts are superheroes, supermen, superwhatever," he said. "And I'm telling them that is not really true. In fact, I would even think that an astronaut's best quality is to be a real middleman, an average man, because, see, people think you are an astronaut, you go into space and you do great scientific discoveries. The fact is you are there and you are one of the resources of the station… like air, like water, like nitrogen, like electricity."
Part of Mongolia, by Paolo Nespoli. ESA/NASA
As an astronaut, you are at the disposal of the control centre, and they try to maximise their resources, he explained.
So during the day you end up being a plumber, an electrician, a crane operator, a guinea pig, a crazy scientist that does an experiment, but you are more an operator, your task is to execute exactly what you are told to and get results.
"And so it turns out that the good astronaut is the one that is able to do everything without that many problems, to be able to do all of this at a simple level," the engineer explained – adding that he even had to undergo medical training for his job in case of any emergencies.
Though he protests that "we are not super, super, super; we are medium, medium, medium," the truth is that astronauts are hugely intelligent and capable people. The physical and mental toll of going into space is not something that just anybody can cope with – and with his interesting back story, Nespoli is proof that astronauts are a dynamic bunch.
Ultra normal
"I am ultra normal," he said, explaining that he was born in a little town of 8,000 people in Italy,  north of Milan, and as a child wanted to be an astronaut. But he gave up on that dream and when he was drafted into the Italian army, pursued a career there instead, going on to be a paratrooper and work in the Special Forces. He stayed for eight years and it taught him some very important lessons.
"For the first time in my life, I was really tested to the limit of my capabilities. Sure enough, every time someone pushed me to what I thought were my limits, I discovered that these were not my limits, those were the limits I thought were my limits but were not the real ones. And so I discovered that after all I was able to operate in a highly operational environment. I was flexible, I was not intimidated by strange impossible situations.
"I saw that with the correct training and the correct state of mind; with the right equipment you can actually do pretty impossible things."
At 26, when he was asked "what you want to do when growing up?' he thought again of his boyhood dream.
With that as his focus, Nespoli went to university and earned a degree in Engineering, learned to speak English, and then applied to become an astronaut with the European Space Agency. When he didn't succeed, he applied to become a trainer at the ESA, and got the job. On his third try to become an astronaut, he was selected. It took nine years before he would eventually fly into space.
At the end of 2007 he flew as part of the Space Shuttle Discovery programme on a 15-day mission. Then he unexpectedly got assigned to a long duration mission on the International Space Station. As he would be using a Russian vehicle, he was thrown into a two-year "very intense programme" to learn Russian and how to fly the space craft.
He ended up leaving from same launchpad that Yuri Gagarin used 50 years ago.
On board the ISS, he learned that "you really have to make the spacecraft our home".  "You really have to learn to work to make microgravity your friend, and that is hard," he said.
This environment, it's really out of this world, it's really something different. It's not like if you travel from here and you go to a completely different culture, where you eat differently, you sleep differently. The fact is that [in space] you cannot walk, you cannot drink, you cannot take a shower. You cannot do the regular things that everyone in the world does.
"You have a really hard time at the beginning, you force yourself and things don't work, you start losing stuff," he laughed, adding that equipment and kitchen cutlery are some of the regular things that go missing. "One of the most complex activities is keeping track of stuff."
The first 4 – 6 weeks there is a process that happens in your body, in your brain that really forces you to change, to experiment, to re-learn the basic things. You step back and you start thinking in a different way, and you find out, 'wow if I spin upside down in this situation, wow I can do everything!' This is a very fulfilling sense of accomplishment, this discovery, this mastering of the situation.
#Open journalism No news is bad news Support The Journal

Your contributions will help us continue to deliver the stories that are important to you

Support us now
Photo by Paolo Nespoli
While he was on board, Nespoli took lots of photographs, and shared them through Twitter and Flickr. At first, he was reticent to do this, but soon amassed more than 50,000 followers and enjoyed sharing his view of the world with people – even if it meant forgoing sleep.
With a (slow) internet connection and phone on board, he was also able to chat to his wife and daughter every day – and even pay his bills online.
Space tourism
Nespoli believes that it won't be long before space tourism becomes a reality. "The experience of microgravity and the capability of seeing the world up there are so intense, so good, so unusual, that I am pretty sure it will make space flight a good tourist destination," he said, explaining that he envisions tickets for space flights being easily available, and affordable, in 20 years' time.
There are three reasons why people go into space, said Nespoli: scientific research, technological issues, and to satisfy our basic need for knowledge and exploration. Without the latter, "we would still be sitting in the caves or something", he ventured. We know our world – now we can get to know the world outside of our planet.
There is so much out there to explore. Our solar system, which to us looks pretty huge, "really is nothing", said Nespoli. It would take two to three years to send an astronaut to Mars, and the closest star outside the solar system would take more than 100 years to get to.
But that wouldn't stop someone like Paolo Nespoli.
There is still so much we need to explore. We really, really, really need to dream and we need to dream impossible things. If you dream possible things, it is not a dream. We need to dream impossible things and then wake up and work for it.
Because even impossible dreams once in a while get realised.
If you don't try and if you don't do it, then it will never happen.