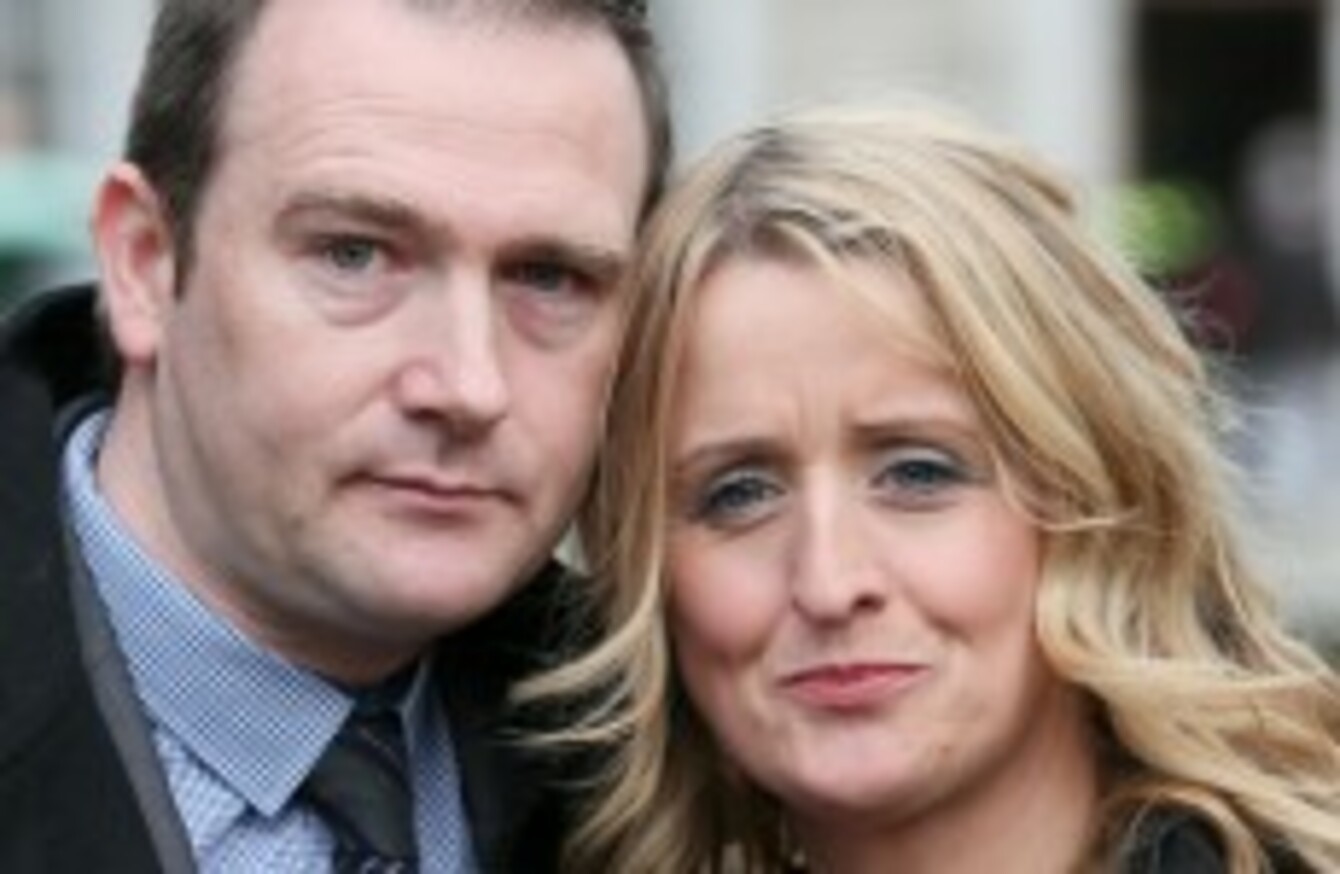 Mark and Roisin Molloy outside Leinster House today
Image: Laura Hutton/Photocall Ireland
Mark and Roisin Molloy outside Leinster House today
Image: Laura Hutton/Photocall Ireland
Updated 11.20pm
HEALTH MINISTER JAMES Reilly has said that the health watchdog HIQA will be called in to examine the issues surrounding maternity care at Portlaoise Hospital, promising "we will get all the answers".
Reilly was speaking at Government Buildings this evening after the parents of one of the children who died at the hospital just minutes after being born met with politicians in Leinster House today.
"I do believe then that we will in all likelihood call in HIQA. In fact, I believe we will be calling in HIQA," Reilly said today adding that in the first instance the chief medical officer, Dr Tony Holohan, will investigate the matter.
Last Thursday, an RTÉ Prime Time programme examined the deaths of four babies over six years at the hospital's maternity unit and found that the babies had no physical conditions which would have led to their death, saying that "other factors" had led to the death of the infants.
The parents of one of those children, Mark and Roisín Molloy, lost their son Mark 22 minutes after his birth in January 2012. An inquest into his death took a jury just five minutes to rule it as a case of medical misadventure.
'Independent inquiry is essential'
Speaking outside Leinster House after meeting TDs on all sides of the house earlier today, the Molloys said that they wanted a full HIQA inquiry into the issue.
"An independent inquiry is essential," Roisín Molloy said. "It's been a long road but, at last, it feels like someone is listening to us."
Roisín was echoed by her husband, Mark who said that he wanted HIQA to be involved, saying: "There has to be a full HIQA inquiry. There has to be decisiveness."
Mark said that the meetings with members of the Oireachtas went well, despite the time that has been allowed lapse. "It's important that the committee members hear from normal people who have been let down by the system," he said.
He said that a meeting held with Minister Reilly had gone well and that Reilly had promised to keep the family informed about any inquiry that was to take place.
Reilly later confirmed that he had met with the families on Sunday and said he was "deeply appreciative of them for for meeting with me". He said he expects Dr Holohan's report to be completed as "expeditiously as possible", in a matter of weeks, and said it will "signpost areas of particular concern" for HIQA to carry out its review.
The Minister said the Prime Time programme raised an "awful lot of issues" that parents would have "found deeply upsetting, sometimes humanising".
"It will not drag on unnecessarily along but neither will it be completed until we get all the answers. And we will get all the answers," he added.
– additional reporting Hugh O'Connell
First published 4.17pm