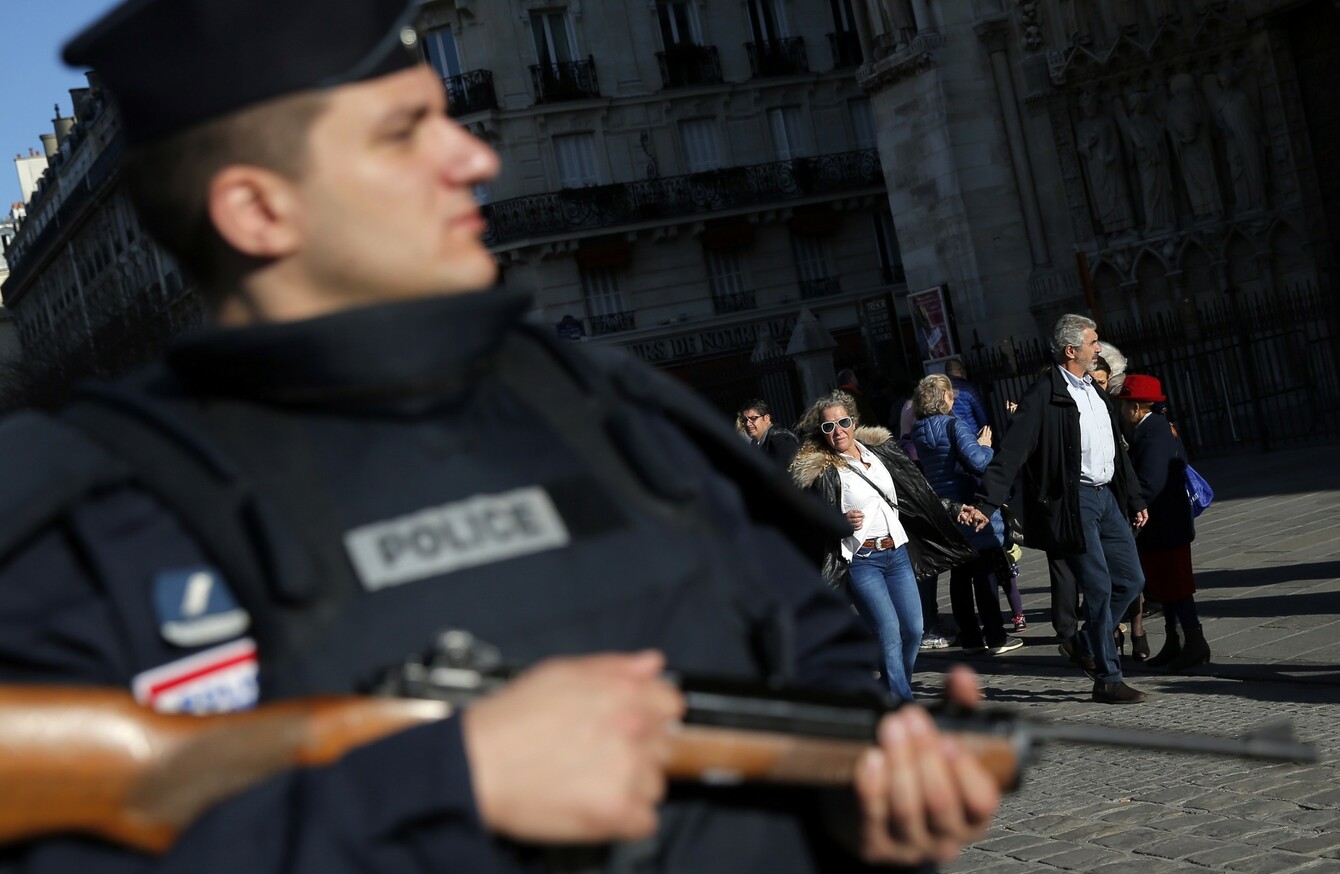 A policeman patrols in front of Notre Dame cathedral.
Image: AP/Press Association Images
A policeman patrols in front of Notre Dame cathedral.
Image: AP/Press Association Images
POLICE IN PARIS are still hunting one man involved in Friday's deadly attacks in Paris.
French station BFM TV says a French national who rented a Volkswagen Polo which was found outside the Bataclan theatre was not among the seven dead attackers.
The man was also not among the seven men arrested in Brussels in the last 24 hours.
"It's not known whether he took part in the attacks or was an accomplice, but what is clear that his name does not figure among those who have been arrested so far."
A Belgian prosecutor has confirmed that two of the men killed were Frenchmen who lived in Brussels and that two of the cars used had been rented in Belgium.
The Belgian authorities are holding seven people for questioning in connection with the attacks, and investigators have found that two cars used in the operation were rented in Belgium, they added.
"It appears that two French nationals, who lived in Brussels… were identified as among the attackers who died on the spot," the federal prosecutor's office said in a statement.
A French official told the New York Times that authorities were looking for someone from the Paris area who may have been involved. Authorities had originally said there were eight attackers, but have since clarified that statement, saying that there were in fact seven.
Earlier today, police found an abandoned car containing AK47 rifles on the outskirts of Paris. They believe the car was used in the attacks.
Prosecutors say they believe three groups were involved in the carnage claimed by the Islamic State group.
Five people are in custody in Belgium and it is unclear if members of a third team are among the detainees or still on the run.
"Very young"
A French survivor of the rampage at Paris' Bataclan concert hall says he was struck by how young the attackers were.
Julien Pearce, journalist at Europe 1 radio, was at the Bataclan concert hall on Friday to attend the concert by the American rock band Eagles of Death Metal. He said when the three attackers stormed in "it took me few seconds to realize it was gunshots."
Pearce and his friends immediately got down on the ground to avoid the random shots, then ran and crawled into a tiny dark room next to the stage. He says "there was no exit, so we were just in another trap, less exposed, but still a trap."
Pearce said could discreetly look out and see one of the assailants. He says "he seemed very young. That's what struck me, his childish face, very determined, cold, calm, frightening."
Once the attackers reloaded, his group rang across the stage to the emergency exit, helping a wounded woman out. Looking back, he saw "dozens and dozens of entangled, bullet-riddled bodies in a pool of blood."
With AP and AFP reporting