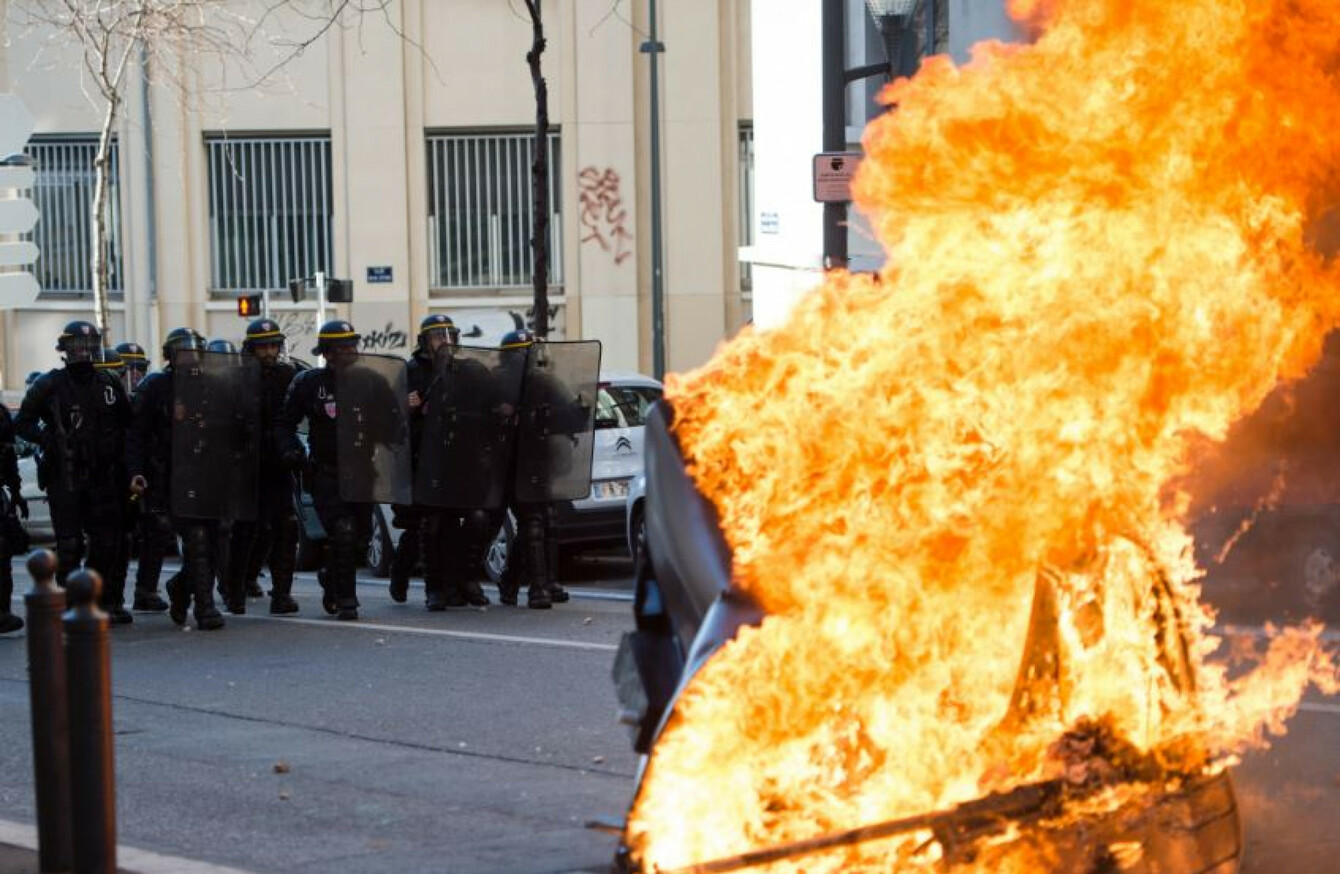 High school students demonstrated against education reforms in Marseille on Thursday.
Image: Mahoudeau Clement/ABACA/ABACA/PA Images
High school students demonstrated against education reforms in Marseille on Thursday.
Image: Mahoudeau Clement/ABACA/ABACA/PA Images
A STONE'S THROW from the Champs-Elysees avenue in Paris yesterday, cyclists were being put on notice by municipal workers.
Move your bikes before nightfall or the locks will be cut off and your wheels hauled away to keep them from being turned into weapons by protesters.
The notice is part of a more proactive response promised by officials to contain rioting or looting during a fourth wave of 'yellow vest' anti-government protests set for today.
The government has drawn widespread criticism for letting a demonstration flare into a rampage during last weekend's clashes between protesters and police in the French capital.
Scenes of burning cars and smashed shopfronts earned Interior Minister Christophe Castaner a summons before a parliamentary panel wanting to know why police forces held back while the violence raged.
The protests began three weeks ago, initially against a rise in fuel taxes but have spread to take in other issues such as education reforms.
Castaner had hoped the protesters converging on Paris would be funnelled into a contained "fan zone" on the Champs-Elysees, under heavy police guard after demonstrators set barricades alight and vandalised boutiques on the iconic avenue a week before.
But the bulk of the protesters remained outside the perimeter and ran amok in the shadow of the Arc de Triomphe at the top of the avenue, ransacking shops while spreading out along the wide streets branching out from the monument.
"We have adapted our configuration … with the goal of being more mobile to respond more efficiently to the hooligans' strategy of constantly moving and spreading out," Castaner said at a press conference yesterday.
Some 8,000 officers will be mobilised in Paris, up from 5,000 last weekend, and a dozen armoured vehicles — more often seen in war zones — will be deployed in the city for the first time ever.
"This isn't the army, these aren't tanks," Castaner stressed, saying they would be used mainly for clearing barricades.
But the vehicles will also provide cover to officers from people throwing heavy paving stones or even metal petanque balls, said Richard Lizurey, head of France's gendarmes, the military's urban police force.
"We're worried. We've seen this movement evolve from good-natured in the beginning to radicalised, with a copycat effect, a pack effect, leading people to come not to protest but to pillage and vandalise," Lizurey told CNews television.
'A monster' 
Officials are also on edge because unlike traditional marches by unions or other groups, the "yellow vest" protesters have given no information about where they intend to gather.
After the 8,000 protesters last weekend, Castaner said authorities expect "only a few thousand people [in Paris] but among them are ultraviolent individuals."
"These past three weeks have produced a monster that its creators no longer control," he said.
Police unions had fumed that they were ordered to refrain from confronting the protesters, because of fears that some might be hurt or even killed in a crackdown.
Instead they had to play defence, firing some 14,000 tear gas grenades to fend off protesters, some of whom wielded metal rods, hammers or slingshots, and launched sections of construction barricades.
"The government didn't want to see any more images of violence on the Champs-Elysees. So they just pushed the problem elsewhere," an officer told AFP under cover of anonymity.
"Up until now the mobile forces, with their heavy equipment, were under orders not to engage" with the yellow vests, Patrice Ribeiro of the Synergies police union said. 
France's various law enforcement branches, including the CRS riot police and gendarmerie, have a wealth of experience in controlling violent protests.
"You can't let them create their own 'fan zones'," Ribeiro said, referring to the cordoned-off outdoor viewing areas set up in Paris during last summer's football World Cup.
Police have already told shops on and near the Champs-Elysees to stay shu today and board up their windows, after dozens were ransacked last weekend.
Paris Mayor Anne Hidalgo said the city had removed 2,000 billboards, grates and other objects this week so that they couldn't be used as weapons against the police.
Museums and monuments like the Louvre and the Eiffel Tower, as well as libraries, public markets and dozens of Velib bike-rental stations will also be shut.
So far the government has excluded declaring a state of emergency, which would see army units deployed to protect sites at risk.
But 89,000 police will be on duty nationwide, and authorities in several regions have banned the sale of fuels and flammable chemicals like acetone to prevent people from making firebombs.