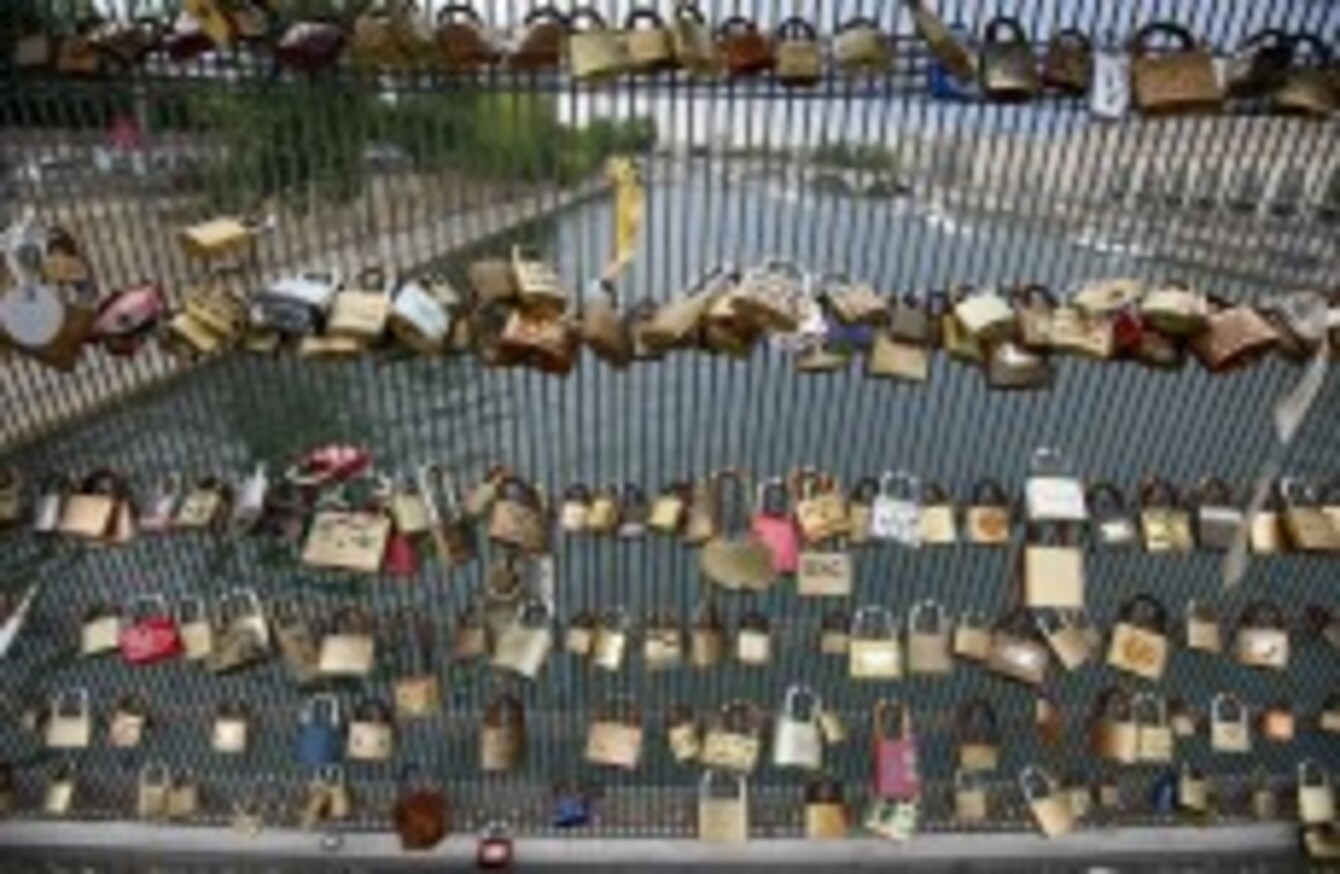 Image: AP/Press Association Images
Image: AP/Press Association Images
NOTE TO LOVE-STRUCK couples strolling in Paris, the eternal city of love: please consider immortalising your passion with a selfie rather than lashing a padlock to a city bridge.
That was the message issued on Monday by city hall authorities, desperately trying to save its bridges, including the world-famous Pont des Arts, from damage from the thousands of padlocks left there by lovers to pledge their eternal devotion.
Since 2008, when the craze first began, thousands of couples from across the world have visited the Pont des Arts every year and sealed their love by attaching a lock carrying their names to its railing and throwing the key in the Seine.
But too much love can be a dangerous thing and the city authorities have been wrestling with the problem of how to halt the phenomenon, which is beginning to take its toll.
"The idea is to give couples the alternative of a selfie instead of a love lock and explain that they are weighing too heavily on Parisian bridges," a city hall official told AFP.
From Wednesday, red heart-shaped notices in English, Spanish and French will be put up on bridges encouraging lovers to take a selfie and upload them to a special site (lovewithoutlocks.paris.fr) or to tweet them with the hashtag #lovewithoutlocks.
'No more love locks'
"Our bridges can no longer withstand your gestures of love, no more love locks," the notices will read.
"It's the first step in a wider action plan … an initial communication effort to tell people that love locks are not good for Paris's cultural heritage and that actually, it's not an ideal way to symbolise love," the official added.
A competition has also been launched on Instagram to find the best picture. The results will be published next week.
Authorities are increasingly worried about the potential damage from the weighty metal love symbols amid fears a bridge could suffer structural harm.
In June, police hurriedly ushered tourists off the Pont des Arts when a section of the footbridge collapsed under the weight of the padlocks, which now completely cover the 155-metre-long bridge.
The phenomenon has spread to other bridges and structures in the capital, to the joy of hopeless romantics and the consternation of others who see them as eyesores and security risks.
Forty locks were also recently removed from the Eiffel Tower.
Ever entrepreneurial, street hawkers now make a business from selling padlocks to tourists with increasingly long shackles so lovers can jostle for bridge space for their Paris symbol with thousands of others.
However, not all Parisians appreciate the sentiment.
Two young Americans living in Paris have gathered nearly 10,000 signatures for a petition they launched in March calling for the locks to be removed.
"By doing nothing for six years, the city hall is not taking into account the feelings of Parisians. They are thinking first and foremost about tourists," complained one of the pair, Lisa Taylor-Huff.
Read: Meet the hackers' group tackling the Ha'penny Bridge's 'love' problem…
Read: Love Locks caused a Paris bridge rail to collapse… but why are they there?