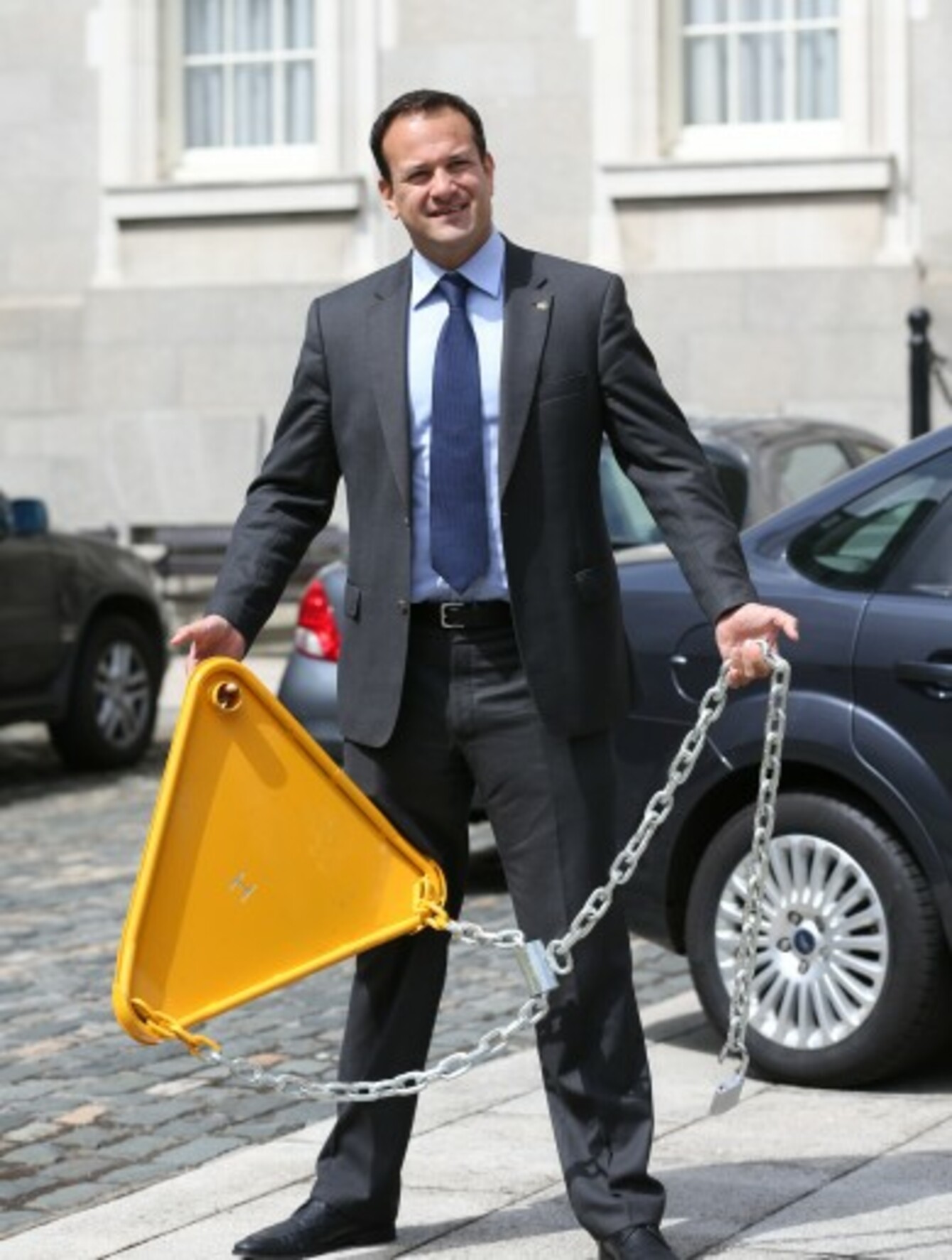 Leo can't save us now, he's moved to health.
Image: Sasko lazarov/Photocall Ireland
Leo can't save us now, he's moved to health.
Image: Sasko lazarov/Photocall Ireland
Updated: 14.24
DUBLIN CITY COUNCIL made €4.24 million in parking fines last year.
The council handed out 56,601 "parking enforcements" in 2014 – this refers to "vehicle immobilisation" , or clamping to you and me.
Parking tickets in Dublin city are issued by An Garda Siochána, not the council.
The figures, which were released under the Freedom of Information Act, break down the streets on which the most parking violation tickets are give out.
Top of the list is Merrion Square West (733), followed by Mespil Road (720);and Ormond Quay Upper (656).
The de-clamp fee is €80 so the income earned for the top three streets was €58,649, €57,600 and €52,480 respectively.
A spokesperson for Dublin City Council said clamping plays "an important role in improving traffic mobility in the city and helped create a more attractive urban environment for locals, businesses and visitors".
They added that the local authority facilitates an independent appeals process for cases "where people feel they have been clamped unfairly or in error".
Other cities
Cork City Council generated €1,227,480 in parking fines in 2014. The top three income-making streets were South Mall (€111,180, 2,490 fines), Saint Patrick's Street (€45,720, 1,071 fines), and Morrison's Quay (€28,960, 649 fines).
A spokesperson from Cork City Council said its parking enforcement priorities are to "ensure public safety by preventing or reducing dangerous parking" and "ensure traffic congestion is minimised by preventing or reducing obstructive parking", as well as facilitating commercial activity for buses and taxis, and ensuring turnover of spaces for members of the public.
Galway City Council collected €538,066 in parking fines last year. The top three streets were Eglinton Street, which collected 1,458 tickets and generated €55,620 in fines; Merchants Road, which generated €31,360 via 778 tickets; and Williamsgate Street, which collected 508 tickets generating €20,288.
A spokesperson for Galway City Council pointed out that cars which are illegally parked on land owned by the local authority are not clamped – this only happens on private land.
Kilkenny City Council made €187,860 in parking fines in 2014. The top three streets in terms of money generation were: Bateman Quay (€18,540); Castle Road (€14,420); and Patrick Street (€11,210).
Limerick Council generated €554,504 in parking fines in 2014. O'Connell Street made €30,130; Henry Street generated €28,730; and Roches Street collected €21,180 in fines.
A spokesperson for Limerick City and County Council said the area has the cheapest city on-street parking in Ireland, at €1 per hour.
Our enforcement policy ensures that the finite number of street parking spaces available are shared and not monopolised and that those who pay do not have to subsidise those who won't pay.
"The strategy is to manage on-street parking as a 'short stay' street destination and promote parking for periods longer than 2 hours in off-street car parks.  The goal is to accommodate on-street demand as efficiently as possible by sharing the limited number of spaces available amongst shoppers, visitors and residents."
Altogether, local authorities across the country collected more than €88 million from parking fines in 2014.
Hat tip to Barry Creed. 
Originally published: 6am