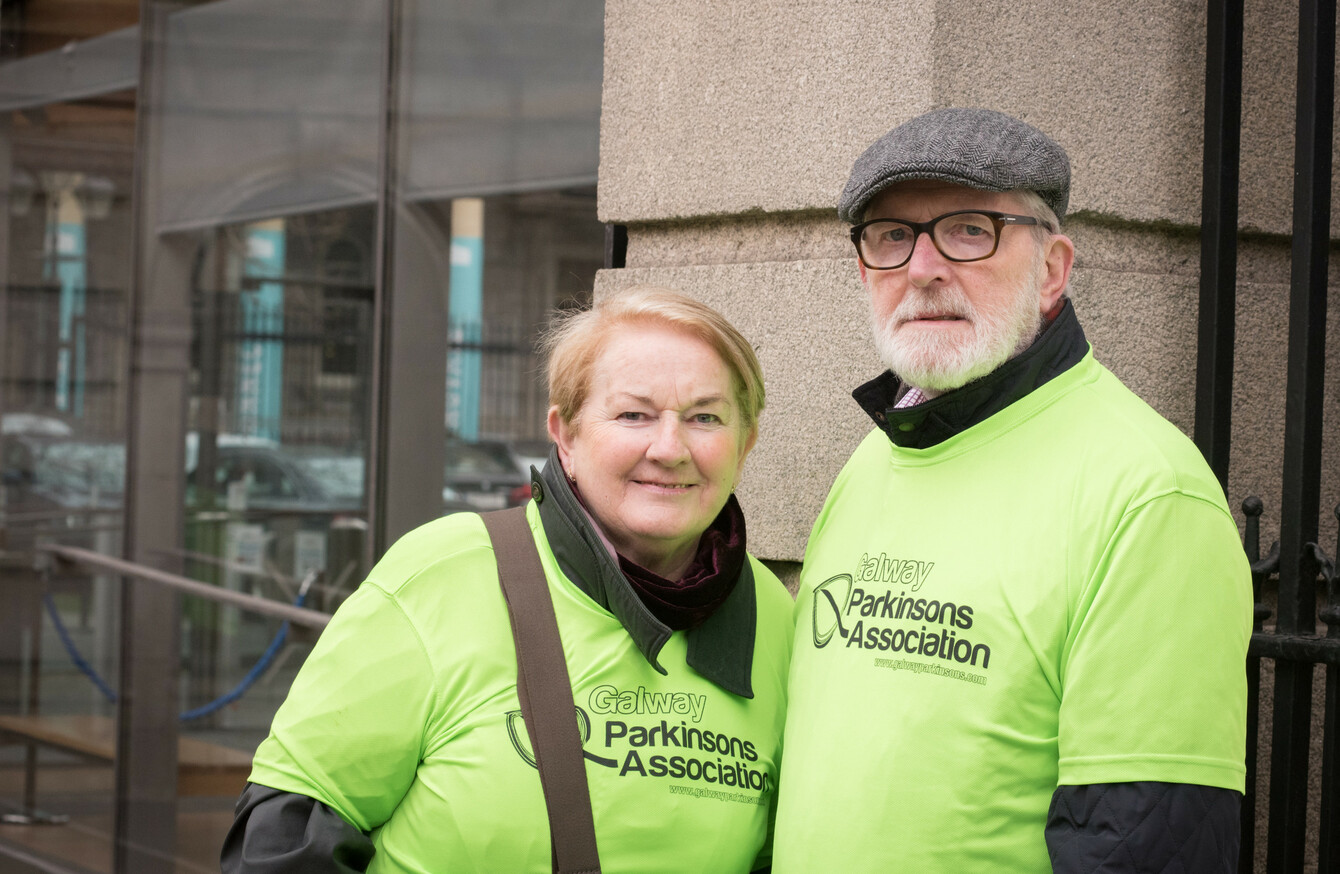 Image: Parkinson's Association of Ireland
Image: Parkinson's Association of Ireland
IRISH PEOPLE LIVING with Parkinson's disease have called on the government to provide funding for vital services that would significantly improve their lives.
Last month, members of the Parkinson's Association travelled to Dublin from all over the country to protest outside Leinster House, where chief executive Paula Gilmore handed over a petition with 11,000 signatures appealing for funding for the charity's work.
At present the Parkinson's charity gets no core funding from government, despite the fact that it offers support to the 12,000 people living with the degenerative neurological condition. It has eighteen branches around the country and runs a freephone helpline which provides information and also offers a call-back service from a Parkinson's nurse specialist.
71-year-old Michael Hennelly was among the protesters at Leinster House. He was diagnosed with Parkinson's disease in 2006.
"The first indication was that I used to get a tremor in my left shoulder when I woke in the morning if I yawned. Gradually over time that increased and it became more frequent. I was being treated for frozen shoulder, but one of my son's at the time was a medical student and he said mention Parkinson's to your GP just in case. So the diagnosis didn't come as a complete shock to me.
My family would be the sort that are practical, I'm married to Carmel and we have three children, all adults, so we said: 'whatever comes up we'll deal with it'.
Early on I began to feel the stiffness kicking in and I tried various types of medication with varying degrees of success. Some people have a lot of side effects so I was lucky that I'd no issue with them.
Eleven years on, he is on a strict medication regime, taking different pills at intervals all throughout the day.
Managing Parkinson's
"I saw various consultants and someone said to contact the neurology nurse in Galway and he was the first person to mention managing the Parkinson's rather than it managing you," he said. "He told me about the Parkinson's Association."
Hennelly has attended more than 400 physiotherapy classes provided by the charity since his diagnosis. He said if he was wholly dependent on the HSE for this service, he would have had just ten physio sessions total.
"The HSE is struggling to cope with the needs of Parkinson's and disability generally. My family and myself adjusted to the new reality and realised the HSE couldn't do a whole lot for us. If I was dependent on the HSE I wouldn't be able to move now, exercise is so important. With the association, it's structured and encouraging and positive and just so welcoming."
The 71-year-old also does speech and language, Tai Chi and yoga classes with the association and he said these services have been instrumental in keeping him mobile. These classes have also given him and his family a community of peers who have the same worries and frustrations.
"There's a great social aspect to it, I was chatting this morning to another chap who was there and we were saying if we didn't have the motivation of the classes and we were just to do it at home we wouldn't make the same effort.
People who have Parkinson's, they have tremors, freezing, gait impairment, balance and posture issues and also non-motor symptoms like a difficulty with dry mouth and swallowing. But on top of that people get sleep problems, obsessive compulsive issues and some suffer with anxiety and depression.
Sometimes they don't have the courage to go out, they think everyone is looking at them like they're strange, or they feel like they're not fitting into the group they used to socialise with. In the Parkinson's group it's always welcoming and positive.
"I'm lucky too that I have a wonderful wife and a very supportive family," Henneslly said.
"I've been asked by three different consultants – unrelated to Parkinson's – what I've been doing that I've managed so well. I think it's three-fold: The neurology department in University Hospital Galway, which is snowed under but they are great, the family support I have here and the Parkinson's Association."
#Open journalism No news is bad news Support The Journal

Your contributions will help us continue to deliver the stories that are important to you

Support us now
Shortage of nurses
Protesters were also demanding a nationwide Parkinson's nurse specialist service – at present there are only five specialist posts for the entire country and one of those is vacant. Another position is part-time and one is funded by the Parkinson's Association.
Outside Dublin, he only two full-time specialist nurses are based in Limerick and Galway.
"Parkinson's is the second most common degenerative neurological condition after Alzheimer's, yet the health services for people here are not as good as in many other EU countries. We could do so much more if we had some funding," said Gilmore.
"We could expand the Nurse Service nationwide. We could put more structures in place, helping branches at local level, and we could increase the publications we provide."
Parkinson's Awareness Week runs 9-15 April – the charity's freephone helpline number is 1800 359 359 and more information can be found on their website.