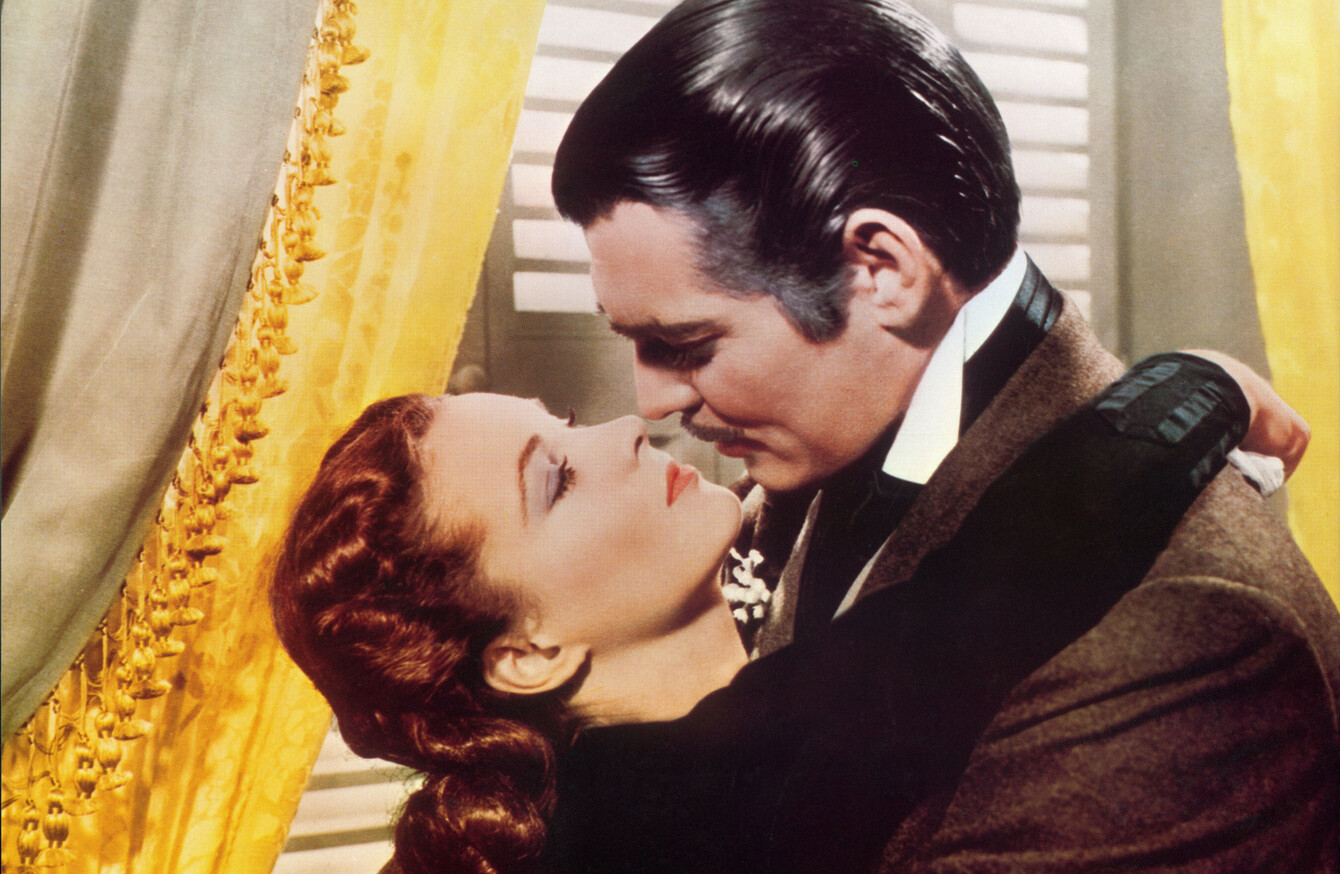 Clark Gable with Vivien Leigh in Gone With The Wind
Image: DPA/PA Images
Clark Gable with Vivien Leigh in Gone With The Wind
Image: DPA/PA Images
"FRANKLY, MY DEAR, I don't give a damn" is one of the most iconic lines in cinema but the famous utterer of these words may not have been given the chance to do so, all because he portrayed famed Irishman Charles Stewart Parnell in a stinker of a film just two years before.
Clark Gable's portrayal of Parnell in this 1937 melodrama was released at a time when his stock in Hollywood couldn't be higher. He'd won an Oscar for best actor in 1934 for the film It Happened One Night, and regularly featured in big-budget films.
Parnell, however, would go on to be listed among one of the 50 worst films of all time.
The film – with Gable choosing not to grow a beard or even adopt a passable Irish accent – centres on Parnell's ill-fated relationship with Kitty O'Shea which would bring about his downfall.
Starring opposite a leading female actress of the time, Myrna Loy, she would later go on to say that "disgruntled fans wrote to the studio by the thousands".
Love story
The film was adapted from a play that focused primarily on Parnell's relationship with O'Shea.
It begins with a successful Parnell in America, having drummed up support for Home Rule, returning home to Ireland only to be immediately jailed by the British government.
"God save Ireland," Gable says to rapturous applause, without a hint of an accent other than American, as he boards the boat back to Ireland.
Source: The Unemployed Historian/YouTube
He goes on to meet Captain Willie O'Shea who, in an attempt to get Parnell on side and fulfill his own ambitions, encourages his wife to befriend Parnell.
And, of course, the pair fall in love in a typical Hollywood manner on screen. In keeping with the Hollywood code at the time, which banned the showing of men and women in bed together or even of a pair kissing for too long, much of the content of this relationship is sanitised for the film viewer.
Loy's character goes on to save Parnell later in the film, when he is indicted for his complicit role in the Phoenix Park murders.
Of course, the film ends in tragedy and with the death of Parnell.
Source: The Unemployed Historian/YouTube
An Irish Times contemporary review of the film said that, "as the incidents are presented, and as the character of the man is interpreted by Mr Clark Gable, it is difficult to feel sympathy for one who staked everything upon his love for an unhappily married woman and who, by so doing, smashed himself and destroyed the work of a generation".
By focusing so much on the role that O'Shea played, the reviewer said, the director "has distorted not only the facts of history and biography, but he has also given undue emphasis to what was a single facet of Parnell's character".
A review from TCM said that "while Gable was earnest in his efforts, he never appeared to find a comfort level in the role. His attempts at affecting a brogue can be charitably deemed inconsistent, and this most macho of movie stars seemed ill at ease with revealing a more sensitive side to his character."
Such was his unease at the film and its subsequent tanking at the box office, Gable actually resolved never to do another period film.
In the end, he was persuaded to change his mind and would go on to play Rhett Butler in Gone With The Wind.
#Open journalism No news is bad news Support The Journal

Your contributions will help us continue to deliver the stories that are important to you

Support us now
Reviews
The contemporary review of the film in November 1937 in the Irish Times was scathing.
The critic, who went under the initials AEM, wrote: "Neither Clark Gable nor Myrna Loy have been too happily cast: from the start they are obviously ill at ease and more than a little bewildered.
When Clark Gable refused to wear the beard of Parnell, his inner shrewdness directed him correctly; with or without a beard he could never have been the Parnell that Ireland and England knew.
He wisely decided to be himself, but it was a shabby thing to give him the label of a great name… Clark Gable is true to his own talent when he strides from the presidential chair in committee room 15 and fells an offending member of the Irish Party with a punch to the jaw. He is untrue to Parnell. That is all that need be said.
Parnell was one of a number of films to be made about Ireland during this classic Hollywood era, but perhaps the most noteworthy for just how badly it was received – both by audiences and critics.
Ireland was a fertile ground for Hollywood back then, given its recent tumultuous past.
John Ford's 1935 film The Informer, set during the War of Independence, won four Oscars, including best director and best actor for Victor McLaglen.
Jumping forward, Ford would win another Oscar for 1952′s The Quiet Man, which also fared well critically and commercially.
Gable's Parnell, however, would be consigned to the scrap heap of largely forgotten films from Hollywood's golden age.