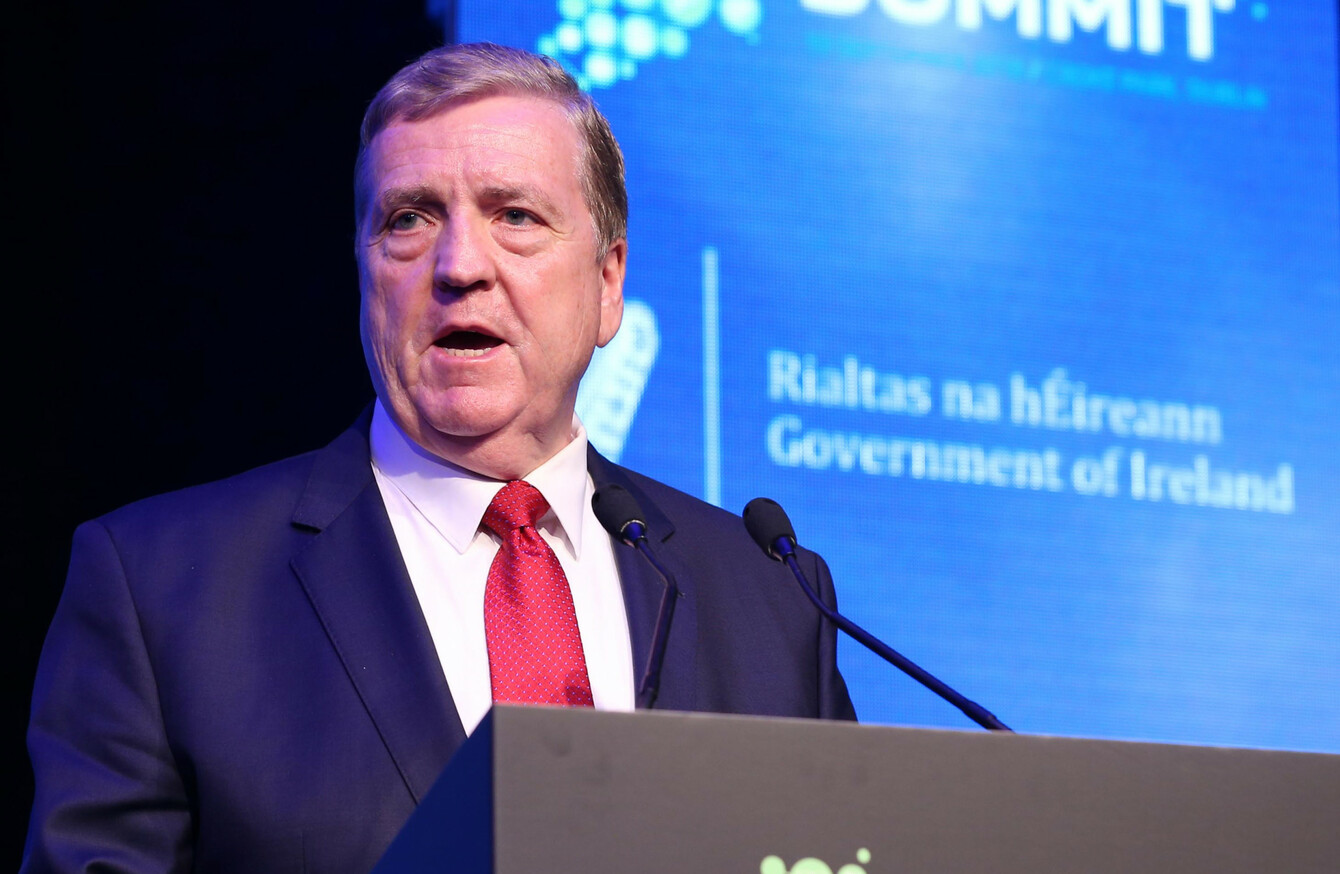 Image: Photocall Ireland
Image: Photocall Ireland
Updated Oct 11th 2018, 8:35 PM
FINE GAEL MINISTER Pat Breen said he has met with David McCourt, head of the only consortium left in the running for the National Broadband Plan tender, on a number of occasions.
In a statement this evening, the Minister of State with responsibility for Trade, Employment, Business, EU Digital Single Market and Data Protection said he has "no role in the National Broadband Plan, its rollout or its procurement". 
However, he added that in his role as Minister of State, "I have had occasion to meet, or be present at meetings or events with David McCourt, who is a significant investor in Ireland, on the following occasions, all of which are recorded in my ministerial diary". 
Listing the dates, Breen states he met McCourt on:
2 June 2016: "I spoke at the launch of ALTV.com at Ely Place in Dublin, following a request from the Department of Foreign Affairs. The company is owned by Granahan McCourt. This is the first time I met Mr McCourt."
2 October 2016: "I had a breakfast meeting with Mr McCourt in the Merrion Hotel, Dublin."
2 December 2016: "I attended a meeting with the Shannon Group and Mc McCourt in Co Clare, in relation to investment in the Shannon region.
Pressure has been mounting on Breen this evening to clarify his meeting with McCourt, with calls for him to go come from a number of TDs within Fine Gael, as well as opposition members follow on from the resignation of Communications Minister Denis Naughten today and the revelations that Breen attended a dinner in which Naughten and the remaining bidder of the National Broadband Plan attended.
In his statement this evening, he said McCourt's home is about 10 miles from his house in Co Clare, adding:
I have gotten to know Mr McCourt on a personal basis, have visited his Co Clare home several times and met him on other occasions in a private capacity.
Last year, on the request of Mr McCourt, I asked Denis Naughten, then Minister for Communications, if he would like to come to a dinner in Mr McCourt's house. Mr McCourt's wife also attended the dinner. To my knowledge, the National Broadband Plan was not discussed at the dinner.
On Newstalk this evening, Tánaiste Simon Coveney was asked if Pat Breen's position is tenable.
"The Taoiseach will be talking to him this evening, to understand the detail of his involvement and we'll move on from there. There's no question of hiding anything here, if there's one thing Leo Varadkar is, it's transparent," he said.
Dinner with the bidder 
Naughten had come under pressure due to his meetings with the head of the only group bidding for the National Broadband Plan contract.
Naughten had earlier admitted to attending a dinner with David McCourt – head of the Granahan McCourt consortium – in New York in July, while yesterday it emerged that the minister facilitated a lunch in the Dáil for McCourt's daughter in April.
Questions are now being asked of Breen as to why he did not speak up about the additional meeting.
Despite multiple media interviews today, the Taoiseach failed to provide more detail about his additional talks with Naughten late last night and this morning. 
There were audible gasps from TDs in the Dáil when Varadkar told the chamber today that he had a private meeting with Naughten last night, and was then subsequently told after midnight by Naughten that he remembered he had had another private dinner with David McCourt. This was followed by another call this morning about further dinners.
During his statement he said Fine Gael's Pat Breen, who was not present in the Dáil today, had attended one dinner.
I was satisfied with the explanations he gave [at the meeting last night]. He subsequently contacted me shortly before midnight last night to inform me that he had just remembered that he had a private dinner in Mr McCourt's home in 2017.
This was organised by Minister of State Breen who was also present.
Deputy Naughten suggested that in order to protect the National Broadband Plan project that he be reshuffled to another ministry or that responsibility for broadband be assigned to another Minister. I said that I would reflect on it overnight and meet him in the morning.
I met with Deputy Naughten again this morning and during the meeting he informed me that he had at least three other private dinners with Mr McCourt. There were no officials present and there are no minutes. He had not informed me of these additional meetings either when we met yesterday or when we spoke last night.
Naughten has since contradicted this version of events.
While the Taoiseach's speech focused on how he had no doubt that Naughten's intentions "were honourable at all points" opposition members said Breen now has questions to answer also.
Sinn Féin's Mary Lou McDonald asked the Taoiseach in the Dáil if Breen remains a Minister of State. 
"Yes," said the Taoiseach, nodding.
While passing a chewing gum to Tánaiste Simon Coveney, the Ceann Comhairle reminded the Varadkar that he is not obliged to reply as the Dáil was only hearing statements from the opposition.
Green Party leader Eamon Ryan asked how Breen could not have gone public about the dinner he had attended when Naughten was outlining the details about meetings with McCourt both this week and last. 
Solidarity-People Before Profit TD Richard Boyd Barrett said Breen had serious questions to answer too, adding that had the electrification of Ireland been organised in the same manner as the NBP "we would still be reading by candlelight". 
Ryan added that since the Moriarty Tribunal, there are strict procedures in which decision-makers can meet with potential bidders of State contracts, adding that he understood the Department of Communications was "incredibly sensitive" about such matters given past events. He questioned what the department knew about the meetings.
Fine Gael TDs are also rounding on their party colleague, with one TD stating "he has to go". Another stating that Breen "is gone" if he can't offer a reasonable explanation.
"The craziest building on Earth" is how Wexford TD Mick Wallace described Leinster House after today's revelations. Today, those words ring true.
#Open journalism No news is bad news Support The Journal

Your contributions will help us continue to deliver the stories that are important to you

Support us now