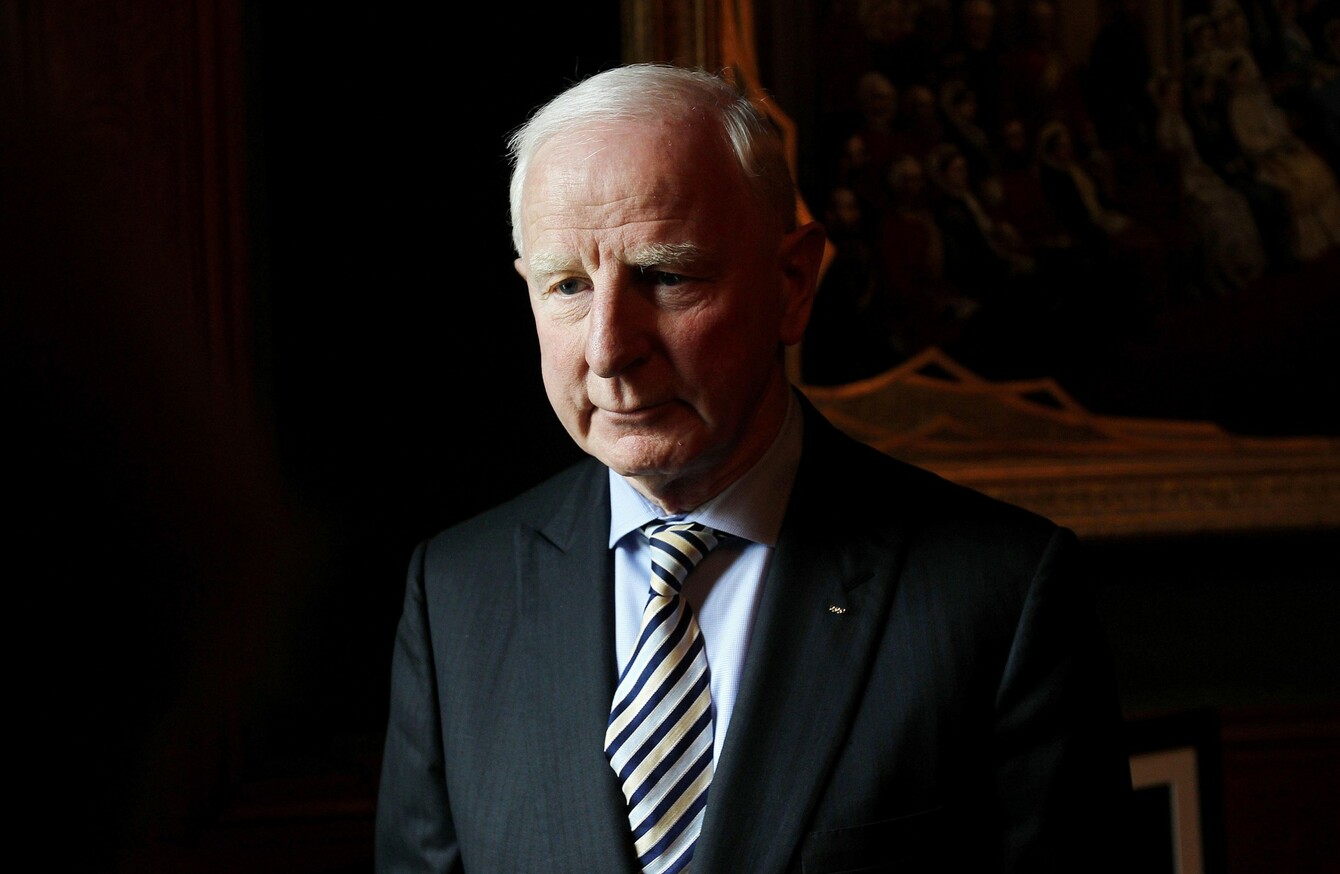 Pat Hickey
Image: PA Wire/PA Images
Pat Hickey
Image: PA Wire/PA Images
THE OLYMPIC COUNCIL of Ireland today said they will not be stumping up the €410,000 to allow embattled former president Pat Hickey to leave Brazil.
A judge in Rio de Janeiro last night agreed in principle to allow Hickey to return to Ireland on health grounds, and set a bond of €410,000 which must be paid as a condition of having his passport returned.
Brazilian police have retained Hickey's passport since his arrest during the Olympic Games in Rio last September.
In a statement to TheJournal.ie, the OCI added that it wouldn't necessarily be paying Hickey's legal fees, either:
According to the OCI Articles of Association, Mr Hickey's legal fees will only be paid if he is not convicted of the offences for which he is being held but his fees will not be paid if he is convicted of those offences.
The OCI did not comment, however, when asked by TheJournal.ie if it had paid any monies to Hickey's lawyers to date.
Hickey was arrested last August on charges of ticket-touting, formation of a cartel, and illicit marketing, and has since temporarily stepped down as head of the OCI, which acts as the Irish branch of the powerful International Olympic Committee.
Princes
Jonathan Irwin of the Jack and Jill Foundation has defended the controversial Olympics chief, expressing his satisfaction that his "old pal Pat Hickey" had received permission to leave Brazil.
Irwin also criticised Minister for Sport Shane Ross and Minister for Foreign Affairs Charlie Flanagan for their supposed lack of support for the embattled Olympics chief.
Asked today on Today with Sean O'Rourke on RTÉ Radio 1 whether Pat Hickey will return to Brazil, Irwin said "no" – because he is one of "the princes" of the International Olympic Committee.
I'd imagine the Olympic Council, the central Olympic Council [IOC] will look after one of their captains, I would hope.
"Because Pat wouldn't have anything like that, his family wouldn't have anything like that.
"So unless the International Olympic Council [Committee] stumps up for him, I wouldn't know what's going to happen."
Crushed
Irwin's friendship with Hickey goes back to the early 1990s, when Irwin joined forces with Dublin mayor Gay Mitchell to bring the Olympics to Ireland.
"I know Pat," Irwin said.
When he first met me he treated me as if I was a beetle to be crushed under foot, but we got to know each other.
He added: "I'm a bit like the rabbit, who is absolutely entranced by the snake.
"It was a pretty awkward birth between Pat and the beetle [Irwin himself] but I have to say that I admired his ability to be a very successful street-fighter, and I enjoyed his company. He's got the most charming French wife…
I just found this to be an extraordinary performance about one individual who happens, since [former IOC president] 

Lord Killanin

, to be our top administrator internationally.
And I know that people have their feelings about him.
Irwin said Hickey's treatment in Brazil was extraordinary, given his status as a "VIP" and Ireland's "top sportsman".
"There he was naked and dragged off to prison. And then the hate-fest that started over here in the media here for a very long time, as if this was the devil incarnate."
He added:
I couldn't believe that Shane Ross, our Minister for Sport, gets on a plane and leaves our top administrator under arrest, you know, without going back.
"My hero was always [19th-century British statesman] Lord Palmerston, who if a British citizen or passport-holder got into trouble said, 'by God, we'll send a gunboat out to take him home'. None of this nonsense.
Obviously the man has got to face charges if they ever get to court, but to leave him abandoned was just unbelievable.
"It was pretty pathetic, wasn't it – to abandon any human being in a foreign country with a legal system that seems so very different to ours, and seems to be even slower…
"Whether you like him or not, he has achieved more than any Irish sports administrator has ever done."
Halawa
Irwin said he felt "equally strongly about that poor boy lingering in Egypt" – thought to be a reference to Ibrahim Halawa, the Irish national imprisoned by the Cairo government.
"Why do we give people passports? We're there if they're in trouble. Hickey is on the world stage of sport, he is very high up in the international council [the IOC], he created the European Games last year, and he's just vilified in the press, and abandoned by the Government.
There are charges against him, I agree, but he didn't kill anybody.
He added: "Yes, there are charges about ticket-touting, I haven't a clue about that. I'd be amazed, myself, if Pat at his age was selling a few tickets out the back door.
"If it is proven, it's a very incorrect thing he did."
In addition to being a member of the executive committee of the IOC since 1981, Hickey has also been president of the European Olympic Committee since 2006, although he has also "stepped aside" from these duties.
Bruiser
Irwin said that Hickey's career is "totally ruined", although he agreed with the description of Hickey as a bruiser, able to handle himself.
The charity boss said the Olympics chief was "a creature, of his own making, who has created an empire, and probably, like a lot of dictators, if you look at it dispassionately, there are problems with governance".
Regarding the Olympic Committee of Ireland, Irwin said:
"Look, it was an empire created by Pat, probably to modern-day standards of governance and such, probably incorrectly, but it did work. But look where he got in the pecking order of the international body of the Olympics."
Comments on this story have been disabled for legal reasons.