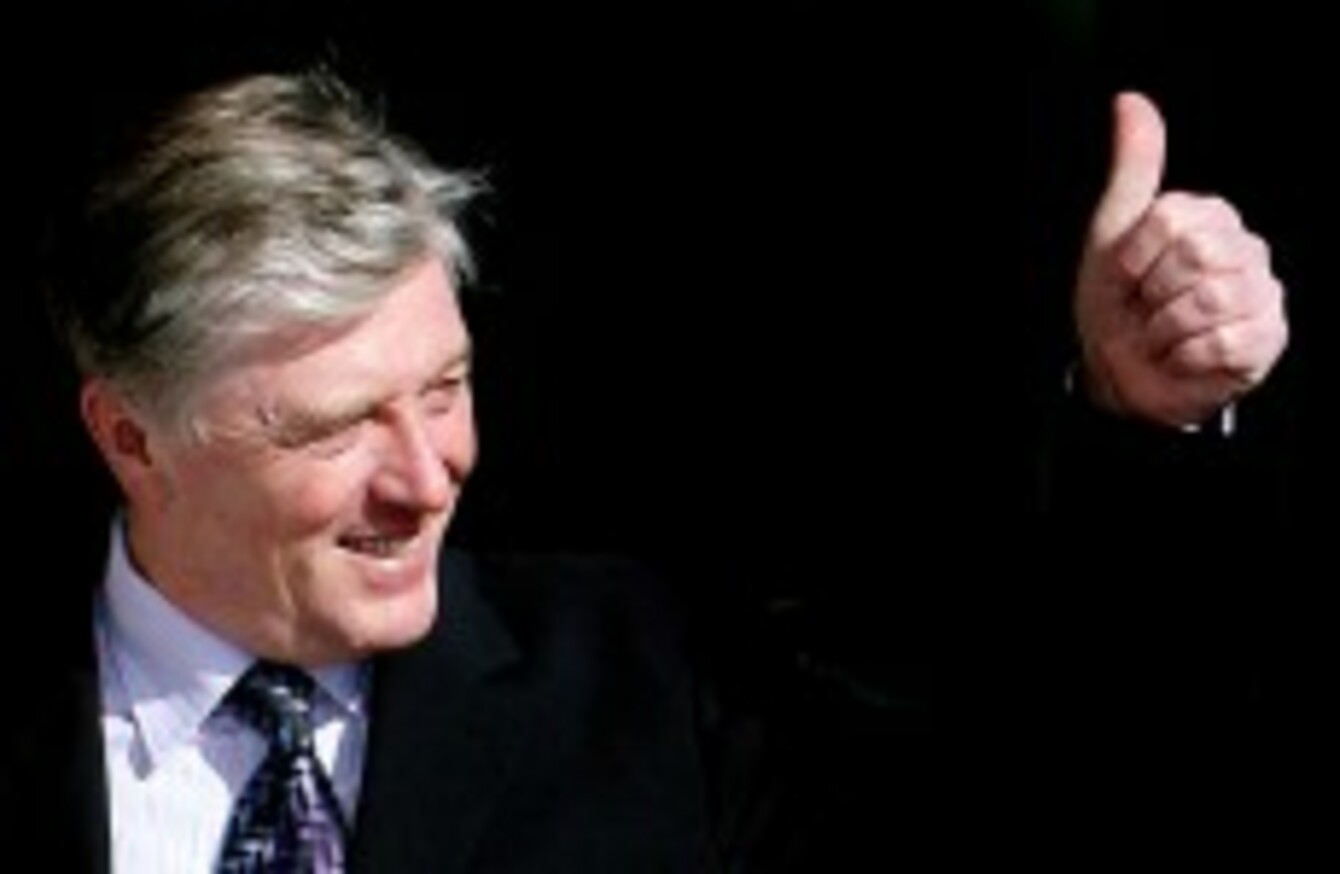 Image: PA Archive/Press Association Images
Image: PA Archive/Press Association Images
WHEN WILL PAT Kenny be back on our screens? Will we see him challenging politicians or will he be swatting up on his Top 40 knowledge again?
More importantly – how has he settled into his new dial position? And what does he think of Ray D'arcy's move back to RTÉ?
To find out, TheJournal.ie sat down with the broadcaster to talk about his new roles at UTV Ireland and more.
(By the way, if you only care about whether he misses the Late Late Toy Show – or who he thinks is a better host, himself or Tubs, head over to DailyEdge.ie).
So, when will we see you back on our screens?
The series I will be doing on UTV Ireland will start in March or April. But the station launches on 1 January and I wanted to have a presence on that first day.
To get a series ready is a tedious process – you have to put tenders out, look at ideas and get into production. I had been much touted for coming over to UTV Ireland – but then not to see me for months?
They had this idea of introducing me on day one and that's how Out With The Old – In with the U.
So they got me out and about in the middle of December to shoot. The idea was to find me in different areas around the country talking to different people. It will be a taster menu of what might lie ahead. It will run for an hour on New Year's Day.
It is a sort of a 'Remember him?'
What was being out on the road again like?
We could have interviewed all of them in Dublin but that is not the same. We wanted to find people in their home place because you get a deeper understanding of what makes them tick.
Ireland also looks fantastic in the programme.
I do outside broadcasts all the time for radio but it's been 25 years or so since I've done reporting like this. Frontline was four years in the studio, the Late Late was 10 years in the studio and 11 years in the studio in Kenny Live.
I always liked working the two media. Each complemented the other. Sometimes there were tensions – years ago – going down the country by day and coming back at night to do a programme called Nightbus on Radio One.
You'd be absolutely exhausted and literally living on your nerves to get back on time to do the show. Other than time conflicts like that, I've always enjoyed the two disciplines. So it's nice to get back to the television.
Why should people watch the New Year's Day show?
I would say the first motivation will be curiousity. I hope when they tune in, they will find it gripping and entertaining and very watchable. I would say the main thing people will be saying, 'What does UTV Ireland have here?'
If you remember Terry Wogan's first evening chat show – on the very first programme, he fell down the steps. What was on the front pages the next day? Terry Wogan falling down the steps.
There is always a sense of people wanting to see something new. But then there will be people who come to knock. That is just the way we are as a people. People will always want to knock something in the beginning.
Fair City was appalling. It really was. But now it is solid. The people who find it credible and not at all embarrassing which it was in the first few weeks.
If you persevere and deliver work of quality you'll get there.
And what will the new show in March look like?
That is still in the melting pot. I am not being coy – we have just commissioned a production company. Television is tedious. A radio programme you can do in the lobby of a hotel with a laptop and a couple of microphones, television is different.
It will be audience driven. There will be an audience and a guest or guests.
In my mind's eye, the kind of show I want is that when you switch on, you won't know. It won't be formulaic. That's what I'm hoping. It could be one person [interviewed]. It could be four people. It could be a row. I don't know at this stage. But I hope it's not predictable. That's my ambition… If we can construct a few watercooler moments.
Will you be competing with the Late Late Show for audience?
UTV Ireland has a daily news programme going out at 10pm Monday to Friday. So to say I am going up against the Late Late… It is not going to happen.
Do you think people will switch channels for you?
I would hope so. I don't think TV is as difficult as moving the dial. I used to say:
'The radio you will never shift is the one in the milking parlour which is covered in a fine layer of congealed cow shit, switched on at the mains and on a high shelf and they never go near it.'
And that will never move but TV is different. If you asked people, for example, in a border county if they watch The X Factor on UTV or TV3, they might not remember. They just remember watching The X Factor. People are not as channel loyal. They are programme loyal and I hope if they like what I do, they will be programme loyal which means they will enjoy UTV Ireland. But it is not the same as it used to be – RTE One, Dallas, The News, The Late Late show.
But, I know already that you can't please all of the people all of the time. That's inevitable. I'm hoping that we'll be very proud of the output.
Do you prefer the current affairs or lighter interviews?
The Late Late and Kenny Live were great training grounds in gauging the temperature of an audience. It can be comedy and pathos. The best thing with comedy is to roll with the punches and be the straight guy. You are not trying to be funny. If it is Jimmy Carr or Tommy Tiernan, you're job is to be the straight guy and get beaten up by the comedian.
But equally, if someone is telling you about the tragic death of a child, you have to be empathetic. Those skills were there in the Late Late and Kenny Live.
Frontline then was about being on the money and listening acutely to everything everyone was saying and challenge, challenge, challenge. Over the years I have built up a satchel full of skills and hopefully they will all be useful come March/April.
What do you think of TV3 and RTÉ's efforts ahead of UTV's launch?
I don't mind making a comparison to when I joined Newstalk. When I was at RTÉ, I had never been on a bus shelter in my life. As soon as I joined Newstalk and I was out there with all the posters, I saw Seán O'Rourke on every bus shelter that I came across.
And I thought, 'Well, that proves something'. If people respond in a way that is competitive, that shows they feel threatened. That's gotta be full marks for the newcomer. If the newbie in town makes other people scared, that is no bad thing.
If everyone ups their game, the public get a bigger deal all round.
What do you think about Ray D'arcy's move back to Montrose?
Well, I was surprised to refer to it as going home. It's like a lad who comes from Kimmage and lives in Foxrock who decides to go back to Kimmage. After 14 years and his mammy is no longer living there, he refers to it as home. It's bizarre. I wish him luck in whatever he is doing. That was the only odd thing about it.
Will we see you then between January and March/April on UTV?
You never know if an election comes along I might pop up.
I could be on screen then. I could be a presence if there was to be a taoiseach's debate – or a wannabes' taoiseach debate. I am sure UTV Ireland would like to host one of those and I would be happy to be in the chair.
Do you think that will happen?
We're all watching this space for a new political movement of some kind.
And I would be hesitant to even predict where that is going to come from. But someone is going to jump off the fence before too long. The potential rewards of an undecided public are so enormous that they could actually whip up 30 seats before people have time to find them out.
Did you ever think about getting into politics?
No [with emphasis]. I have a very ambivalent attitude to politicians.
On the one hand, I find the Leinster House life – the idea of being whipped into line and vote one way because you're a member of a party, the compromises politicians make, the parish pump nature of Irish politics – I hate all of that.
On the other hand, the people who actually do it – the practitioners – are actually to be admired. Strangely enough, you can give out about all of them – but they journey from Kerry or Donegal or Roscommon to Dublin and represent their constituency, hold clinics at weekend.
What a job.
I think you have to have a calling.
Is there anything that is on your to-do list?
People often ask me who would you like to interview if you could? And I often say, 'Let's start with the dead people.' Adolf Hitler. Because you wonder… How can someone who does such things have human form? But, no, the more you get to know people, the less intimated you are by them.
The bigger the star, the nicer they are. Usually. The smaller the star, the more obnoxious they are. Usually. Although there are exceptions to both of those rules.
In terms of ultimately doing something – on the backburner somewhere, there are developing world documentaries that I'd like to do. I've been to Africa and various other parts of the world. I was in Sri Lanka a year after the tsunami. To try and get a sense – and convey a sense – of how some people who have so little can be so happy. And we who have so much – and I don't mean rich people in Ireland, I mean everyone in Ireland – has so much and can often be so unhappy. That's something I'd like to do at some point.
Why aren't you on Twitter?
Well, probably my programme will be on Twitter. Personally, I'm not on Twitter. Do I really think I'm the Pope and I've things to say to people? I'm not Stephen Fry. I don't feel that my pearls of wisdom of any more worth than anyone else's. And, if I do express an opinion, a political opinion for example, I'm in trouble trying to be objective interviewing a minister the next morning or his opponent.
How long more will you go on broadcasting?
Until god takes me.
                                                            *************
Kenny's New Year's Day documentary, produced by Loosehorse, will feature a backstage interview with 2014 sensation Hozier, entrepreneur Seán O'Sullivan and Kathleen Lawlor, the grandmother of Tom Vaughan Lawlor who plays Nidge in Love/Hate.
The 99 year old will celebrate her centenary next year – but she's never watched an episode of the RTÉ drama which made her grandson a household name.
A number of other well-known faces, as well as some extraordinary citizens will pop up across the hour.