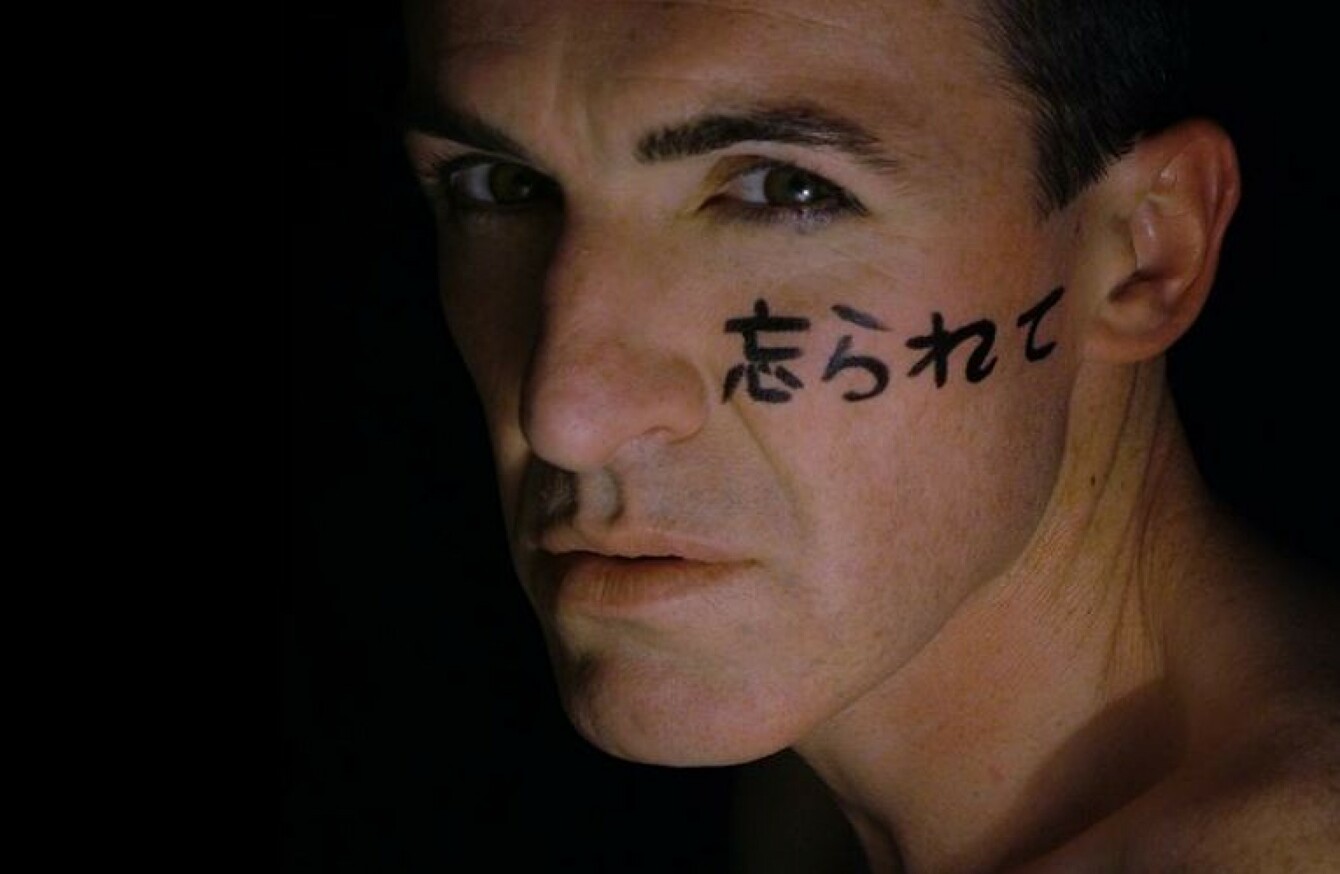 THIS WEEK, DEPENDING on the night, Corkonian Pat Kinevane could be an 80-year-old man, reflecting on his life; a dead woman, rejected while young because of a disfigurement; or a young boxer, struggling with homelessness.
He will howl, he will laugh, he will cry, he will rage. He'll reach out to people – to strangers – and bring them into his world. He'll evoke Japanese kabuki dance and Egyptian movements, wrap himself in gold cloth or apply make-up in public.
Pat Kinevane is one of Ireland's finest actors, and the man behind a trilogy of plays that explore what it is to be marginalised, a person on the edge, a person on the outside looking in.
Since 30 March – and until this Friday – he has been bringing three of his plays on alternate nights to the Peacock stage at Dublin's Abbey Theatre.
In Forgotten, he portrays four elderly people, who live in retirement and care homes. As the title suggests, the play looks at the various ways these older people are forgotten about. In Underneath, he brings us the story of a woman who is not seen as 'beautiful' on the outside, and who lives a life on the fringes. In Silent, we meet McGoldrig, a homeless man who has lost everything, down to his mind.
A multiple award-winner, Kinevane has a gift of bringing fascinating, moving, and yet very funny stories to the stage. He breaks the fourth wall, reaching out to the audience and making them feel part of his world. His Corkonian accent is often gloriously on show.
Emotionally, he can turn on a dime onstage – going from laughter to the brink of tears, and back again. It's all part of his way of ensuring he brings real people to the stage. "I think it's more to do with the way I see the characters, that they're fleshed out to the full and that an audience gets to know the characters even in the hour and a half," he tells TheJournal.ie.
Everyone, says Kinevane, "has a very deep and gentle and also very dark side", and that's what he wants to show when he writes a character. "I'm just interested in bringing that forward to people and letting them make up their own mind really, and really reflect on their own patience or tolerance or temper, or whatever."
While he doesn't have a lot in common with his characters, there are personal reasons that draw him to telling the stories of people on the margins. "Growing up I always felt even though I had a lot of friends, I always felt I was on the outside anyway looking in at things going on around me," says Kinevane, who grew up in Cobh.
"So I sometimes wished I was more a participant rather than an observer, so maybe it comes from that. Even still, I can feel very happy in a group of people and then other situations I can feel that I am way outside it."
The earliest play of the trilogy, Forgotten, dates to 2006. It transpires that Kinevane thought the subject of caring for the elderly would date the piece – but like his other two plays, the issue turned out to get even more pertinent as the years went on.
"I'm still shocked at that – I would have thought they would have been obsolete," he reflects. "I thought 'that's the end of that, I'll be doing them for 3 years and people will move on to something else'."
Instead, he has been able to spend more than a decade bringing these plays around the world.
"As long as I can keep those issues up front and keep the limelight on them that might be a help for somebody," he says. "I won't ever lie down and not speak out about those things because they need to be spoken about."
He fears that we can become complacent about issues. "When it comes to Forgotten, the attitudes to the elderly growing older were as scary as they used to be before," he says.
"In Underneath – the attitude towards beauty and surface, it's huge for boys and girls. At one stage the pressure was on the girls but now the pressure is on boys as well, all in the name of industry and fashion. It's extraordinary. They all link up really – self esteem and mental health."
'We're very predictable as a species'
Depicting homelessness, disfigurement and the elderly has meant lots of research, and it's through that that Kinevane has gotten a deeper understanding of human behaviour.
"There's a line in [Underneath] where she says 'nobody ever gave me any help, I think it just revolted people, and they backed away'. And that's sometimes how we deal with difference, and it's a coping mechanism," says Kinevane.
"And all those sorts of psychological reasons why we do stuff I suppose they're very – if we were to read them and study them they're quite simple, we're very predictable as a species but at the time it doesn't feel like that."
I'm fascinated by that, by how compassionate we can be. But we can also be terribly cruel so that drives me to try and make some sense of it.
He's also had to face his own prejudices during his research, particularly when it came to Silent. He found himself reading more and more about homelessness and isolation on the street and dispossession, finding out things "that I never really knew".
This gave him a new understanding of what homelessness is. "There was a time for some people where homelessness was a choice, where they chose to live outside of society and that has to be respected too," he says, describing how homelessness in Ireland today is a "brand new different phenomenon than it was".
My prejudices definitely were challenged on that. I didn't think I had them, now I look at everyone and say whether it's your choice or not to be there, it's terribly sad. We have to differentiate and find out and treat everybody differently rather than treat everyone the same. Everyone comes with a different story.
Kinevane says he's still learning, and often it's through his own audience that he learns the most. They approach him after shows with their own stories. "You get the most extraordinary stories," he says. "You think you have it sussed. That's life – it's complex and it's bonkers."
What's key in his work is his desire for connection with the audience – sometimes, through calling on people to chat to the character. Though it's an integral part of his work, Kinevane admits it can be "frightening".
"But for the most part people are good hearts and they want to have a laugh too and they want to enter into the fun of that," he says. "But it can be risky… but if theatre wasn't risky, what's the point?"
'It might be fine, it might be shit'
Source: OfficialLondonTheatre/YouTube
A few months after turning 50, Kinevane says he's feeling grateful to be healthy and strong. He's working on a new project with Fishamble, but can't divulge too much about it.
"I've always treated the shows like albums – it feels like a very experimental album I'm working on," is what he will say. "It might be fine, it might be a heap of shit; you never know, you never know, it's all chance and being in some sort of zeitgeist of some sort. But I'll keep doing it anyway and see what happens."
He may have scooped up numerous awards for his work, but in his mind he's more happy about what that means for his director Jim Culleton and Fishamble, who have supported him for decades.
"Those things never really meant anything to me because I was happy in the creativity of it," he says. "If I have a good night like last night that's the world for me: mission accomplished, people are entertained."
He's concerned not to let the ego get ahead of him, describing it as putting a bit in a horse's mouth: "Pull yourself back all the time. It's our nature when we get acclaim to gallop forward. It's about the work."
And doing the work, after all, is where he is happiest. The play is the thing.
"I can't even express my gratitude that I'm healthy and I'm still doing [my plays]. I'm very fortunate and I'm aware of it all the time," says Kinevane, as he prepares to get ready for that evening's performance of Forgotten.
"That gets me through my work: pure and utter gratitude."
Pat Kinevane's trilogy runs until Friday 15 April at the Abbey Theatre's Peacock stage. For more information, and for tickets, see the Abbey website.